CHARLOTTE -- Quarterback Cam Newton was a late arrival at Monday's practice, joining the team about a half hour into the session.
Newton, who suffered a left midfoot sprain against the Patriots, took a cart ride onto the field and went through his usual warmup/stretching routine to loosen his arm. He later threw some passes on the side.
"He's basically just striding them out right now, he's not driving off his leg or anything like that," head coach Ron Rivera said. "He threw the ball pretty well. We're pretty excited. He didn't drop back or anything like that. We feel really good about it and we'll see how he feels tomorrow morning."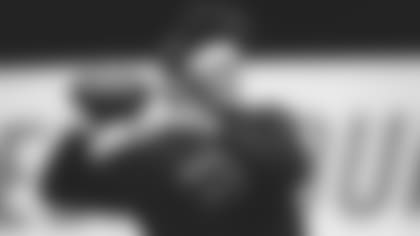 Newton was an energetic spectator, engaging teammates and having a good laugh, which was great to see.
He spent some time chatting with coaches and appears to making progress with the season opener a little less than two weeks away.
Elsewhere on the injury front, rookie offensive tackle Greg Little (concussion) remains out and defensive tackle Vernon Butler (quad) returned to practice.