GLENDALE, Ariz. – The looks on their faces said it all.
A mix of joy, relief and utter satisfaction after a job well done.
For a team that had lost seven of their last eight to close the 2018 regular season and started 0-2 in 2019 with their franchise quarterback ailing, Sunday's 38-20 road win over the Arizona Cardinals was desperately needed.
"We just had to catch our breath," said tight end Greg Olsen, who had two touchdown catches in the win. "The season obviously didn't get off to the best start, we knew that. We were up front about that and we just had to get a win.
"To go on the road with a young quarterback, having not won all season, to just get in the win column and now hopefully stretch a few together, it's just great to get that monkey off your back."
The Panthers were backed into a corner. Frustration was mounting after two games that were there for the taking resulted in frustrating one-score losses.
Backup quarterback Kyle Allen was called into action for just his second career start after Cam Newton re-aggravated the foot that was injured during the preseason. And after two home losses, the Panthers had to travel out west to a hostile environment.
"I told the team, 'Think about how sweet that flight home is going to be with a W," defensive tackle Gerald McCoy said.
They honestly would have taken a win however they could have gotten it. But the Panthers did it in style, with Allen tossing four touchdowns and boasting a 144.4 passer rating (the highest since Cam Newton's 153.3 against Atlanta in 2015) while the defense recorded eight sacks and two interceptions.
"Well it's good, that's for doggone sure," Rivera said in his opening postgame remarks. "I thought the guys came out and responded.
"We gave them a little time after the Thursday game to get away and we brought them back on Tuesday, and I just liked the way they practiced Tuesday, Wednesday, Thursday, I really did. I thought they responded very well to that whole thing, so just how they handled it is really important and I thought they handled it very well."
At the start, it looked like a "here we go again" situation. Allen engineered a promising opening drive only to be strip-sacked on third down from the Arizona 15-yard line.
Then the Cardinals proceeded to drive down the field for a touchdown to take a 7-0 lead.
But the Panthers stayed the course. They kept the faith. And they gradually took over the game.
Everybody got in on the act, with eight different Panthers recording touches and four of them finding the end zone. They literally took turns making plays, which is when offensive football is at its best.
Defensively, five players accounted for eight sacks. The good vibes were contagious, and the energy on the sideline was noticeably higher than the first two weeks of the season.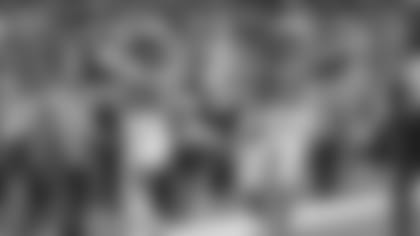 "The feeling is great after you get wins. Everybody is excited, but more importantly, throughout the game, we were just excited to go back out there," wide receiver Curtis Samuel said. "The energy was there when we were on the field. The defense had energy on the sideline. When they were out there, we had energy on the sideline. It was just a bunch of energy, and we just played up."
All that emotion spilled into the locker room after the game as Rivera handed out game balls to Allen and cornerback Donte Jackson, who had two interceptions.
They know full well everyone was ready to write them off at 0-2.
"We had everybody against us for two weeks," McCaffrey said. "The whole world came down on us. We remember that after this win."
Now it's all about getting the next one in Houston.
"We have to remember how this feels, remember how we practiced and prepared and continue to do it," McCaffrey said. "You really have to enjoy these ones and do everything you can to make it happen again."
View photos from Carolina's Week 3 game at Arizona.