Rapid Reactions from Carolina's 25-19 victory in the preseason finale against Pittsburgh at Bank of America Stadium. The Panthers finish the preseason with a 2-2 record.
None of the starters played in the preseason finale against Pittsburgh (as expected). All of the starters watched in sweats from the sideline, everyone except Cam Newton.
Think we can safely assume the Panthers didn't want Newton do be on his feet for three hours. Better to let him rest and stay off the sprained left foot with the regular season opener fast approaching.
Rookie quarterback Will Grier was all set to head into halftime with a really nice stat line: 10-of-14 for 175 yards and a beautiful 34-yard touchdown strike to wide receiver Aldrick Robinson. Then, with 23 seconds left before the break and the ball at the Carolina 14-yard line, Grier tried to connect with wideout Jadon Mickens. There was a clear mixup, and cornerback Cameron Sutton was the beneficiary for the easy interception.
The Steelers turned that takeaway into points quickly -- the next play, in fact. Quarterback Mason Rudolph hit wide receiver Johnny Holton for a 31-yard score. Turnovers, man. They'll kill ya.
Grier finished 11-of-18 for 189 yards with the one touchdown and one interception.
Undrafted rookie kicker Joey Slye missed his first kick of the preseason when his 48-yard attempt was blocked in the first quarter. Pittsburgh got tremendous push up the middle, and Slye wasn't really at fault.
But he sure made up for his first miss.
Slye DRILLED a 59-yard field goal early in the second quarter. It had plenty of room to spare. Dude has got a seriously strong leg.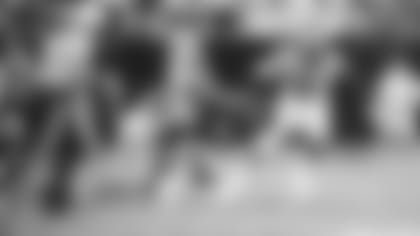 Second-year edge rusher Marquis Haynes posted his second two-sack game of the preseason. The former fourth-round pick forced a fumble with a big-time hit on his second sack.
Haynes brings obvious explosiveness to the rotation, and he just might be a real contributor week after week in 2019.
Rookie running back Jordan Scarlett scored his first NFL touchdown, hauling in a pass from Taylor Heinicke over the middle, making the first man miss and powering into the end zone from eight yards out.
A nice way to end the preseason for the fifth-round pick from Florida.
With second-round pick Greg Little out with a concussion, fellow rookie offensive lineman Dennis Daley started the game at left tackle. Daley, who has spent most of his time at guard, has shown the ability to fill in at both spots, which really increases his value. He's not a finished product by any means, but Daley was a real find in the sixth round.
View in-game action photos from Carolina's game against Pittsburgh.