And they seem confident in their new quarterback's ability to handle it, when they check their phones at night and see texts from him about on-the-clock matters.
Running back Christian McCaffrey said he's been impressed with the way Darnold has dug into his new role from his first day with the team, showing the kind of consistency and development they need at the position.
"I think I've seen him grow in a lot of ways," McCaffrey said Wednesday, as the Panthers wrapped up the on-field portion of minicamp. "He's a guy who approaches each day the exact same and continues to strive to get better. But when you make a statement day one like Sam did, you expect that from here on out. Somebody like him, every single day, he comes trying to get better as a leader.
"He'll text guys late at night asking about plays and giving us what he sees, and you can tell he's dialed-in. Every day, every throw, as a leader, as a player, just kind of developing in the offense and learning the playbook, and getting everything down. He's just been very consistent. I think when you stack a bunch of consistent days on top of each other, you'll ultimately create a lot of growth, and that's what he's done."
Panthers head coach Matt Rhule has mentioned Darnold's methodical progress at a number of points this offseason, and said they've asked a lot of all their quarterbacks this spring, in hopes of pushing them to a greater familiarity with the offense when training camp begins.
"For me it's about putting so much on those guys, and not give them a bunch of easy plays so they can go out and feel confident and look good," Rhule said. "I want to stretch those guys and look and see what we do well, and then we can be targeted in training camp and the regular season.
"I think for Sam, it's him really just going back over his plays so he doesn't have to get to the line and think. I think it's about getting him more comfortable in the system and all the things we're asking him to do."
Toward that end, Darnold said he tries to take a granular approach to his role here; to focus on the small aspects of the game on a daily basis, to build a foundation in June which he's going to need in late July and beyond.
"You've got to keep grinding it out," Darnold said. "On the off days, when you're not necessarily learning a new package, whether it's third down or two-minute, you've got to continue to go over formations and the little details. As you're learning the bigger picture with concepts and different situations, you tend to lose focus on the little details of formations or motions or shifts. It's just continuing to go over it as you get further and further into the playbook."
If you're not a football junkie, that might sound boring, but it's the kind of rote learning from which habits are born. And as much as football coaches like to talk about arm strength or tangible things, seeing a guy commit to details is the way to get their attention.
"Sam's a hard worker and holds himself accountable," Rhule said. "He doesn't make excuses. He works hard. In here in the building all the time, working at his own craft. He's watching tape; he's preparing to a high level. That's all I ask of players; put the time in. What you put the time into you'll be good at."
Mostly, Darnold gives off an air of being comfortable here.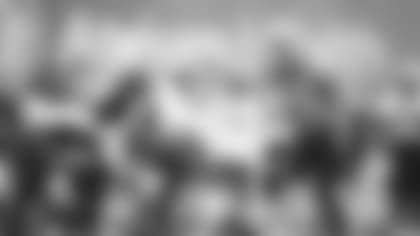 Former Jets teammate Robby Anderson said he could tell an immediate difference in his old friend when he arrived here this week. He was there when Darnold arrived in New York as the third overall pick, with a mandate to save a city. Now, he just gets to be a quarterback, so that has to be easier.
Darnold laughed Wednesday when asked how he'd describe his own aura, saying: "Awesome."
It was the kind of easy laugh of a man who feels comfortable here, and finding his way into a new place which reminds him of his Southern California roots.
"The guys in the locker room are awesome, the coaches are great, so it feels great here," Darnold said. "It feels like home here in Charlotte, and like I mentioned, there's something about this place that's very positive.
"I like it here, and I'm going to continue to feel at home, I guess."