Draft rooms can be loud, bustling, even chaotic places. In Seattle's, they know the guy sitting to the general manager's immediate left is the island of sanity.
But Seahawks GM John Schneider also knows that calm has its limits.
Schneider is convinced the Panthers made the right call by hiring his lieutenant Scott Fitterer as their next GM, and he knows he might miss the guy he counts on for a steady voice when things get rushed.
"You guys are going to kick ass," Schneider said of the Panthers' decision to hire Fitterer. "It'll be a really fun culture."
Schneider described Fitterer as "the most calm, even spirit," and said that was never more evident than on draft weekend.
The Seahawks have had a propensity to trade back in drafts in recent years. That's partly because their success keeps them picking late in the order, and partly because they've aggressively pursued trades that leave them shorter on picks than other teams. Schneider's also eager to stack up assets because he trusts Fitterer and the college scouting staff to have created a draft board that accurately reflects value.
So on draft weekends, head coach Pete Carroll will be on the right, Fitterer on his left, with Schneider in the middle taking phone calls and processing information.
"Scott's very calming," Schneider said. "When people come up to you trying to change the board during the draft, he's like 'Hey-hey-hey. Stick to the board. Don't let these people keep affecting you.' He knows how to operate in that setting. He just has the ability to say, 'Stop, we've got this.'"
That includes having the strength to tell the boss when to say when.
Schneider recalled one year when he moved back three times, piling up later-round picks. At a certain point, Fitterer was ready to use some of the picks on players they liked.
"I looked at him and said, 'Are we good with this?'" Schneider said. "He's like, 'Yeah, I'm good with it, but can we stop trading back now? Look at the board right now, John.'"
That kind of open communication with the boss is something that they've fostered in Seattle, through their structure while allows different personalities to flourish.
Bills director of player personnel Dan Morgan saw it when he began his personnel career with the Seahawks as a scouting intern, where Fitterer and others took the former Pro Bowl linebacker under their wings to teach him how to scout.
"John's a very inclusive leader, and lets everyone have a voice. And Scott has a big voice there," Morgan said. "He's always very detailed, and had a clear sense of what he wanted and who he liked."
The picture that continues to emerge of Fitterer is one of steadiness, a consensus-builder who doesn't need all the credit.
"Just no ego. And that's natural for him," Schneider said. "There's a humbleness and a confidence about him that's rare in this industry where people are constantly trying to be promoted and rewarded for their hard work."
The Panthers made it clear they were looking for someone to create a collaborative system with head coach Matt Rhule, and the parallels with Schneider and a strong former college coach like Carroll are obvious.
But it's how Fitterer has worked in recent years in a unique structure that also signals to the Seahawks' GM that the Panthers will benefit.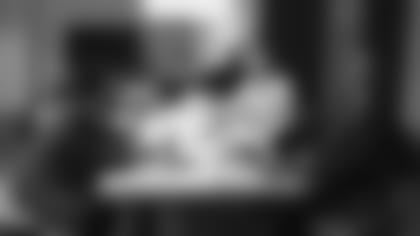 Schneider made Fitterer and Trent Kirchner co-directors, giving them equal authority. Fitterer's background is in college scouting, while Kirchner's is on the pro side. They're also different personalities, as Kirchner (who used to be a pro scout for the Panthers) can burn a little hot.
"Completely different individuals, which I love," Schneider said. "One guy's Tony Dungy and one guy's Jon Gruden.
"One guy is going to put the chew in and the pound the coffee and grind it, grind it, grind it. The other guy is going to feel his way through situations differently, ... just a different style."
Schneider acknowledges that putting Fitterer and Kirchner on equal footing may have hampered their career paths because outsiders don't know whether they're interviewing a guy who may be second on the totem pole, or third, or how much power and influence they actually have.
But he also thinks that Fitterer's "unflappable" personality helps make it work.
"These guys are included in everything, and that's what we pride ourselves on, having no walls," Schneider said. "'You're just a college guy, stay in your lane.' We don't do that.
"So whatever he wants to learn and grow about, he's been able to do that."
Now, Fitterer is on track to do just that, to evolve into a larger role in Carolina, one with responsibilities he's new to.
And when there's a small crack in the calm facade, Schneider can't help but laugh.
"He's already calling me this morning on budget stuff, and I'm like 'I don't know, dude, figure it out,'" Schneider said. "I'm super excited for him, he's going to do such a great job."