CHARLOTTE – Baker Mayfield fixed his eyes on Cade York, as the Browns' rookie kicker sent a game-winning field goal 58 yards through the uprights.
Mayfield led a second-half push after a slow offensive start against the Browns, outscoring his former team 17-6 in the fourth quarter alone. The Panthers had taken their first and only lead with 1:13 to go thanks to the second-half comeback.
But with 13 seconds left in the game, there wasn't much left for Mayfield to do. He sat on the sideline and watched the kick, and acknowledged a slow start on offense was to blame.
"It's a long field goal, and that kid has got a leg on him," he said. "It's a hell of a kick to be honest with you. (It) shouldn't have come down to that. We should have started faster, had more points on the board, taken care of the ball, and not (left) our defense in that situation."
Mayfield, who finished the first half 10-of-19 for 101 yards with an interception, took ownership as part of a set of problems for Carolina's offense in the opening half, which included botched snaps, an interception, and only five first downs in the first 30 minutes.
"To me, it comes down to us not starting fast, and (it) started with me," he said. "(I've) got to take care of the ball, got to put us in the position to win."
The biggest mistake came early in the second quarter when Mayfield was intercepted by Browns safety Grant Delpit on a pass intended for Shi Smith. That put the Browns offense at the Panthers' 42-yard line, and set up Cleveland's first score of the day, a 1-yard touchdown pass from Jacoby Brissett to Kareem Hunt.
"Slight miscommunication," Mayfield said on the interception. "But I've just got to take care of the ball, what's happening, and just me reacting, being able to throw it. (I've) just got to be able to play better. He did a good job peeking with the blitz off the slot, so that does interrupt his route and the timing of it.
"He's playing ball. He's playing fast. I'm proud of Shi. He's come a long way, and he's gonna continue to grow. So that's on me. I dropped my arm, and the ball sailed on me. So I've got to take care of it, especially in our own territory."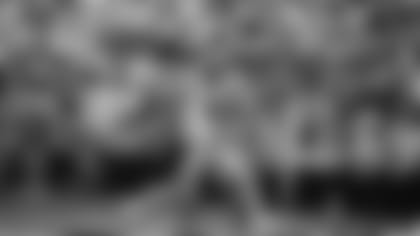 The Panthers went to the break down 17-7 with 95 yards on 27 plays. That yardage included just 11 rushing yards on six attempts, with the longest run totaling 4 yards.
Take away a 50-yard completion from Mayfield to tight end Ian Thomas, and Carolina's offense accumulated 45 yards across 26 plays in the first 30 minutes.
"Ton of mistakes, self-inflicted mistakes in the first half," Mayfield said. "Our offense, we'll take the blame on that for sure. The ball was on the ground too many times. Just miscommunication, things that we can get fixed."
Mayfield and Carolina's offense found a way to adjust their early downward trends in the second half.
Christian McCaffrey, who touched the ball five times before halftime, became more involved. McCaffrey's spark, which included a 28-yard run after another miscommunicated snap in the third quarter, led to Mayfield's 7-yard touchdown run early in the fourth. A drive later, Mayfield found Robbie Anderson for a 75-yard touchdown.
Mayfield finished 16-of-27 for 235 yards with a touchdown and an interception. Anderson led Carolina's receivers with 102 yards on five catches, while McCaffrey added 57 total yards and a touchdown on 14 touches.
But it was hard to get all that excited about what went right in the second half after what happened in the first.
"We didn't finish," Mayfield said. "Mostly because we didn't start fast."
That was the way head coach Matt Rhule saw it as well.
"In summation, I would say I thought it just took us way too long to get started," Rhule said. "We were banking on our defense keeping us in the game until our offense could get clicking. It just took us too long offensively, I thought, to get clicking."