CHARLOTTE – Jeremy Chinn tried to wrap up Pittsburgh receiver Diontae Johnson before he got the first down, but he missed him the first time.
Johnson then broke away from both cornerback Jaycee Horn and safety Xavier Woods before Chinn finally brought him down on a second attempt. But Johnson had already gotten the Steelers the yardage they needed for a first down.
It was the fourth third-down conversion of five peppered throughout a 21-play, 91-yard Pittsburgh touchdown drive at the start of the third quarter in the Panthers' eventual 24-16 loss to the Steelers.
"I feel like we were on the field a lot today because we couldn't get off the field," Woods said. "It would be third-and-2, third-and-1, quarterback sneak; it's a new set of downs. Once you're out there, you're not really thinking about how long the drive is; you're trying to get off the field.
"I will say what contributed to that 21-play drive … that's not tackling well. That's not executing on first and second down."
When Johnson powered forward for 8 yards on that short pass from quarterback Mitch Trubisky which led to three Panthers missing, the defense had already been on the field for nearly eight minutes since coming out of halftime.
After the play, Johnson was called for an unsportsmanlike conduct penalty after taunting Chinn. The loss of 15 yards hardly mattered, as the Steelers used another seven plays to go the final 22 yards for a touchdown.
From Horn's point of view, that kind of execution, when it mattered most, was unacceptable.
"It was extremely frustrating because we had opportunities to get off the field," Horn said. "I had (an) opportunity on the sideline. I didn't make the play, and it's plays like that you got to make, especially as a leader on the team. So I've got to make that play and get us off the field. There's a lot of plays we left out there."
The Steelers' 21-play series was the second-longest Carolina (5-9) has allowed in franchise history, and it took up nearly all of the third quarter, shaving the first 11:43 off the period.
Horn said he started to feel the drive's length when the Steelers crossed midfield because he knew their offense started back on their 9-yard line.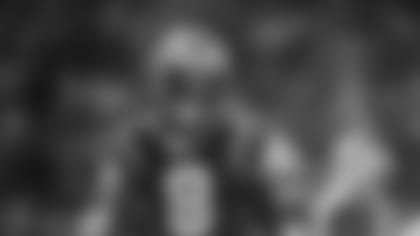 When Trubisky eventually punched in a 1-yard touchdown run, Horn looked up at the clock and saw fewer than four minutes remained in the quarter.
"I was trying to talk to the defense, tell them, 'We need to get off the field. Hold them to 3,' but you know what happens," Horn said. "We've got to be better next week."
The Steelers' five third-down conversions in that one series were from 2, 10, 1, 6, and 1 yard out and were part of their 12-of-16 day on third down.
"(It was) poor execution," defensive end Brian Burns said. "They did a good job running the ball, which kind of had us focused on the run a lot. They were in a lot of third-and-manageable."
The Steelers totaled 325 yards, including 156 on the ground. Johnson put up 100 all-purpose yards, including 98 on 10 receptions. He caught the ball every time Trubisky targeted him.
Interim coach Steve Wilks had pointed words regarding the Panthers' third-down defense and third-down offense, which went 4-of-11 (36.4 percent) and converted three of those on the same first-half touchdown drive.
"Third down was horrendous, to say the least, on both sides," Wilks said. "Not good enough in regards to affecting time of possession."
The possession discrepancy was blatantly obvious; Pittsburgh had the ball for 36:11 compared to Carolina's 23:49, with the long second-half drive contributing a load to that.
Wilks said he plans to compile every third-down conversion from that drive to show the defense as they move forward in a short week before Saturday's game against Detroit.
"We have to hit the reset button. Don't allow it to get in the way," Wilks said. "We have been down this road before. There was a setback against Cincinnati. We came back the next week and played a great game against Atlanta.
"So, we have to find a way as coaches and the men in the locker room to make plays and we have to do a much better job of putting them in position to make plays."