Those two letters usually refer to the general manager. But this week, those two letters could also represent Gerald McCoy.
Either way, Tuesday was a red-letter day in an offseason full of them for GM Marty Hurney.
McCoy, one of the NFL's most dominant defensive tackles over the past decade, has signed a one-year deal to join an already talented Panthers interior. McCoy technically isn't an unrestricted free agent signing – he and the Buccaneers "mutually parted ways" in mid-May – but he's a late-but-great addition to an offseason haul worthy of a round of applause for Hurney and Co.
As the start of free agency approached nearly three months ago, March 13 at 4 p.m. was deemed worthy of a countdown clock. Not quite on a Dick Clark level, but not too far off the pace for football fans. When the four o'clock hour on that Wednesday arrived, Twitter and television blew up. Agreements reached between free agents and teams in the days leading up to free agency began becoming official.
Then, by the next Monday – just five days later – many declared free agency to be virtually over.
That's the made-for-social-media definition of NFL free agency, but that's not nearly the whole story as Hurney started making moves before free agency officially began and has continued making moves into June. Before the McCoy signing, most of the moves didn't move the needle much nationally. But collectively, Hurney and his staff have moved mountains, significantly upgrading the roster from top to bottom.
While there's still some talk about who the starting safety alongside Eric Reid will be, what if the Panthers hadn't signed Reid? Hurney's acquisition of talent began a month before free agency when the Panthers reached a three-year deal with Reid, an impactful safety Carolina signed early last season who was set to become a free agent. He's the leader of the secondary and he's looked outstanding this spring.
Then when free agency opened, Hurney executed his plan to bolster the trenches. The first full day of free agency did wonders for the look of the offensive line in front of quarterback Cam Newton. First, Carolina signed former Broncos center Matt Paradis to a three-year deal, bringing stability to the interior of the line in the wake of five-time Pro Bowler Ryan Kalil's retirement.
That same day, Hurney also surprised many by managing to keep offensive tackle Daryl Williams in town with a team-friendly, one-year deal. Williams was an All-Pro in 2017 who missed virtually all of the 2018 season with a knee injury and who most expected to sign elsewhere. Hurney's day also included some dirty work that comes with the GM gig as the Panthers released offensive tackle Matt Kalil two years into the five-year deal he signed when Dave Gettleman sat in Hurney's seat.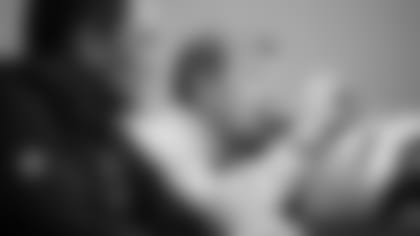 Hurney next turned to a defensive front looking for more consistency in its pass rush even before Julius Peppers retired. The Panthers brought athletic, versatile and proven defender Bruce Irvin into the fold about a week into free agency. Later, Hurney made one of those moves that only those who closely follow the team fully appreciate, bringing back rotational contributor Kyle Love at defensive tackle.
While Love signed on the first day of offseason workouts, proven pass catcher Chris Hogan came a few days before. Another talented target for Newton, and someone who has made play after play during OTAs.
The sum total of those moves set Carolina up beautifully for the draft, with no glaring hole that could have tempted Hurney to reach based on need. The Panthers were in position to pounce when pass rusher Brian Burns remained on the board midway through the first round, and Hurney then moved up in the second round to grab offensive tackle Greg Little, who could be a long-term answer at left tackle. He later doubled up in the pass rush and pass protection departments with Christian Miller in Round Four and Dennis Daley in Round Six.
Time will tell how all the draft picks and free agent pick-ups pan out, and the reality is that they never all work out as hoped. But if the "GM" signed Tuesday proves to be the real McCoy that can play at an All-Pro level, then the wins we've seen in the spring should carry into the fall.
View photos of the newly signed defensive lineman as he officially becomes a Carolina Panther.