Red Hot Chili Peppers Concert | Bank of America Stadium
Red Hot Chili Peppers Global Tour 2022
SHOW INFORMATION
Show Date: September 1
Ticket Office opens: 9 a.m.
Doors Open: 5:00 p.m.
Show Begins: 6:30 p.m.
HEALTH INFORMATION
The health and safety of our fans, guests, players, and employees is our top priority. Bank of America Stadium is following the Mecklenburg County Health Department and CDC guidelines. Proof of vaccination, a negative COVID-19 test, or a face covering is NOT required for entry.
Fans are allowed to bring two (2) sealed, plastic non-flavored water bottles per person. To help manage the summer heat, we encourage all fans to stay hydrated.
Stadium Entry
BE PREPARED & ARRIVE EARLY
To make your concert experience as smooth as possible, we encourage all ticket holders to access their tickets prior to event day to avoid confusion and issues at the gate.
Fans are also encouraged to arrive early to avoid long lines. All three gates will be open and you can use any of the main gates, regardless of the gate noted on your ticket.
MOBILE TICKETS
All entry into the stadium will be through mobile tickets. Click the link below for in-depth instructions on accessing and managing your mobile tickets on the Ticketmaster app.
Fans are encouraged to access their tickets and add them to the user's mobile wallet well in advance of event day.
Should you need to access your tickets at the stadium on game day, please be sure to connect to Panthers WiFi.
Questions about your tickets?
Call Ticketmaster at (800) 653-8000.
ALL GATES ARE OPEN
All three main gates will be open at Bank of America Stadium including North Gate, Lowe's East Gate and South Gate. Fans will be able to use any gate to enter the stadium perimeter and/or the stadium itself.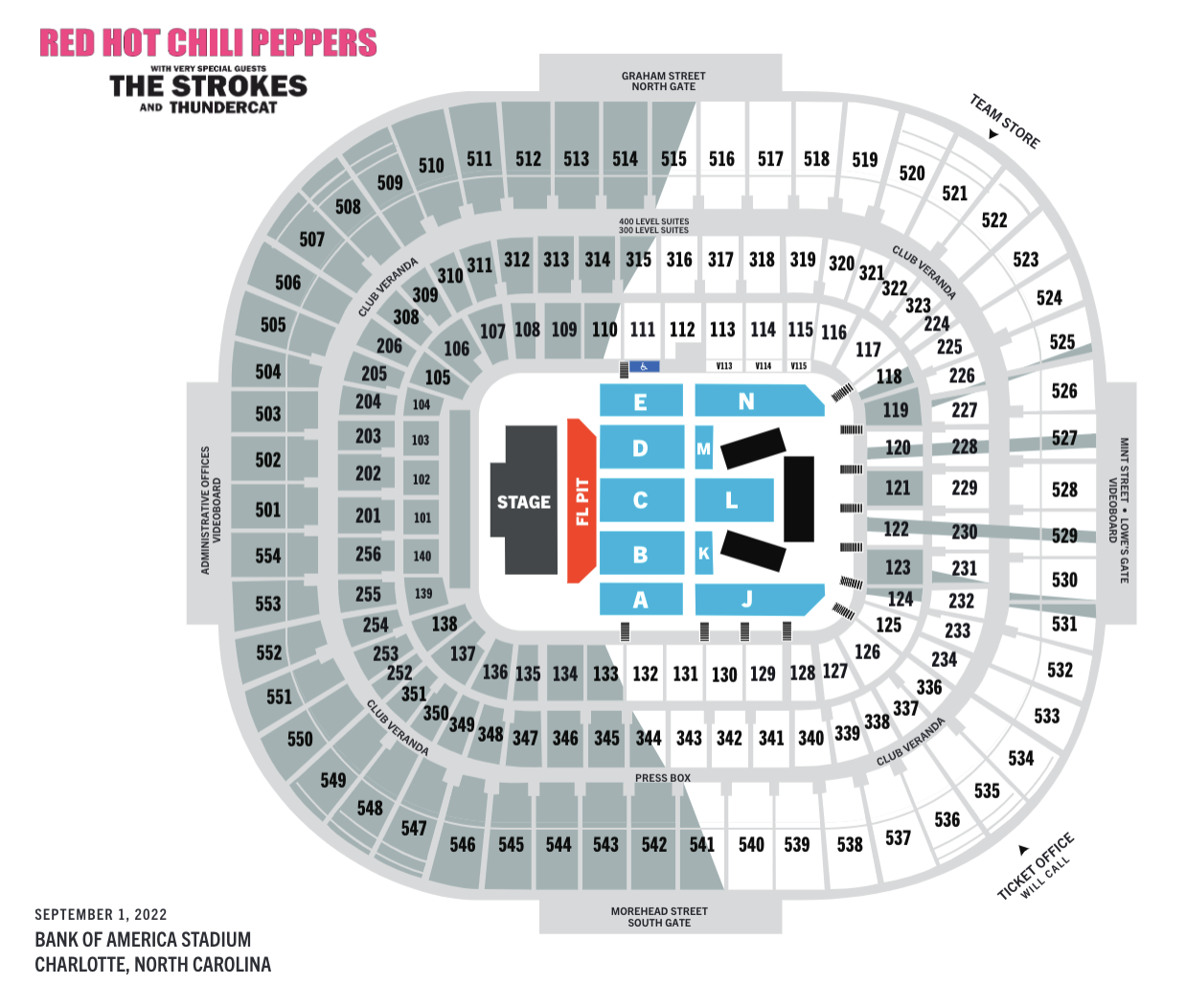 Stadium Diagram
FIELD SEATING ENTRY
Patrons with a field seat should enter on the left side at any main gate. Keep your ticket visible after scanning and visit a wristband table located inside the gate.
After receiving your wristband, look for signage designated for your field seat location. An Usher will verify your ticket and wristband to allow access to the field.
All three main gates will be open at Bank of America Stadium including North Gate, Lowe's East Gate and South Gate.
Procedures and Policies
ENTRY LINES & PROCEDURES
Security checks will be further from the ticket entry gates.
Each gate will have a roped entry with queue lanes for more efficient entry.
The Clear Bag Policy will be enforced prior to entering the queue line.
Once through security screening and ready to enter the stadium, have your mobile ticket ready and proceed to the touchless ticket scanners.
PROHIBITED ITEMS
In addition to the Clear Bag Policy, the following items will not be allowed in the stadium:
All non-transparent bags or items, including backpacks, binocular/camera cases, cinch bags, computer bags, diaper bags, fanny packs, purses larger than 4.5" x 6.5", etc.
Explosives and fireworks
Outside food and beverages, except two (2) sealed plastic non-flavored water bottles per person
Selfie sticks
Umbrellas
Video equipment
Weapons of any kind and size, including guns, knives, scissors and those carried with a permit
Food and Drink
CASHLESS FACILITY
Bank of America Stadium is now a cashless facility and all purchases will need to be made via credit, debit card, touch-free payment or through the Panthers App. Pre-paid debit cards will be accepted.
MOBILE ORDERING
Mobile ordering is available at posted concession stands and concession portables through the QR codes on the concourse or via the link below.
Fans can order and pay from their seats and then pick up at the designated concession stand or portable.
SHOPPING LOCATIONS
Tour merchandise will be available for purchase at stands outside the following sections on the concourse: 109, 115, 124, 129, 134, 513 and 540.
The Club Level will also have shopping locations set up in Panthers Den and Red Zone Lounge.
Rideshare Information
Designated Rideshare Drop-Off/Pick-Up
The designated rideshare drop-off and pick-up is located at the corner of Third Street and Church Street next to Romare Bearden Park.