1) Rookie cornerback Donte Jackson had a terrific camp. Head coach Ron Rivera said Jackson's arrival has made him more comfortable with the secondary than he's been in a couple years. Devin Funchess said he's never seen anyone as quick as Jackson. The second-rounder from LSU came to Carolina full of swagger, and that was on full display in Spartanburg. There are a lot of reasons to be excited about him, but before he's anointed savior of the secondary, let's see how things go in a few regular season games. He's a rookie after all, so he still has a lot to learn. And a guy his size still has to prove he can be counted on week after week in run support. With all that said, early indications are the Panthers got a good one.
2) Let's be honest – no one can tell you how Cam Newton's season is going to go based on training camp. But I'll say this – the star quarterback was healthy and happy throughout, which is a fantastic place to start. The offense is still figuring itself out under new coordinator Norv Turner, but it was encouraging to see Newton get the ball out of his hands quickly – one of Turner's points of emphasis. He had a couple rough days to close camp, but that may have just been the fatigue factor.
3) Injuries and the ensuing domino effect changed the whole trajectory of the left guard competition – one of the major question marks entering camp. Starting right tackle Daryl Williams was lost indefinitely, which forced Taylor Moton into that spot and took him out of the running at left guard. Then Amini Silatolu injured his knee, leaving the Panthers with Greg Van Roten and undrafted rookie Brendan Mahon as the primary candidates to start at left guard in Week 1. For now, Van Roten is the leader, but coaches are excited about Mahon. There's also a chance Tyler Larsen, who's playing center this preseason as the Panthers manage Ryan Kalil's workload, could emerge as the top option at left guard.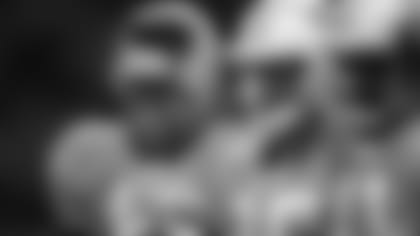 4) Let's discuss the receivers. Funchess is beaming with confidence and primed for a big year at the "X" in Turner's offense. First-round pick DJ Moore is a potential stud. The rookie from Maryland made plays left and right. Torrey Smith and Jarius Wright look like smart additions. Smith, the veteran leader with two rings who can stretch the field. Wright, the savvy slot operator who can create separation and make tough catches. And what about speedsters Curtis Samuel and Damiere Byrd? Samuel stacked some solid practices together – not to mention four catches on four targets in the preseason opener at Buffalo. And Byrd's route running has been very polished. If those two remain healthy, they can be tremendously valuable weapons.
5) Linebacker Shaq Thompson made some spectacular plays, but it's not like we haven't seen that from him before at camp. Is this the year the former first-round pick takes his game to that proverbial next level? "I just want to do more," said Thompson, aware there's another level to reach. "I want to show what I can do." With Thomas Davis suspended for the first four games of the regular season, it's the perfect time for the star power within Thompson to emerge.
6) Cornerback Captain Munnerlyn had a rough 2017. He didn't play nearly as much as he expected, and he wasn't close to his best when he was out there. That left the door open for Carolina to try something else at nickel in 2018. Perhaps James Bradberry – who had a rock-solid camp – and Kevon Seymour could man the outside spots with the rookie Jackson inside to get more speed on the field. But Seymour is battling inconsistency and he's not playing as fast as his 4.3 speed indicates. Plus, the staff might prefer Jackson focus on playing outside. Munnerlyn, meanwhile, worked as the first-team nickel throughout camp and performed well. He's played that position for years. Does he have another effective one in him? Will he get a chance to show it? Is he as "entrenched" at the nickel spot as Rivera indicated? We shall see.
7) Ian Thomas is going to make some mistakes and it might not always be textbook, but he's capable of winning the No. 2 tight end job. The rookie from Indiana is powerful and has surprising athleticism for his size. When he gets going downhill, defensive backs are going to have a tough time getting him on the ground. Mastering the playbook and effectively blocking will be challenges, but things are made a little easier when your No. 1 tight end is Greg Olsen. Oh, and when Luke Kuechly gives you a nod of approval, you're on the right track.
8) Speaking of rookies, some thoughts on guys that haven't been mentioned yet. ... Third-round safety Rashaan Gaulden plays with a physical edge. He's been improving steadily and could work his way into a prominent role. ... Fourth-round defensive end Marquis Haynes proved to defensive coordinator Eric Washington that he could be an exception to the rule. Haynes doesn't have prototypical size, but his motor and his explosiveness will get him on the field in certain situations. ... Fifth-round linebacker Jermaine Carter plays fast and he's instinctive – a pretty strong combination. He's going to push guys like David Mayo and Jared Norris.
9) We haven't learned all that much about the backup quarterbacks that we didn't already know before camp. The final three preseason games will be vital for Garrett Gilbert and Taylor Heinicke. And you still can't rule out the possibility of a veteran signing once we get closer to the opener against Dallas.
10) Julius Peppers didn't practice once during training camp. It doesn't matter. The 17-year veteran will be ready to wreak havoc come Week 1.