In a mostly forgettable 1998 season, Michael Bates stood out as highly memorable.
It was fitting, then, that Bates took the opening kickoff of the second half in the final game that season at Indianapolis and returned it 99 yards for a touchdown to spark a Carolina comeback. The Panthers erased a 10-point halftime deficit against the Peyton Manning-led Colts to score a 27-19 victory in what turned out to be Dom Capers' final game as head coach.
Not only was Bates a dynamic kick returner, one of the best in NFL history, but he also was a terror on special teams coverage units teams as a gunner. He was, Capers often said, fearless on the football field.
"You have to be fearless, because you've got all these bodies flying 100 miles per hour down the field," Capers said.
No one in the NFL at the time flew down the field faster than Bates, who as an international track star won the bronze medal for the United States in the 200-meter dash at the 1992 Olympics in Barcelona.
But make no mistake. At 5-foot-10 and a rock-solid 189 pounds, Bates wasn't a track star-turned-football player. He was a football player first and foremost.
As a junior at Amphitheater High School in Tucson, Ariz., Bates played running back and rushed for more than 1,300 yards in just nine games, averaging 10.2 yards per carry.
But it was his speed, always his startling straight-line speed, that garnered the most attention - causing one opposing coach to comment, "It's like watching a Roadrunner cartoon."
Bates was a physical player, too. As a kick returner, he gathered in the ball and then immediately headed upfield in almost an incomprehensible burst of instant speed, gaining more momentum with every step. He was as likely to run over a would-be tackler as he was to avoid him.
"He was the toughest fast guy I've ever seen," said Dick Tomey, the coach at Arizona where Bates played in college.
Bates arguably was never better, or at least never busier, than in 1998.
That season, he set Panthers team records that he still holds today: most kickoff returns in a season with 59, most kickoff return yards in a season with 1,480 and most kickoff returns in a game with nine at Atlanta (10/4/98).
The 99-yard kickoff return Bates had for the touchdown in the season finale at Indianapolis was one of a team-record five he crafted in six seasons with the Panthers. Steve Smith is second in franchise history with two.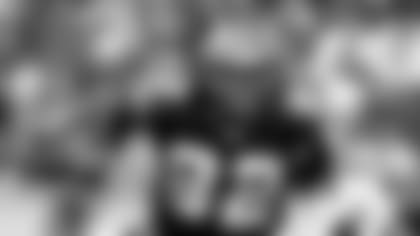 "He has track-type speed, but he's not a track man playing football," Capers once said of Bates. "Michael is a tough guy. He's not afraid to throw his body around. He'll take kickoffs, and he's going to get it up the field, which is what you want your kickoff returner to do."
The speedy Bates was one of Carolina's top coverage men on special teams and had a knack for getting to the ball and bringing down opposing kick returners before they could do to the Panthers what Bates routinely did to them. He still ranks third in team history with 60 special teams tackles.
But Bates wanted to be something more earlier in his NFL career. Seattle tried him at running back and wide receiver but cut him in training camp before the 1995 season. The Panthers claimed Bates off waivers but then traded him to Cleveland, where he spent 1995 mostly on the Browns' bench.
When Bates became available in free agency the next summer, the Panthers snatched him up again - and Capers made it clear that it was on special teams where Bates could be, well, special.
For the first time since he first entered the NFL with the Seahawks in 1993, Bates finally embraced the idea.
It proved to be a match made in Panthers heaven. Bates proceeded to make the Pro Bowl as a special teamer in each of the next five seasons with Carolina.
Bates ended his Carolina career with every kickoff return record and still holds them today, including most kickoff returns with 233, most kickoff return yards with 5,987 and highest kickoff return average of 25.7 yards. His kickoff return averages of 30.2 yards in 1996 and 27.3 yards in 1997 remain the top two in franchise history as well.
It was no surprise when the NFL's Hall of Fame Selection Committee voted Bates onto the 1990s All-Decade team.
Along the way, the soft-spoken Bates never sought out the spotlight nor made too much of all his individual accolades. But he did take pride in what he was able to do both with the ball on special teams and when he was chasing down opponents who had it.
"People look at special teams guys like they're junk and they're just lucky to be on the team," Bates once said. "I think that's the wrong way to look at things. We get field position, and we take away field position."
No one has done it better in Panthers' history than Michael Bates.
View photos from the Carolina Panthers 1998 season.