When it came to running the football during the 2009 season, no running back tandem could top the efforts of DeAngelo Williams and Jonathan Stewart. In fact, no running back duo before or since in NFL history has accomplished what Williams and Stewart did that season.
Williams, in his fourth NFL season, rushed for 1,117 yards despite missing three of the last five games because of an ankle injury, and Stewart, in his second NFL season, compiled 1,133 yards. It is the only time in NFL history that two running backs from the same team have gained 1,100 yards in the same season and marked only the fifth time a pair of running backs from the same team topped 1,000 yards in a single season.
"That whole year, for a running back, seemed special from the start to the finish," Stewart said. "You had a lot of faith in what was going on that year in the running game. You could feel that everyone knew we were hitting on all cylinders, whether it was you, the fullback, the offensive line or the play calls.
"And when DeAngelo or I got the ball, we were making guys miss. Then when one guy got tired, Coach (John Fox) did a great job of subbing us in and out. And every week, the coaching staff had us ready for whatever defense we were going to face."
It was a team effort. Stewart said much of the credit for the success that season went to the offensive line and fullback Brad Hoover. Ryan Kalil, the team's starting center then and now, said it was a rare year and one that he will never forget.
"We had two really good running backs who were in their prime, and we made an emphasis of running the ball that year with those guys. We worked and worked and worked at it, and when we had success with it early on, I think we developed a bit of an attitude about ourselves. That sort of became our identity," Kalil said.
"It was fun," continued Kalil - who was selected to his first career Pro Bowl following the 2009 season. "When they (opposing defenses) know it's coming and you can still stick it in there and gain positive yards, that's uplifting for you and disheartening for them."
Hoover recently listed the 2009 season as his third best memory in a decade of playing for Carolina - behind only the 2003 Super Bowl season and his 117-yard rushing effort as a rookie versus the Green Bay Packers on Monday Night Football in 2000.
"Just being a part of that was really something," Hoover said. "Blocking for those guys and watching them achieve something that has never been done before or since in the NFL is something I will cherish forever."
Stewart certainly seemed to cherish Hoover's blocking and veteran guidance that season.
"It was easy to run behind him," Stewart said. "He played running back at one time, so he knew what we were looking for. And it was kind of amazing, because he knew what we were looking for but he was always a step or two ahead. That's what you're looking for in a fullback, one with good instincts. Then as a running back you trust not only your own instincts but the instincts of your fullback, too."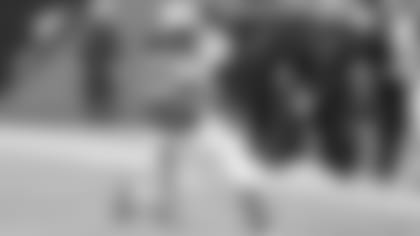 The Double Trouble nickname for Williams and Stewart emerged a year earlier when Williams produced team records of 1,515 rushing yards and 18 rushing touchdowns on 273 carries, while Stewart set team rookie rushing records with 846 rushing yards and 10 rushing touchdowns on 184 attempts.
"That took off my rookie year. We were winning and running well," Stewart said. "There was the whole thing with the Tennessee Titans' running backs at the time - Chris Johnson and LenDale White, who called themselves 'Smash and Dash.' Our fans called us that, too, but we never did.
"We decided, 'Hey, we need to be something different. We'll be Double Trouble.' It was catchy, and it sure caught on."
As it turned out, that season was merely a warmup for the one that followed.
Double Trouble's breakout game in 2009 came in a 28-21 victory at Tampa Bay in Week 5. Williams ran for 152 yards and two touchdowns on 30 attempts while Stewart carried 17 times for 110 yards and one touchdown.
But as the season wound down, no one was thinking that the duo was chasing NFL history. In fact, it wasn't until the next-to-last game, the final one played at Giants Stadium in East Rutherford, N.J., that anyone gave it any thought to it at all. Stewart entered the game with 802 yards. Williams had 1,117 yards, but his season was over because of the ankle injury.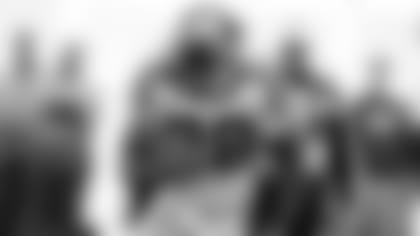 "I just remember the whole game being in a zone," Stewart said. "It was a different-type experience, just being in the zone like that where the offensive line's blocking assignments were on point and I was just hitting the holes. It seemed like no matter what running play we ran, it went for positive yards. I followed Brad Hoover wherever he went, so in that sense with him and the line blocking so well for me, it was easy."
It looked that way a then team-record 206 yards later.
Still, Stewart was nursing a left Achilles' tendon injury entering the Giants game and needed another big performance in the season finale versus New Orleans to surpass 1,100 yards. Stewart set the tone on the second play from scrimmage when he broke free for a 67-yard touchdown run.
"It was one of those things, again, where I followed Hoover and just cut back," Stewart said. "The rest was easy. All I had to do was keep running all the way to the end zone."
He finished the game with 125 yards on 16 attempts to eclipse 1,100 yards.
And the rest, after that, was indeed history.
View some of the top images from Carolina's 8-8 campaign in 2009.