It's rare for one NFL team to shut out another. The Panthers, for instance, have played 311 regular season games in their history and have recorded a total of five shutouts.
One of those occurred on Nov. 19, 2006, when defensive end Mike Rucker used another rare, once-in-a-lifetime form of motivation to help spur the Panthers to a 15-0 defeat of the St. Louis Rams at Bank of America Stadium.
In his eighth season of what would be a nine-year NFL career - all with Carolina - Rucker had played in two NFC Championships, one of which the Panthers won following the 2003 regular season to advance to Super Bowl XXXVIII. In fact, he had a sack in that NFC Championship victory at Philadelphia and eventually would briefly become the franchise's all-time leader with 55.5 sacks until being surpassed by Julius Peppers.
Rucker played in some big games during his career, and the one that November stands out as the most memorable in his mind but not because of how he helped the Panthers shut out a high-powered St. Louis offense.
It was because of the little girl who was in the stands to witness it.
"When you bring that game up, it really stirs up a great memory for me," Rucker said. "Usually, there are some pretty obvious answers when people say, 'Hey, what are the highlights of your career?' But this particular game stands out to me. Why it's so close to my heart is that it was the only game I had one of my kids at. My kids were real young, and my oldest (daughter Alexis) was around six years old at the time."
Rucker played inspired football that afternoon, and he thinks Alexis had a lot to do with it. He had two sacks of St. Louis quarterback Marc Bulger, including one for a safety late in the fourth quarter that clinched the win. Rucker also posted four tackles and three quarterback pressures and was in the Rams' backfield all day long. The performance earned him NFC Defensive Player of the Week honors.
"I remember being in a zone," Rucker said. "If you talk to a quarterback or a receiver or a running back and you ask them if they ever played a game where they felt like they were in a zone, they'll all remember those games in great detail. It's where you can't do anything wrong and everything is working. And that was one of those days for me.
"It was one of those days where you were constantly getting pressure (on the quarterback) and you felt like you could have come out with five or six sacks. It was just one of those days. I really believe that it was partly because it was my daughter's first time to see me play and also because anytime I played the Kansas City Chiefs or St. Louis Rams, being from Missouri, it always allowed me to turn it up another notch because I knew I would have family back home who would be watching. So I think it was, for me, what you would call a perfect storm."
Watching in the stands was young Alexis and her mother, Rucker's wife, Kristina. Dad had made it a point beforehand, as he always did when family was at a game, to know exactly where they were sitting.
"One thing I did from high school to college to the pros was if I had family at the game, I'd always go talk to a security guy before the game and show him their tickets and say, 'OK, show me where they're seats are.' Then before the game I always would find my family in the stands after they sat down," Rucker said. "And then whenever I had a sack I would always point to them to let them know I was thinking of them in this fun time."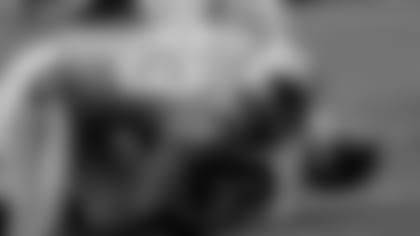 "This game was no different. I knew exactly where they were sitting. The end zone where I got the safety was on the end where they were. They were up on the left-hand side in the corner on a wheelchair row. I remember getting the safety and pointing right up there and seeing my daughter's face. She didn't know what was going on. And talking to my wife later, she was so excited that Dad made this play - and everyone around her was cheering - that she didn't understand what was happening and she started crying. But it was because she was so happy."
The defense tied a team record (since broken) with seven sacks and limited the Rams to 111 total yards, while quarterback Jake Delhomme threw a 62-yard touchdown to wide receiver Steve Smith and John Kasay kicked two field goals.
Alexis Rucker took it all in.
"She was a little young to understand what was going on," Rucker said. "My other kid at the time (son Michael) was maybe four and my wife was pregnant and had our third child maybe a month or two later. So for my daughter to be up in the stands, and for me to look up there and see her when she didn't know what was going on, and for me to have that kind of game, just really sticks in my mind. It really made my heart flutter to know she was there at one of my better games."
Less than a month later, Rucker tore the anterior cruciate ligament in his left knee. He returned to play the following season but said he does not recall any of his children ever attending another one of his games before he retired after the 2007 season.
"My kids are at an age now where they understand football, and they might see some highlights or something," Rucker said. "But it's not the same as it would be if they could go to games at this age and can remember Daddy playing. So that's my only memory, my only bond, with one of my kids being at one of my games."
View photos of Carolina during the 2006 season where they went 8-8.