From nearly the first time quarterback Jake Delhomme stepped onto the football field as a Carolina Panther, he instantly seemed to have a special relationship with wide receiver Muhsin Muhammad.
After all, the connection formed on the very first drive after Delhomme took over at quarterback at halftime of the 2003 season opener versus Jacksonville. Delhomme's only completion of the drive - and the first of 1,580 in his career with the Panthers -- was a 13-yard touchdown to Muhammad.
The Delhomme-to-Muhammad connection reached new heights in Super Bowl XXXVIII later that season against New England, when Muhammad hauled in a Delhomme pass and raced 85 yards for a touchdown that remains the longest offensive touchdown in Super Bowl history.
But in the four years they played together - Muhammad left via free agency in 2005 before returning in 2008 - none surpassed the 2004 season in terms of dual productivity for both players. With wide receiver Steve Smith on injured reserve after breaking his leg in the first game of the season versus Green Bay, Muhammad became Delhomme's favorite target.
And that wasn't all. Muhammad, Carolina's second-round draft choice in 1996, also impressed his quarterback with his blocking ability and overall work ethic.
"I got hooked up with Moose in year seven of his career," Delhomme said. "He just had an even-keel attitude about him. He came to work every day and did the same thing. He was Mr. Consistent. He would come out to practice every day and have (wide receivers coach) Richard Williamson start by throwing him a bunch of awkward, hard-to-catch passes.
"But in a game, when he was asked to block, it was like something possessed him and he had to demolish whoever he was assigned to block. He took pride in it with those big vise grips that he had (for hands). He was someone I just respected so much because not only was he so good at catching the ball - that was obvious - but also because he took so much pride in all the other aspects of the game. All of his teammates respected him for that. Moose loved the dirty work. He thrived on it."
At 6-foot-2 and a muscular 215 pounds, Muhammad often would find himself being defended by smaller defensive backs, and Delhomme would look to exploit Muhammad's size advantage.
"Anytime you can get some smaller cornerbacks on you, you've got to take advantage," Muhammad said.
In 2004, Muhammad earned first-team All-Pro honors and was selected to the Pro Bowl after recording a career-high 1,405 receiving yards and setting a team record with 16 receiving touchdowns on 93 catches. Delhomme, meanwhile, established career highs with 310 completions, 3,886 passing yards and 29 passing touchdowns while completing 58.2 percent of his passes.
The season before in 2003, the Panthers had been built primarily around the running game, and the offense was designed the same way in 2004. But that quickly changed when top running backs Stephen Davis and DeShaun Foster both suffered season-ending injuries early in the year, just like Smith at wide receiver. As a result, the Panthers turned to Delhomme's arm and Muhammad's hands and feet to win games.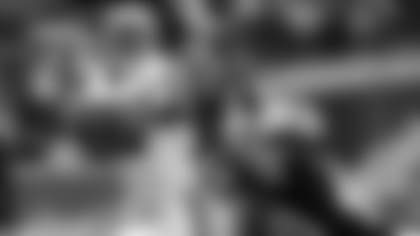 "It seemed like every single week we were losing one of our top players," Delhomme said. "Honestly, we had to change the offense. Nick Goings came in at running back, and we ran a lot of two-tight-end sets with a fullback and one receiver, with Moose in that role. But our passing game changed.
"I think both Moose and I evolved that year. The year before was Steve's (Smith) coming-out party, where you could cure a lot of ills by just getting it out real quick to him. But with Moose, we became more of a downfield passing attack."
Seven times in 2004, Muhammad produced more than 100 yards receiving in a game. At San Francisco, he tied a team record with three touchdown receptions.
Muhammad recounted the chemistry he forged with Delhomme in an interview with Charlotte radio station WFNZ earlier this year: "When he was in his prime and he was hot, he knew to get the ball to his playmakers and to sit back and drive the car and bring leadership."
Delhomme's leadership became evident the first time he stepped into the huddle, Muhammad added.
"Jake was a vocal guy," he said. "The first time he walked into the huddle, I couldn't understand what he was saying. He was speaking Cajun or something. He was spitting in everybody's face, and we couldn't tell what he was saying."
In time, they came to understand each other completely. In fact, there were times when Delhomme understood all too well what Muhammad and his other receivers were trying to tell him. They were always open, in their minds, and they always wanted him to throw them the ball.
"Most good players will come back to the huddle telling the quarterback to throw them the ball every single play," Muhammad said. "I'm sure Jake got sick of me...badgering him."
That year, as the injuries mounted on offense, the Delhomme-to-Muhammad connection nearly saved a season that began with losses in seven of the first eight games. With the prolific pair and passing attack leading the way, the Panthers won their next five games and six of their next seven to get back into playoff contention, scoring 31 points or more in five of those seven contests.
The five-game winning streak started with a 37-27 comeback victory at San Francisco after the Panthers had trailed at halftime.
"Foxy (head coach John Fox) gave it to us pretty good at halftime, and after the half, Moose and I just came out and we started making plays," Delhomme said. "We were really in sync, and we stayed that way the rest of that season. We also opened up the passing game a little."