There's only one place to start. Kyle Allen's number has been called with Cam Newton sidelined, so the Arizona native will take center stage in his homecoming against the Cardinals.
The overlooked, undrafted Allen said his performance in the 2018 season finale at New Orleans was "validation," and his teammates and coaches agree. But this is a different challenge with different pressure associated with it as the Panthers look to climb out of this 0-2 hole to start 2019.
"I think Kyle is more than ready. We feel confident, we really do," head coach Ron Rivera said. "He's got a really good arm and he makes good decisions. I just think, at times as you watch him, he just needs to speed himself up a little bit. One thing he will have to get used to is the speed of the game."
Allen has got the arm talent and the moxie to get the job done. We'll see if he can improve his career record as a starter to 2-0. Wouldn't that just be lovey dovey?
This could prove to be a critical factor. Carolina has stubbed its toe at the start of each of the first two games. In Week 1, DJ Moore fumbled the ball away on what was a promising opening drive. In Week 2, Newton was stopped short on 4th-and-1 to conclude the first possession. The Panthers have yet to score a first-half touchdown this season.
If Allen and the offense can give the Panthers an early lead, it'd be a huge confidence boost on the road. Playing from behind isn't a recipe for success, and Carolina could sure use a spark to get things rolling in the desert.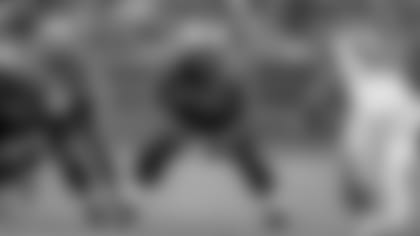 Newton was under duress throughout the Thursday Night Football loss against Tampa Bay. Shaquil Barrett accounted for three sacks and eight quarterback pressures all on his own. As a result, you'd expect the Panthers to give left tackle Daryl Williams some more help in Week 3, something head coach Ron Rivera talked about this week.
And with rookie offensive tackle Greg Little healthy, perhaps he works his way into the rotation for his first career snaps? We shall see.
Arizona rookie quarterback Kyler Murray, the No. 1 overall pick, is extremely dangerous. The talent is obvious. But he's been sacked eight times already. And rookie quarterbacks, no matter how gifted they are, have a lot to learn as they make their way in the NFL.
Murray hopes the third time is the charm as he seeks his first win as a pro. The Panthers' defense is intent on delaying that achievement another week. Will Rivera dial up pressures? Will the Panthers look to mix up coverages? It'll be interesting to see the plan of attack against this "Air Raid" offense that will relentlessly push the ball downfield.
Arizona's pass-catching weapons
We all know veteran wideout Larry Fitzgerald continues to be a big-time threat. His matchup with James Bradberry will be a real battle.
The Christian Kirk-Donte Jackson matchup (two promising second-year players) should also be fun to watch. It's one SEC football fans have seen a few times before.
"I covered (former Texas A&M wide receiver) Christian Kirk all three years from freshman to junior year," said Jackson, who starred at LSU. "I'll probably be covering him again this Sunday, so a great little journey.
"He can play in the slot, play outside, jet sweeps, line up in the backfield. He's very good with the ball in his hands. He and DJ Moore are similar, if you ask me. They're both kind of like running backs once they get the ball. He's a dynamic guy."
And don't forget about Damiere Byrd. That's right, the former Panther is now a key contributor for Arizona. He's got 10 catches already; this after posting 12 receptions in three years with Carolina. From the sounds of it, he's got a point to prove Sunday.
"D-Byrd – that's my boy," Jackson said. "It's good to see him really being successful with a steady place on that team. He's a really good player. That's the business, man."