CHARLOTTE — The Panthers knew they needed someone like Adam Thielen as they built an offense around a rookie quarterback who needed a reliable slot receiver who could still catch a lot of passes.
But the more they're getting to know Adam Thielen, they're figuring out they needed an Adam Thielen because of all the things Adam Thielen does off the field that make him Adam Thielen.
This is, by his description, a "weird" week for the 33-year-old wide receiver. He's not only facing his former team, but that team's also the place he spent his entire life. So, coming to Carolina this offseason was more than just a football transaction; he was uprooting himself and his family from everything they had ever known.
But rather than come in the door as a tourist, learning his way around a new town slowly, Thielen quickly jumped to the front of the line and did enough in a short time to be voted a team captain.
"He has the track record," Panthers head coach Frank Reich said. "Listen, in this league, production speaks, and he's posted the numbers, and they've been consistent numbers for a long time. And we've all seen it and watched it and played against it with him.
"So he walks in the door immediately, and it's like, bam, this guy has instantaneous respect and credibility. And then you talk to him for 30 seconds and, you know, he has the 'it' factor, and so that doesn't take long. And on a young team where there's a lot of transition, he's exactly what we needed to help bring leadership to where we're going."
That's a 61-year-old coach's perspective and sounds like what you'd expect a coach to say about one of the guys in the locker room nearest to him in age.
But it's the guys much younger than Thielen who voted him a captain, and here's their version of why he commands that kind of immediate respect.
"His age?" Laviska Shenault Jr. said with a laugh. "One, you show that you're a dog and that you can play; that's number one. Then, it's leading by example and then, of course, leading with your voice.
"You know, just picking up people when they're down. Pushing when it's time to be pushed. And then, just set an example every day. Leading by example as in practice and meetings.
"You feel his presence, and you need a guy like that."
That presence began long before he put on pads for the first time.
Thielen was all-in here as soon as he had that first conversation with Reich. He brought his wife and kids when he came to sign his contract in March, and the way the family walked through the building, meeting support staffers and getting to know their new home, gave an impression that this life-long Minnesotan was becoming a Charlottean in a hurry.
Teammate DJ Chark Jr. realized it before he was a Panther because Thielen was often on the other end of the phone when he was making up his mind about his own free-agent destination. Chark kept getting a feeling this was the place. But to him, it felt like Thielen had a much bigger head start, even though there were only nine days between their signings.
Chark knew Thielen by reputation, but in the conversations in those nine days, he felt like he got to know a player he had admired from afar and introduced himself to when their teams crossed paths.
"When I knew that he was coming here and I had planned on coming here, that's when I kind of really got to know him a little bit more," Chark said. "It was almost a little bit of a recruiting pitch, but I kind of already knew that this was the place. So, just keeping up. Getting updated, keeping him updated, and things like that. And just being excited to meet each other."
And once they got here together, Chark quickly realized Thielen was everything he imagined from a distance.
"One, you have to be yourself and be genuine, but two, you also have to reach out and meet the people that you're around and get acquainted," Chark said. "But then also working hard to show your new teammates that this is what you can expect from me every day. Not just, hey, when I first get here, I make plays, or I say that I'm going to do this, I say I'm going to watch film longer and things like that, and then by Weeks 2 or 3, you slack off. You have to show that every day.
"So I think that's one of the biggest things going to a new place is just being who you say you're going to be every day."
Thielen certainly did that last week. With the Panthers in desperate need of any kind of shot of offense, he came through with 11 catches for 145 yards and a touchdown against the Seahawks. That was with backup quarterback Andy Dalton at the helm, but he showed throughout the offseason an early rapport with Bryce Young, from the first time they ran a two-minute drill together and Thielen was on the receiving end of the touchdown pass.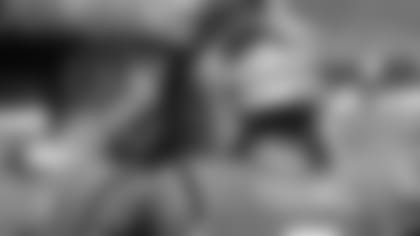 Those relationships are ones built on trust, and you don't build that in a day, though he clearly built it in a hurry.
He's mentioned several times this week how it was a tough offseason leaving home, and he mentioned Wednesday that he briefly considered being finished after nine seasons so that he didn't have to leave home or the only team he had ever known.
"It's obviously tough leaving a place that you put so much into that you gave everything you got for and, you know, maybe didn't end exactly the way that everybody thought it would," he said. "So there were some tough points of that, but to be here in this organization and this locker room, I'm so thankful. I didn't know where I was going to land, and I'm just kind of trusting in the process, and I'm very thankful to be here. This hasn't been the start we want to have, but, there is no panic and, I still have so much faith and trust, and love for this organization and the people we have here.
"I think it's that prove-it mentality that I've had my entire career. You come into a new place, and you have to prove who you are as a player, as a person, as a leader. The people here have no idea of who I am as a player, as a leader, as a dad, as a husband. And so you got to prove that every single day. And I think that's been a fun challenge for me to really just every day that I'm on that football field, I've got to prove who I can be as a teammate, who I can be as a player, how I can help this team win and same thing on game day. So it's really held me accountable, and it's exciting to me to see where this can go."
They still don't know where that is.
But in a short amount of time, they've come to trust that Thielen is the kind of person who can lead them somewhere.
Reich said it began when they had free agent meetings before the start of free agency, and he watched the tape of a guy who caught 70 passes last year while alongside Justin Jefferson, one of the brightest stars in the game.
"We investigated everything," Reich said. "More than anything, you watch the tape, and you watch his route running. When you talk to the person, if you just meet with him, you're signing him, you're going to pay him whatever he wants if you're just talking to him because he is brilliant, smart, he's a great leader, and he's a great player, and he's still playing at a very high level, and we're super excited."
When Reich details why he's so excited, he rattles off a laundry list of the qualities they were looking for as they build something here for the long haul. It's clear to listen to him that Thielen brings what he's hoping to create here.
"I know it's early in the season," Reich began. "But this guy is a competitor, a fierce competitor, the mindset, the leader, the player, how he prepares, his effect on the team. . . .
"This is, . . . We got the right guy. We got the right guy for sure."
View photos from the Panthers' practice on Wednesday.