CHARLOTTE – Late in the third quarter of Sunday's loss to the Redskins, veteran tight end Greg Olsen suffered a vicious hit to the head and everyone held their breath.
After catching a third down pass from quarterback Kyle Allen, Olsen fought to get to the sticks until Redskins linebacker Ryan Anderson connected with a helmet-to-helmet hit. Olsen's body immediately went limp, prompting Carolina's training staff to hustle onto the field. Olsen was helped off and he later jogged his way to the locker room. His day was done.
That meant it was time for second-year tight end Ian Thomas to step up – something he's done before.
When Olsen went down with a foot injury last season, Thomas rose to the occasion, totaling 36 catches for 333 yards and two touchdowns. Towards the end of his rookie year, it looked like the fourth-round pick was poised to be a valuable complement to Olsen in 2019. Then a preseason knee injury threw a wrench in Thomas's plans for an expanded role in his second year.
As a result, Thomas has been featured sparingly this season, starting only one game and being targeted just five times. In the first 11 games of the season, Thomas averaged just six offensive snaps per game.
With Olsen sidelined against the Redskins, though, Thomas was once again elevated to the No. 1 tight end spot. Finally, another chance, and Thomas made the most of it, hauling in all four of his targets for 24 yards, including three critical catches on the Panthers' final two drives during the late comeback attempt. He finished with a season-high 32 snaps.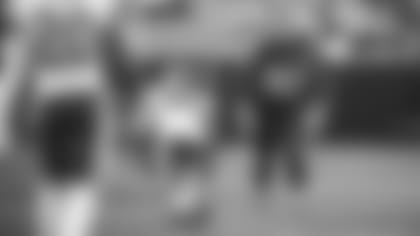 "Ian did some nice things. He presented a good target and got himself open by putting himself in some vacant areas," head coach Ron Rivera said on Monday. "He played well. Blocked well as well. He did his job and did it nicely."
While Rivera doesn't yet know the specifics of Olsen's status within the concussion protocol, he certainly made it sound as if the Panthers are preparing to face the Falcons without their Pro Bowl tight end. That means more chances for Thomas to begin another late-season surge.
"He'll get an opportunity this week, that's for sure," Rivera said. "He's going to have to step up and do some things. I think Chris Manhertz will also have to step up, as well as Alex Armah, because we're going to be looking to replace a guy that does a lot of things for us."
View the best behind-the-scenes photos from Carolina's Week 13 home game against Washington.