CHARLOTTE — The first thing you have to know is that none of this makes any logical sense. The second thing you need to know is that logical sense doesn't matter right now.
By any empirical measure, the Panthers should be playing out the string on a lost season. Instead, Shaq Thompson is in there telling players in a team meeting on Saturday night to "hold the rope," and on Sunday, they did. And now, all of a sudden, the Panthers are in an honest-to-god playoff race.
This isn't just pandering because it's the thing you're supposed to say, and then you shrug and say "I guess." These guys think they're winning this division. And they might.
There's still a ton of heavy lifting to do, but they've done a lot of lifting already.
Was having a conversation recently with our "new" writer Augusta Stone, who got here in June and has become a grizzled veteran because she's already lived a Russian novel here. Told her she could cover the NFL for another 25-plus years, and she'd never see anything quite like this season. This is a thing I felt qualified to tell her since I've covered 25-plus years of this stuff and have never seen anything quite like it.
Because the NFL is such a minute-to-minute business and fights for our attention every minute of the day, it's easy to get caught up in the right now and stay there. But it's worth remembering that this team fired a head coach after five games. The next week, they traded their best offensive player. And last week, they released the guy who started the opener at quarterback and was voted a team captain, who happened to be a former No. 1 overall pick.
Teams don't do those three things in a single season and continue to not just fight for the playoffs, but play in a way that makes other people consider they might. The Panthers have created some belief right now, and the fact that it doesn't make any sense actually makes the story more interesting to watch.
Also, I have no idea how all this is going to end. It could go poorly over the next month, and all these warm feelings people are starting to have again can go as quickly as they came. But the thing I know for sure is this was not how any of this was supposed to go.
----------------------------------------------------------
Do you believe the Panthers can potentially make the playoffs over Tampa Bay? I personally do, especially with how hot the Panthers have been and how Tom Brady is playing awful football. — Jack, Kennebunk, ME
At this point, they're a game out of first with four to play, so all you can honestly reply with is, "Why not?"
First, to the point about Brady playing "awful football," it's worth pointing out that everything is relative. Bad for him is not the same as bad. He's still thrown 17 touchdowns and five interceptions, completed 65.8 percent of his passes, and has an 88.9 passer rating. So it's not like he stinks. He's just not the Tom Brady we're used to seeing.
The Buccaneers are also beat all to crap from a physical standpoint, with a few major stars on injured reserve already and new problems cropping up on a weekly basis. They have been unfortunate in that regard. But they're also looking like a team that's getting old together.
Most teams are aching this time of year, and the Panthers have some things to worry about on that front as well (DJ Moore's status will be very up in the air this week). But there's a different energy about the way the Bucs and Panthers are playing at the moment, and the Bucs are playing the hot-again Bengals, and the Panthers are playing a struggling Steelers team this week, so it's reasonable to think they might be tied Sunday night. And then they play each other in Week 17.
----------------------------------------------------------
Manischewitz, what a solid game of football the Panthers played against the Seahawks. Except for some crowd-induced false start penalties and a collective brain fart by the defense very late in the game, I thought they dominated the game.
As I was watching the sidelines after the score, interim head coach Steve Wilks wasn't afraid to let his players know how he felt about their lack of focus. Wilks has done an outstanding job since replacing Matt Rhule. I certainly hope that this interim head coach gets the job full-time.
I was wondering how many interim head coaches in the NFL have gone on to get the head coach job the following year? — Michael, Rock Hill, SC
Not a lot. The odds are usually stacked against them because the conditions that led to them moving to the interim job in the first place aren't the things that normally create the chances to win.
Anecdotally, Hall of Fame coach Marv Levy and likely soon-to-be Hall of Famer Don Coryell (he's a finalist for induction this year) got their starts as interim coaches and turned out OK. But they're by far the exceptions.
In the last 10 seasons, there were 20 in-season coaching changes (18 guys fired, and two guys went on medical leave). Of those 20 interims, only two of them got the full-time job (Doug Marrone in Jacksonville and Mike Mularkey in Tennessee).
The one thing I know for sure about Wilks is he doesn't spend a lot of time thinking about it. He spends a lot of time working on today, and honestly, that's part of the reason we're having this conversation anyway.
Players respond to him because they know they're getting honesty, and they know they get that honesty when it's good and when it's bad. He'll chew on a star player on the sideline without hesitation. He'll put their faces on the screen in a team meeting room and tell them expectations are high. And then he'll have their back when they struggle.
----------------------------------------------------------
Hey Darin, after this Seattle game, a lot of fans, myself included, are falling in love with Wilks and want him to be the permanent head coach. What do you think he needs to do to become the permanent head coach outside of the obvious and win all the games left? Also, I'm curious on your thoughts on the Rooney Rule preventing Wilks from becoming the permanent head coach right now, which seems a bit odd. Thanks! — Matt, Cary NC
Good morning Darin; welcome back to the East Coast. I think most of us Panther fans are finally excited about watching this team again, and a lot of it has to do with the change in attitude that seems to have accompanied Steve Wilks' ascension to the top of the coaching ladder. It seems, from the outside looking in, that this team has really bonded, something I remember feeling from our more successful rosters. Wilks is making an exceptional case for having that interim label removed.
Please explain how the Rooney Rule would work if that were to happen. I mean, wouldn't it satisfy the spirit of the rule to name a successful minority interim coach as the permanent head coaching hire? — Chris, Greensboro, NC
There are a lot of questions like this one, and the short answer is the rule is the rule.
The NFL expanded the Rooney Rule to require teams to interview at least two external minority candidates for any vacant head coaching job. There was a reason for that expansion. The fact that Wilks is a minority candidate does not create an exception. So when the season's over, there will be a process they go through.
If you believe that having more opportunities for minority candidates to interview is a good thing, then interviewing multiple candidates should be perceived as a good thing. So you can't just remove an interim tag.
Wilks will be a candidate for the job. He's adding to his resume with every game he coaches. His recent work has been eye-opening to a lot of people. But I can also tell you with the utmost certainty that his focus is on where his feet are, and that's the middle of an honest-to-god playoff race.
----------------------------------------------------------
What do you deem as a more impressive play, the PJ Walker improbable touchdown to DJ Moore back from the game against Atlanta, or this past week's Sam Darnold to Terrace Marshall Jr. "I'll just catch this thing with my knees" catch? — Eric, Brick NJ
The Marshall catch was something.
I'm not sure what, but it was something. It was fun to watch, but there was also an element of "hang onto your butts" (almost literally). If it had turned into points, it would have gotten a lot more attention.
So, in this case, I'm going with the Moore catch, but it's worth watching both of them again and again because they're fun, and fun is good.
----------------------------------------------------------
I listened to last week's Happy Half Hour (I love the show and missed it the last two weeks) and would have loved your reactions after Thursday night's game when Baker Mayfield brought the Rams back from two touchdowns down. We seldom saw Mayfield perform like that when here in Carolina. I wonder if it's coaching or play-calling that's the difference? — Omer, Wilkesboro, NC
Why do you think Mayfield was able to succeed so quickly after leaving us? I don't like to be pessimistic, but it seems like our offensive system might be at fault because the Rams' offensive line is just as bad as ours is, if not worse, with all the injuries. Their skill positions/weapons are also around the same level as ours. Is our offensive scheme not QB-friendly, and if so, should we consider switching offensive coordinators at the end of the year? I say this because if veteran QBs aren't able to succeed in our system, then how could we expect a rookie to? — Grant, Gahanna, OH
I don't want to diminish what Mayfield did last Thursday in the slightest. That was an amazing comeback. And the simple mechanics of riding that many planes, going to new places, meeting new people, and trying to learn enough of the Rams' operation to be functional on the field was impressive.
But there was a little bit of an instinctive quality to what he was doing also. You might not be Michael Phelps, but if someone chunked your butt into a pool of sharks, I imagine you swim faster. So going onto the field with the basic instructions to "make something happen" is a little bit easier than game-planning and executing your way through an entire week. And because of the way the Rams' season has gone, it was also without what you'd call consequence (and that's a sentence that I can't believe I wrote, but nothing else makes sense this year, so why not?).
Before making any sweeping declarations about what the Baker Mayfield Experience means in LA, I'd rather have more than a five-minute body of work upon which to judge it.
As to what's happening here, both Walker and Darnold have won more games here as starters than Mayfield did, with largely the same set of personnel.
You can say what you want about offensive coordinator Ben McAdoo (and many of you have), but the man has changed quarterbacks three times, lost a Christian McCaffrey, and had two different bosses this year, and they've created a distinct personality at the moment. A lot of that gets credited to Wilks, but it takes more than one guy to adapt on the fly. You can't just give all the credit to the guy you like and all the blame to the one you don't.
It's a little like being a contestant on one of those cooking shows with the mystery basket of items. You might want to make a Beef Bourguignon, but if what you have is some frozen hamburger meat, a couple of potatoes with the eyes growing out of them, and eight dented cans of stray vegetables, what you do is make soup.
The Panthers do not have an ideal situation for passing the ball right now. What they do have is a whole bunch of offensive linemen (a better bunch than the Rams, healthy or not) and an odd lot of running backs that they've found out how to use in an effective combination.
Credit where credit is due, etc.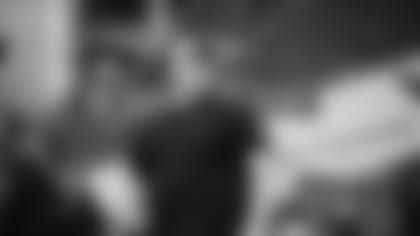 ----------------------------------------------------------
Hey Darin, currently, I am taking a break from studying for my math exam tomorrow, which I am so so so excited for. Anyway, wow, I was so impressed with D'Onta Foreman on Sunday- he ran the ball and trucked Seahawks defenders like he was Derrick Henry or Marshawn Lynch. Now, last offseason, we signed him on a one-year deal. With the way he is playing, do you think he will be looking for more money on a long-term deal here or do a Mike Davis where he leaves the Panthers after one year? I have to get back to studying for my math and then physics exam on Wednesday, but Go Panthers, and also, I have to say you and Jim Szoke (I met him two weeks ago at WBT) are two of the most hilarious media journalists/reporters ever. — Zach, Charlotte
Two things: 1) Flattery will get you everywhere. For being a good judge of talent (Szoke is one of the funniest people I've ever known) and for blatantly sucking up to your host, you are now officially this week's Friend Of The Mailbag, and the appropriate honorarium will be on the way soon.
2) GO BACK TO CLASS, ZACH.
Foreman was genuinely wondering if he was ready to retire and get on with his life's work at a certain point, as injuries kept him from ever establishing himself his first three seasons.
But in the last two seasons, he's shown that if you need to replace an All-Pro running back in midseason, he's your guy.
The job he did last year replacing Henry in Tennessee, followed by his jumping in and becoming a bell-cow back after the McCaffrey trade this year, has been impressive.
He's a free agent this offseason, one of the few non-quarterback free agents the Panthers have. He's earned the right to see what the market bears for him, but I could see keeping him around if the price is right. He's a physical back, and I think because of the beatings he administers (and receives), you'd probably be wise to keep him in tandem with another back or two (like Chuba Hubbard and Raheem Blackshear).
He's a big Newton's second law of motion guy (Isaac, not Cam). If force equals mass times acceleration, having 235 pounds of faster-than-he-looks Foreman behind a literal ton of offensive linemen (when they go with seven or eight on the field at a time) sounds like quite a problem for other people to solve. Hopefully, that's on your test tomorrow, Zach.
----------------------------------------------------------
HELP! I had to move to Oklahoma this past summer. NO Panthers coverage here [Just the first game for the Baker/Sooners crowd]. Listening to the radio/webcast is OK [and the guys are great!] but never a hint on the tube. (I've been a big fan since day one - I grew up in Baltimore with Unitas, Berry, Mackey, and the rest of the REAL Colts [not the dolts that snuck out of town in the middle of the night].)
As for Christmas food - I like to do a prime rib but I had one Thanksgiving. Son [an App State grad] is coming home for Christmas, so we likely will do a turkey this year. I make some killer Egg Nog too; it can make you nog out if you imbibe too much. I would gladly share the recipe, but it would take too much space.
The real question is: Will we be able to keep Bradley Bozeman and Foreman for a few years? Those guys and coach Wilks have gotten us back to good, old-fashioned Bear Bryant Alabama smash-mouth football like it should be played. Not even gonna say the QB word! Merry Christmas to one and all! — Clay, Kingfisher, OK
DO THEY NOT HAVE INTERNET IN OKLAHOMA, CLAY? Panthers.com and the Panthers app work wherever you go.
Sorry you've missed the last few on TV; they've become quite a sight to behold (Just as Panthers.com is a site to behold).
When most people think about the abstract concept of "offense," they generally equate it with throwing the ball all over the field. But as we've found out lately, blunt force trauma is also an effective way to win games in December. And frankly, they beat the Seahawks about the head and shoulders. Foreman's a lot of it, but again, that offensive line is on a roll right now.
Bozeman's a big part of that. I think inertia (look that up for the test, Zach) kept Pat Elflein in the starting lineup early in the year, but now that the bigger, stronger Bozeman moved into the middle, it has made a difference. They call the man Big Bear for a reason.
I suspect they'd like to keep both, but retaining Bozeman offers you the chance of walking the exact same line back in next year. The other four are all under contract through at least 2024. I think there's some degree of mutual interest (Bozeman came here this offseason when he could have made more money elsewhere), but when guys become free agents, they get choices too.
Also, enjoy the holidays with your family, and send all of your nog recipes. We have unlimited space on the internet for nog. (It's also my mission to even find a vegan nog recipe for Augusta, though she has informed me the concept of nog kind of goobs her out.)
----------------------------------------------------------
Hi Darin! Great win on Sunday! Great to see players, coaches, fans, and press all happy after that - and with good reason to be. My question is about your opinion about a possible future situation (although is not a lock today, its odds are looking good): Wilks seems the perfect coach for the situation that he inherited (local guy, history with the team's good times, good coach that commands respect and gives an extra edge for the players on the field). Assuming he gets the job for next year - and although this mentality of line-of-scrimmage control won't (and shouldn't) go away - do you think he can evolve and make the passing game also the main part of the offense when needed (see Eagles this year)? We all know this year is tough to evaluate - certainly, PJ Walker and Darnold's play is a lot more helpful now than we had seen before. But I'd guess that he'd look to add this other edge (with whatever QB and/or OC he chooses, that's with the team right now or not), right?
Extra question (if allowed): what kind of food/drink would a place named "PJ and Darnold's" have? Thanks! — Fernando, São Paulo, Brazil.
PJ and Darnold's might not be your first choice for fine dining, but sometimes when you pull off the interstate, what you need is a hot dog and a beer. And as long as you don't spend too much time researching the sanitation score on the wall of the kitchen (sometimes it gets a little messy back there), then you have a chance to leave satisfied. It's also worth saying out loud; it's a decent little hot-dog-and-beer joint at the moment.
Fernando's question is built on an assumption we can't make yet. No one knows who the next coach will be. Again, Wilks has done some good things and will be part of the search.
But regardless of the next coach, eventually, this thing known as "passing the football" will need to become more of a thing around here. While running might be able to get you wins in December (and I personally advocate this approach), it helps to be able to win some games in September and October as well. Throwing helps. Allegedly.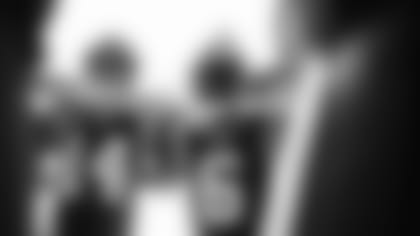 ----------------------------------------------------------
Let's go lightning round, brought to you by the patron saint of the lightning round Jeff from Fuquay-Varina, to close it out this week.
OK, as a very-regular reader of the column, even if not a full-time contributor of questions, I totally get Chris from Greensboro's idea about the "Shut Up, Jeff" t-shirt idea with regards to ol' what's-his-name from Fuquay-Varina. Heck, I might even buy and wear one myself! But as one of probably trillions of avid Panthers fans brandishing that same moniker, I feel compelled to stand up for all the OTHER Jeffs out here and ask for some sort of "which JEFF? qualifier" before we get too deep into this whole project. C'mon, D-Man, our favorite wit & wordsmith of all things Black & Blue, . . . what's your solution for keeping ALL of us Jeffs happy? (Or do we ALL need to just shut up?) — Jeff, Concord, NC
You're the Good Jeff, Jeff. We have a few other Good Jeffs around here (including Jeff from Henderson, NV). One Bad Jeff can Jeff it up for everybody. The rest of you may speak. Jeff from Fuquay-Varina is working on getting back in my good graces, but "Shut up, Jeff" remains a great idea that I'm looking into.
What qualities do you look for when finding diamonds in the rough, whether through the draft or through veteran players? While on the subject, what are your thoughts on Payton Thorne of Michigan State? — Adam, Waxhaw, NC
Find you someone who is willing to work harder than anyone for something bigger than themselves. That's a good start.
I have no thoughts on Payton Thorne whatsoever, except his name sounds like a fictional character in a 1980s soap opera who is played by friend of the Panthers (if not Friend Of The Mailbag) Eric Braeden.
Hey Darin, I've been wanting to write for weeks but haven't had a good question, but now I think I've got it. Why do all our QBs look like the guy in the first two or three weeks and then fall off a cliff? I remember looking my father in the eye after Baker found DJ Moore in the end zone in the Giants game and saying, "This guy's still got it" I said the same thing after Cam's game against Washington and Sam's first four weeks. I can't figure out why and my father probably thinks I'm going crazy. Do you have an answer for me, Mr. Old Guy? — JT, Chesapeake, VA
Your father is right. Listen to him.
Also, it's easy to do something good once, even if it's by accident sometimes. Being good on a consistent basis is much harder, and usually, the ones who can do it aren't available as often.
Hey Darin, I'll save the helmet questions for @PanthersBill, so is there any chance Bucs/Saints vs. Panthers gets flexed if it's for the division? Thanks! — Dan, Venetia, PA
This week's games could go a long way toward determining that. I mean, the only honest answer is "I guess" or "why not?" It makes as much sense as anything else this season.