CHARLOTTE — We talked last week in this space about how once wasn't a trend, and you needed to see more data points before you could fairly call it a pattern.
The problem for the Panthers now is that as soon as they fixed some specific problems from the opener (like run defense and getting Christian McCaffrey involved), others emerged (like stagnation on third downs).
And when the causes change but the results stay the same, that's when the frustration sets in.
I get it; it's clear from your mail, both in volume and tone. The results haven't been there, and there aren't many who want to hear about how close they may or may not be. It also remains September, two games into a 17-game marathon.
Are there some problems? There are. Is it still early enough that there's a lot of story to be written? It is.
The same way many coaches and veteran players talk about all they can control is the work in front of them, that's all we can do here, is sift through the mail.
----------------------------------------------------------
Six of 23 third-down conversions through two games. Against the Giants, Shi Smith stayed in the game. No Rashard Higgins, no Terrace Marshall Jr.. Is there no confidence in other receivers? Or, is there no flexibility in personnel packages to find something that works? — Westray, Kershaw, SC
There's a lot to question after this 0-2, from ineffective play, to sloppiness, to questionable play calls like three consecutive pass attempts leading to three consecutive incomplete passes, but I want to ask about the wide receiver room. Why are only three guys seeing the field? Rashard Higgins hasn't seen the field once despite having familiarity with Baker Mayfield, and Terrace Marshall has hardly seen the field himself, taking only half a dozen snaps? — Eric, Brick, NJ
Darin, there will be many storylines and many upset fans incoming. It's Sunday night, so I don't know if it's begun yet, but I will try to be succinct here. With our clear issues on third down and a propensity to pass thus far on said down, even in short yardage, why isn't Baker's old third-down pal on the field with him? Rashard Higgins was signed for a reason. — John, Matthews, NC
Three of our regulars came through with a version of the same question, and befitting their veteran status, it's a reasonable one.
The Panthers talked a lot this offseason about the depth of the receiver room, and it's a real thing.
Smith had a great preseason to emerge as a third option, but Marshall's talent and Higgins' experience made them comfortable enough with the room to part ways with a dependable regular on special teams like Brandon Zylstra. Then, they added Laviska Shenault Jr., giving them a different kind of player at the position.
As they've struggled to find a consistent footing offensively after two weeks, they haven't found a rotation that works.
Smith's ability to make plays in the open field makes you want to get the ball in his hands. He then has to catch them. Seeing a few key drops last week made plenty of people want to see Higgins, and that's fair.
Higgins is a steady presence, and his time with Mayfield ought to make him an option. But until we see how the week of practice develops, or even the early stages of the game, we can't know if that means he gets more time, or Marshall, or Shenault.
There's also the small matter of making sure DJ Moore is involved (he showed last week what he can do with the ball in his hands), so as they incorporate a new offensive coordinator and a quarterback, it's reasonable to expect they haven't nailed down the receiver rotation.
----------------------------------------------------------
Maybe it wasn't a great idea building our team around castoffs from two of the league's historically worst franchises in the Browns and Jets. Why do we continue to add players from franchises who have harbored losing cultures over the past few decades and expect that our coaching staff with limited NFL experience can turn them into winners? — Eric, Fort Mill, SC
There are two problems with the premise of the question, but when you're 0-2, that's what happens.
For starters, the Rams did OK last year with a quarterback from the Lions (who haven't draped themselves in glory in the last two or three decades). The fact the Panthers were trying to get him, too, suggests their approach to the position.
But this also isn't a staff without experience the way it was in 2020 or 2021.
Bringing in Steve Wilks to coach defensive backs, Chris Tabor to coach special teams, and Ben McAdoo as offensive coordinator gives you some guys who have been head coaches in the league before (Tabor was an interim coach in Chicago for a week in 2021 when Matt Nagy was diagnosed with COVID-19). A fourth, defensive line coach Paul Pasqualoni, was a longtime head coach in college.
Along with offensive line coach James Campen, this staff has the kind of experience you want.
As it pertains to Mayfield, it also feels a little early to make a declaration on his future, based on a two-week sample size on a guy who showed up two weeks before training camp. He looks a little like a guy who could have used OTAs.
He needs to get better (as do a lot of people), but there's no reason to think it's only and always going to be like it's been the last two weeks.
----------------------------------------------------------
A little long-winded, but I feel this needs to be addressed. Why does it feel like the Panthers' fan base is toxic? I feel like we are a much better team than the previous two years under Matt Rhule. I see potential, in my opinion. I know the losing streak doesn't help his case, but let's be honest, this stuff takes time! We can't expect Baker to come in and turn the organization's losing streak around without some growing pains.
I guess my wish is that we could become a fan base that will stay loyal to the team. There's a sort of unconditional love that we need to have for our Panthers. Knowing we've lost the first two games of this season by two 55-plus yard field goals, it would feel much different to me if we were playing our BEST ball out there and still coming up three points short. Instead, we are struggling on offense early, and our defense is keeping the games close. Once this new offensive line, Mayfield, Moore, Robbie Anderson, and Christian McCaffrey get gelling, I believe we have a solid offense and all-around good football team. — Chase, Greensboro, NC
People have strong feelings about this stuff because they have emotional investments in this product.
And just like politics or religion, the ability of individuals to publish their feelings to wide audiences doesn't always make the conversation more civil.
Also, several things can be true at once. So far, the results are not what people hoped they'd be this year. But it's also hard to argue that this team isn't better than the versions we've seen in the last two years.
Having been around here a long time, I've seen some previous teams that have gone off the rails. This team, empirically speaking, has a core of talent that can be the guts of a solid team.
There's more offensive line talent here than in years. Moore and McCaffrey are top-level skill position players. Guys such as Brian Burns, Jeremy Chinn, and Jaycee Horn are the kind of defensive players approximately 31 other teams would love to have.
The Panthers haven't found a way to win yet this season. People are angry about that. But when you talk to players and coaches about the problems, there are specific and tangible things they think they can fix that could potentially make a difference.
That doesn't mean they're going to automatically get fixed. But it does point to the chance that fixing it remains a possibility.
----------------------------------------------------------
Long-time reader, first-time question. Man, losing is tough. I know it's still early, and I'm trying to keep the faith. What bright spots have you seen over the last two games? — Jerad, Wilmington, NC
I say all the time I'm not necessarily in the hope business, but as mentioned earlier, there actually are things you can point to if you're looking for positives.
Aside from the personnel, which is better than it used to be, they've managed to fix specific problems from Week 1 to Week 2.
Saquon Barkley wasn't the reason they lost in New York, as they held him to 72 rushing yards on 21 carries. The run defense was a huge problem the week before, and they largely fixed it. Having McCaffrey looking like McCaffrey again was a positive.
The problem remains the other problems, specifically on offense. Until they get better on third downs, it's going to be hard for the defense to constantly hold on short rest. That's when early season snap counts become a down-the-road problem.
----------------------------------------------------------
Has anyone asked about Ndamukong Suh? Yes, he's old. But he is a big, tough, and nasty DT who could plug the middle and require double teams on runs, although he may not be able to put up much of a pass rush. — David, Huntsville, AL
Nope, you're the first, at least this season. And for breaking new ground, I'm declaring you this week's Friend Of The Mailbag, partially because I've always wanted to send something to the Rocket City.
The Panthers kept a bunch of young defensive tackles, because they like things about each of them.
But with Bravvion Roy expected to miss some time with a hamstring injury, they're likely going to need some help.
I don't know if it's Suh in particular — he hasn't gotten to the point in his career at which he's willing to work cheaply. But there are a number of veteran defensive tackles who could interest them in the coming weeks. The same reason they brought in defensive end Henry Anderson for help in the run game applies here. They could probably use some stability, though they do like the potential of both Marquan McCall and Phil Hoskins.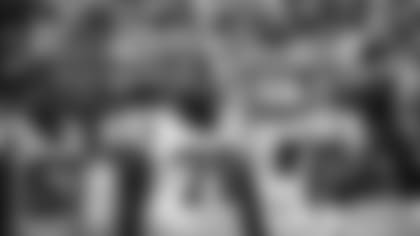 ----------------------------------------------------------
Let's go lightning round to close it out this week.
Since being placed on injured reserve, I haven't heard anything on the progress of Matt Corral. Just wondering, as many of us were so hopeful. Enjoy the humor in your articles. Keep them coming. — D, Thomasville, NC
Thanks D, the part of the story when I say a funny thing is always one of my favorites. I do my best. Not a lot to update on Corral. He had surgery on his foot; he's out for the year. I can tell you he's back among the players at the facility, and he's in good spirits. He's learned how to drive his little scooter device better now, after struggling with it for a few days. And he still has a fantastic smile.
A person who might be related to me drafted him with the final pick in a fantasy draft, and did so for that reason alone. I kind of wish that was a joke, but it's not.
Seeing Mike Evans and Marshon Lattimore go at it last week, which former Panther would you want with you in a fight? — Mike, Charlotte
No less of an authority on instigating opponents than Steve Smith Sr. once told me, if he had to pick a teammate to go to war with, it would be former kicker John Kasay.
"Miss or make, he's my boy," Smith said with an absolutely straight face. "If I'm going into a back-alley, I want John."
Argue with Steve if you feel like it. I'll pass.
Will Appalachian State ever lose another football game? — Will, Traphill, NC
Inevitably, I suppose. But I'm going to make sure the stadium's empty before I ever turn off the broadcast feed.
The energy is incredible. Letting the world get a look at all the things that make that school special to me and all of our people is fun to share. Being able to enjoy that kind of community makes it fun.