CHARLOTTE — Welcome to the weirdest, worst, and best week of the NFL preseason.
The preseason is over, which means the regular season is just around the corner — so anticipation and boundless hope!
Rosters have to be reduced from 80 to 53 by Tuesday afternoon, so 864 people around the league are about to be released in the next 30 hours or so. And some of the ones who make the initial 53-man roster on Tuesday afternoon will end up joining that line hours later, as teams sift through waiver claims and make adjustments to the roster. Those are the guys whose hearts get broken, who realize a dream for a few hours only to have it dashed.
And now that I've totally killed the mood, we might as well get into the mail, some of which does not involve staring into the abyss, only to realize that it's staring right back.
----------------------------------------------------------
Do you think the Carolina Panthers can compete this year? — Charles, King, NC
I dig Charles' style. Straight, to the point. Be more like Charles, everybody.
And to answer his question, sure, as long as we're defining "compete" the same way.
With seven teams making the playoffs in each conference now, the bar was lowered another rung. Now, a flawed 9-8 team like the Eagles gets to call themselves a playoff team the same as the good ones. Is it reasonable to think the Panthers can get to 9-8 with what's on hand? Why not?
The biggest shot of offseason hope has come in the last month, with the addition and ascension of Baker Mayfield at quarterback. When you build around a defense, what you need is average quarterback play (that's not the slur some people think it is) to keep you competitive. His play in the preseason while learning suggests he's capable of that.
The offensive line is clearly better than it was this week last year (especially considering one of their regular starters was still a Bengal this week last year, and the revolving door really hadn't started spinning). The secondary has the talent to be among the league's best, and got a boost in coaching with the arrival of assistant coach Steve Wilks. The whole coaching staff is deeper and more experienced, with guys such as Chris Tabor, James Campen, and Ben McAdoo adding a gravity that was not here a year ago.
They have some young stars in Brian Burns and Jeremy Chinn and Jaycee Horn, and are getting progressively deeper on defense. And oh, by the way, DJ Moore (one of the truly underrated wideouts in the game) and some guy named Christian McCaffrey, who is only one of the best players in the league when he's healthy.
So yeah, they can be better. They still need some good fortune, as last week's game shows (John Fox was never more right than when he said everybody in the league is two weeks away from disaster). But on paper, this team is more solidly built and better, so maybe this is their turn.
And for being concise, and getting this column back in a better headspace, I'm making Charles this week's Friend Of The Mailbag, and getting him the appropriate honorarium soon.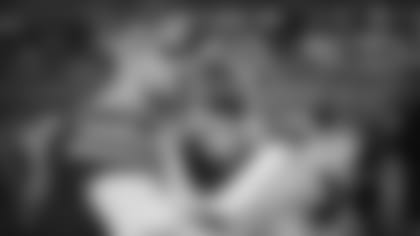 ----------------------------------------------------------
Our quarterback has the look of a leader, the defense solid with a deep secondary; special teams are well coached, and I am hoping for a division winner. Do you feel this could be one of our best Panthers teams? — Will, Mayberry, NC
Let's not take this hope thing too far, Will. We still live in a world of facts and reason. Science is your friend.
I had to check the date on this question to see if it was during Tom Brady's training camp sabbatical. If so, I'd have (almost) allowed it. As long as that guy with seven Super Bowl rings is hanging around, it's hard to call anyone else the favorite in the NFC South.
But if the pressures of being a middle-aged man or just time catch up with Brady, then I have no idea what to expect from the rest of the division. I think the Saints are going to be good enough on defense to ride the inevitable waves that come with Jameis Winston at quarterback. The Falcons at least have self-awareness.
And Will, the Panthers did have a couple of teams go to Super Bowls, so I'd advise checking the brakes before heading down that particular mountain. Things are better here. Let's not get carried away.
----------------------------------------------------------
Hey Darin, What would Baker Mayfield have to do to cement his future for the Carolina Panthers beyond this year? — Mark, Fort Worth, TX
Dang, Mark, he was just named the starter a week ago. Let it breathe.
I suppose it's a statement on our current culture that we have to decide everything forever right now. But I will not succumb to the trend; I will not declare a player to be the true GOAT or a total trash can emoji without, you know, playing the first game of the year.
Baker has a chance to establish himself again. He is clearly motivated to do so for reasons professional and personal.
He's also on a one-year contract, which reduces the Panthers' exposure to financial risk, and leaves the future wide open.
If Mayfield plays really well and leads the Panthers to the playoffs, he's going to get paid. If he plays the way he did in 2020, it would be a considerable payday. The Panthers do have the option of the franchise tag in their back pockets, but that's another discussion for another day.
What Mayfield has to do is play well. Once he does that for, I don't know, two games, maybe, we can decide if he belongs in Canton on the first ballot or whether he has to wait a year. (Speaking of, when I was in Canton a year ago earlier this month, this guy was sitting next to me. Consider it a sign if you will.)
----------------------------------------------------------
Historically speaking, The Turk was the Grinch-like figure who would show up during the NFL training camp season to inform a soon-to-be-cut player to grab his playbook and go see the Head Coach. Much has changed in the NFL over the years! So is this dreaded Turk figure now a part of NFL mythology, or does he still lurk in the wee hours of the morning? And if he exists, without naming names, does the Panthers roster reduction process start with a visit from The Turk? — Craig, Omaha, NE
Well, the good news is, it's not just one person, or no one in the building would talk to him or her. But in a collective pronoun situation, yes, there are still Turks, and they truly hate that part of the job. Having more than one person being the bearer of bad news also spreads the unpleasant duty among a number of people in the scouting department (several of whom played in the league and know what it's like to be on the other end of those conversations). Assistant GM Dan Morgan visibly shuddered when he recalled having to do it in Seattle. He played and thus lived in that locker room, so the idea of going into it and asking a guy to come upstairs with you is dreadful. Nobody wants to be that guy.
It's awful for the person saying it, and it's even more awful for the person hearing it. Though 90-man offseason rosters give football teams a certain assembly line quality, these are still human beings, and a lot of them have been around each other for the last five months on a daily basis. Relationships are formed.
That's why this week is nothing short of gross for the people involved in that side of the business, and also a reason you should be as compassionate as you can be to everyone, every day. Because somebody out there is having a terrible day.
----------------------------------------------------------
Thanks for answering my question last time! Love the Mailbag. Super excited. Week 1 is right around the corner. What will be the Panthers top priorities going into Week 1 as far as addressing depth in trouble spots? Waiver claims? I would like to see them bring in another DT. The run D concerns me, and Week 1 against the Browns will be a big test. — Jeff, Henderson, NV
Jeff is a regular now, gang. We love regulars.
As we've said for weeks now, defensive tackle (and the line in general) is in a weird spot right now.
It's good that Derrick Brown's oblique injury the other night wasn't a big deal, but it also underlines how thin the interior is. Beyond him and Matt Ioannidis, it thins out in a hurry, and it's reasonable to think one of their backups against the Browns does not yet reside in our fair city.
There are young players behind them with varying degrees of potential, but no sure things that you'd feel great about being a long-term starter right now. So yeah, that's one spot.
And this sounds weird considering how deep the room is, but receiver is another place where I think they could look at options. There are talented players behind Moore, but each with their own questions. Robbie Anderson can reach ludicrous speed, but he's also bounced from 95 catches in 2020 to 53 last year. Terrace Marshall Jr.'s physical talent might be the best in the room, but he's still learning how far he can push himself. Shi Smith has had a great camp but lacks real-world experience. Rashard Higgins is steady, with all that implies. Brandon Zylstra is great on special teams, but those jobs get scarce as rosters get deeper. We could go on, but the point is, that a more proven veteran receiver might be something they're interested in going into the season. Keep an eye on that.
The tight end position could probably use a boost, but the kind of players they need aren't as readily available this time of year.
Oh yeah, and a kicker, they totally need a kicker.
----------------------------------------------------------
Hi Darin! After watching the training camp, which position or position group (like front seven, secondary, kicking team) has surprised you the most with their depth/quality of play that you (and most of us probably) weren't expecting? — Fernando, São Paulo, Brazil
Speaking of regulars, Fernando is practically family at this point.
The secondary is really good, but we kind of expected it might be going into camp (though I didn't expect CJ Henderson to have made the strides he did. He looks, at times, like a top-10 pick rather than a guy available for a third in the middle of the season).
The offensive line is better, but considering the resources they poured into it, it ought to be.
If there's a surprise to me, it would probably be the linebackers, as long as Shaq Thompson remains healthy and on the field.
Cory Littleton was good enough during training camp that you didn't watch practice every day and think, "there's a big hole there where Shaq used to be." Not to say they didn't miss Shaq; he was very good last year and has become one of the consciences of the team.
But between Shaq, Littleton, the bigger and more solid against the run Damien Wilson, and the white-hot flame of pure energy Frankie Luvu, they have four guys to mix and match in a number of roles. Going into camp, there was still a part of me wondering if they weren't asking Luvu to do too much, thus diluting his ability to make a concentrated impact a few times a game. But he's risen to it, and it will be interesting to see how it looks when he's playing most of the snaps on defense for weeks at a time.
Throw in rookie Brandon Smith (who is likely to become a hit on special teams for now while he learns to play defense), and it's a more solid group than I anticipated.
----------------------------------------------------------
With Darnold out a few weeks, are they looking for another backup to Mayfield or are they happy with what they got? — Jeffrey, Wake Forest, NC
My guess for now (Monday morning) is that they'd roll with PJ Walker.
Prior to the injury to Darnold, it looked like they'd keep just two on the 53-man roster, and maybe bring Walker back on the practice squad if he cleared waivers.
This is where the timing of injuries messes with the roster-building this week. Because to activate Darnold from IR after four weeks, he has to be on the 53 through Tuesday. And if they tried to sneak Walker through waivers now, it would be easy enough for another team to claim him just to mess with the Panthers and leave them with one healthy quarterback. So it's a reasonable guess that they keep three quarterbacks for now, and Darnold's ankle injury lands him on IR on Wednesday, so he can come back later this season when he's healthy.
Walker has had an up-and-down run here, winning the two games he started, but turning it over way too often. Though they did like the way he rebounded against the Bills last Friday after a rough week against the Patriots.
Walker is talented, but he's also a little reckless with the ball sometimes, so if they considered other options you'd understand. But in the short term, he's also probably the person best able to back up Mayfield against the Browns.
----------------------------------------------------------
Last year at the point McCaffrey got injured, the Panthers committed primarily to the passing game to try and compete. The run game was ineffective to the point I feel like passing was seen as our best chance. If the same situation were to present itself this year, can we still compete with a balanced attack in this new system, with improved backups for Christian, an improved offensive line, and the new offensive coordinator? — Rick, Boone, NC
It's reasonable to think they could, though any Panthers offense without McCaffrey is a lesser version of what it could be.
D'Onta Foreman was able to keep the Titans afloat last year when Derrick Henry went down, and he's a different back than the rest of the room here. Chuba Hubbard adds the element of sprinter's speed, and in a vacuum, he and Foreman would complement each other.
You'd lose the safe element of the passing game, for sure, as neither of them is the same kind of receiver in space McCaffrey is (the list of people in the NFL who are is very, very short).
But no one wants to think about that right now, Rick. What's wrong with you? Seriously, though, the answer to Rick's question would most succinctly be stated as: "maybe, but nobody wants to find out."
----------------------------------------------------------
Hey Darin, love the Mailbag, awesome insight. I understood the plan was to develop Matt Corral this year with the hope he's our future starter next year and beyond. With his injury, will he need another year to develop? If so, does that mean we have to keep Baker around longer, if he does well? I don't see him signing a one-year team-friendly contract to help us out. Ah, the plans of mice and men. Your thoughts? — Curtis, North Charleston, SC
Football is rarely linear, in that you can't expect one planned outcome to flow smoothly into the next thing you planned.
Corral was certainly drafted to develop. I'm not sure it was just for one year (Aaron Rodgers got three).
There are things that Corral will miss by not being on the field and running the scout team in practice, but this can still be a valuable year of classroom instruction for him. And just as I scolded Mark for getting ahead of himself, I would caution against making any assumptions at the moment about the starting quarterback, either of how he's going to play, or what the expectations of his financial future may or may not be. Some of these things just have to play out.
But as for Corral, the potential is clearly there. You see it when he throws the football. But no one knows what it's going to look like when he's on the field to throw it again next spring. Stay tuned.
----------------------------------------------------------
OK, it's going to be a busy week; let's go lightning round to close it out:
Do the Panthers give out Perfect Attendance certificates for training camp? Just kidding! I'm just thrilled I made it every day! Receipts below. — Susan, Inman, SC
As I told Susan on Twitter, if we don't, we should. No one is more dedicated to the cause than Susan, who is one of our original crop of FsOTM (as you can see by her great-looking shirt in that one photo).
The world needs more Susans. Be more like Susan.
DG, longtime reader, first-time Mailbagger here. I've got a combination of two long-recurring questions. As we move ever closer to the end of Camp/Preseason '22 1) Outside of the usual suspects that we all know are incredibly decent at the sport of American Football (the CMC's, DJ's, and Taylor Motons of the world) who, in your opinion, would you crown as our annual #DavidGettisCampMVP?, and 2) ANY CHANCE they end up being immediately inducted to the Panthers Hall of Honor when their career is done? — Alex, Charlotte
Oooh, Alex, so close. But all "any chance" questions go to @PanthersBill.
I will say there's always a receiver that everyone falls for in camp, even if there's not necessarily a spot for him. Last year it was C.J. Saunders, whose unfortunately timed injury stalled some of his momentum. This year, that became Utah State undrafted rookie Derek Wright, and I could absolutely see his legend continue to grow on the practice squad.
Really hardcore football question here, well, not really! In the lead-up to football this fall, my avid Panther-fan youngest daughter (in her 20s) and I have enjoyed looking at some full game videos to reminisce about some of the best times the team and its fans have experienced. While watching these games, one thing that really gets us smiling is seeing the utter joy on kids' faces when they're handed a football by a Panther player after a touchdown. Even the game's announcers would comment about youngsters lining up at the railing as the team is threatening to score. Oh, the good old days! Undoubtedly, that small gesture created some lifetime Panther fans and a lot of joy for more than just those kids. Can that be brought back in 2022? If not, what else (besides winning) could hit you in the heart like that? — Bill, Hampstead, NC
The best part of those football-for-adorable-children celebrations was how organic they were. No one digs wholesome content more than me, so it would be awesome to see that kind of engagement. But football teams are like kids; they each have their own personalities.
This is a new group, so let's see what they come up with.
But to your point, touchdowns and wins would go a long way toward creating that atmosphere as well.
Last time I read through your Mailbag answers, you brought up an interesting point about Steve Smith Sr.making sure he was extra motivated when hitting his 30s by saying people were telling him he couldn't still perform at such a high level. So I was wondering who you feel in that locker room (excluding Baker, of course) could have that same Steve Smith chip on their shoulder using so much negative criticism to get extra motivated? — Eric, Brick, NJ
Eric, I think you hit the nail on the head. Mayfield's not stoking any fires at the moment, but you can tell by the way he says, "I'm not a robot," every time he gets asked about the opponent in the opener that he's a guy with a memory. That's what made Steve special. His ability to hold a grudge (even an invented one) was second only to his ability to make plays on the ball.
Darin, although I read this masterful work of sports journalism you've put together every week this is my first foray into the intimidating scrimmage of submitting a question. So please go easy on me. (I will fight if challenged, but I'm definitely leaving my helmet on.) It was mentioned the other day about holding training camp in a little cooler and elevated environment. There's a pretty awesome, friendly university town with a better-than-average football team up Highway 421 in the NC mountains, so I would expect that they have some pretty good facilities for conducting a training camp (I have no first-hand knowledge of that because I graduated from Pfeiffer University '79, looking for a little "old guy" respect). Any chance that might be a possible spot for a Panthers training camp in the future? Love ya, mean it! — Jeff, Concord, NC
I have no inside information that this is something anyone with decision-making power is considering; I'm just trying to speak my personal dreams into existence. Summers in Boone are so sublime that I spent a couple of them there as a student (once as suggested by the dean, the second by choice), and get back as often as I can.
Thus, the plan is to make a pilgrimage to Kidd Brewer Stadium this weekend to see the finest college football program in the state take on one of the directional schools, UNC-Chapel Hill or something. Their coach used to work at ASU, but 6-5 doesn't cut it up on the mountain so he had to go.
It's also the last weekend I get to be a civilian at a football game for a while, and enjoy a toast with my college roommate and old friend Jon, who writes original poems for every game to accompany, well, never mind what's in the glass. It's a noon kickoff, so probably coffee as far as you know. Jon is the Nipsey Russell of the High Country and his words inspire us all. I can't wait to see him and his family and all our friends and soak in everything that comes with football season.
Speaking of, it's that time. See you next week, when the 'Bag will move into its normal Tuesday slot in the rotation.