CHARLOTTE — For the last five months, people have been wondering what this team was going to look like. Now, we've moved to the phase where we wonder what they're going to do.
After a coaching search, a busier-than-expected free agency, a monumental trade, and the young quarterback they've been seeking for years, the Panthers have now assembled an entire roster. They did all the business, they got up to 90 (then moved back to 88, and the shuffling at the bottom is likely to be the norm for a bit), and now they're getting to work, moving into the more formal period of OTAs next week.
This is, basically, the group from which they'll pick their 53-man roster this year.
There's a lot to sort out in the coming months, but the roster is now put together, and they're on the field putting together all the new parts. There are still plenty of questions, of course, and a few months to figure it out. But seeing them on the field during the offseason program, you realize how drastic this overhaul has been and how different this team is from the one we saw on the field in New Orleans in January.
Now, it's on all these new guys to create a new path forward, and for me to shake off the vacation cobwebs and plow through the post-draft mail.
------------------------------------------------------
Baby girl Savannah made it into the world in the late evening of May 5th! Much has happened with us and the Panthers since then, and she said she can't wait for her FOTM shirt. Onto the important business, connected to what I asked a few 'bags back. Ejiro Evero's comments that "We've got Mr. Burns, and a bunch of guys who are fighting and clawing and doing a heck of a job" doesn't inspire much confidence for the pass rush. We've heard some names rumbling on the FA wire, any thoughts on the holdup? — John, Matthews, NC
First of all, congratulations to the John from Matthewses on their first-round pick, who will certainly become the rookie of the year and soon-to-be MVP. But the new dad's question is a valid one and probably the biggest one facing the Panthers as presently constructed.
When you see the group they've assembled for Evero to make a 3-4 defense out of, you realize they are indeed short on outside linebackers. And having Brian Burns standing on the sidelines while recovering from ankle surgery (he's off the scooter and out of the boot and on his own two feet, expected to be ready for the start of training camp) brings it into stark relief.
The short and less-than-satisfying answer is that you don't get to address every position of need every offseason, and with all the work that was done creating an offensive situation that will give Bryce Young the insulation he needs as a rookie, there are more questions on defense.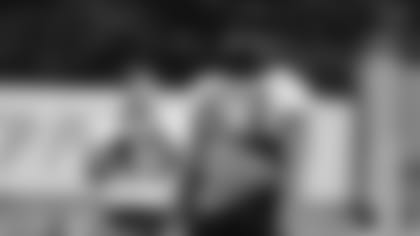 ------------------------------------------------------
Love our new QB1 pick. Young is going to be special, I think. I know Carolina only had the five draft selections, so not all needs could be addressed. However, I'm still pretty concerned about how there is still not a proven sack artist across from Burns and the cornerback room is iffy.
That guy DJ Johnson seems kind of like a red light to me, being that he had six years of college experience and is still considered "raw" at the position. I trust the staff for his development, though. What's the hold up on going out and getting Leonard Floyd or Yannick Ngakoue? Both have ties to current Panthers coaches in the building. The asking price needs to drop. — Jeff, Henderson, NV
Two-part answer here. One, the Johnson pick is going to be scrutinized because he was chosen ahead of where the draft-industrial complex thought he should have been. But, he came with the endorsement of the defensive coaching staff. Evero came here with a good reputation around the league, and he brought Dom Capers with him. And if there's anyone on the face of the planet who knows about quality 3-4 outside linebacker play, it's Capers. So they get some degree of benefit of the doubt here. Their ability as coaches will be key with Johnson because that's a need position, and if he can fill it, that's a win.
I also understand the temptation to think about one of the veterans still on the market. But Jeff, as a regular reader, also understands the law of supply and demand. At some positions, veterans get cheaper as the offseason goes on. You can find a guard for the minimum or near it this time of year. Pass rushers retain their value. Because of that, those veterans you named are likely too expensive. If the price drops, maybe. But the Panthers aren't in the market for a big-ticket purchase at the moment.
After signing all those free agents this offseason, the Panthers are effectively at or close to their spending limit. There is cap space, but it's space that's accounted for already.
Smart teams want to go into camp with a margin so they can pay for practice squad players, account for injuries during the season, etc. Plus, if you have some wiggle room now, you can always be more aggressive in pursuing trades during the year. Planning ahead for a moment of opportunity is always better than scrambling to try to create cap space during the season, as many teams often have to do if they're unlucky.
------------------------------------------------------
Hi Darin, big fan here. Love reading the Mailbag, especially when the wife tries to get me to do something boring! To my question, I was wondering if our current defensive coordinator failed to watch our Week 17 game against Tampa last year and forgot to request more CBs, or do you think there's an unforeseen plan in place? — LaQuon, Fayetteville, NC
I do it for the people, LaQuon. In fact, I'm making you this week's Friend Of The Mailbag and sending you a little something you can put on and show the wife you're doing something truly important.
That Tampa game in January did expose a problem, but the good news is, Jaycee Horn's wrist is no longer broken, and Donte Jackson is recovering well from his torn Achilles. So that's two significant adds to the position.
CJ Henderson didn't have much fun that day in Tampa, but he's a solid third corner on any team. And with Jeremy Chinn getting work at nickel, with two veteran safeties in Vonn Bell and Xavier Woods, and then a veteran such as Eric Rowe, that adds to the secondary as a whole, which should help with coverage.
In a perfect world, they could have found someone in the draft, but as with pass-rushers, you don't get to check every box every offseason. If they stay healthy, they should be sufficiently well-stocked at the position. Could it be deeper? Of course.
------------------------------------------------------
Hey, Darin. An odd pair of questions on coaching structure, if you'll allow it. One, no strength and conditioning coaches this year? Is there hopefully an interesting reason? Two, it's a big staff. I like a big staff. I can't help but notice that Jim Caldwell is separated from the other assistants from a formatting standpoint. Ejiro Evero, his top guy Dom, everybody's in line with each other. But Jim has a whole other group of assistants under him. Separated, possibly for a reason? Of course, if there's a strategic reason to disavow the question, I understand. My mind is conjuring up an opposition-research type of scout team in which Caldwell is basically coaching the Washington Generals, and those are his assistants. — Chris, Greensboro, NC
They still have strength and conditioning coaches (deciding not to have any would have been a little too outside the box), and we'll have them up on the website soon. That's more of a Darin thing than a Frank Reich thing. They're a handsome lot, so we want to make sure we have the best quality photographs of them to show the world.
Big staffs are good, especially if they're full of capable people.
As for Caldwell's role, it's nebulous by design. Reich wanted the former head coach of the Colts and Lions to take a 30,000-foot view of special teams and defense in addition to his specialty on offense. And during practice lately, Caldwell is spending most of his time watching defense and the linemen in general. He got his start playing defensive back at Iowa and coached on that side of the ball before transitioning to offense and becoming great at it. So he's spending his time now studying the stuff he's less familiar with in order to educate himself. He's a lifetime learner and an incredible resource for the entire staff. As I've mentioned before, the presence of Caldwell is probably the single biggest difference in this staff from others; not just a good coach but a great one, and an added layer of competence and gravity they can all benefit from.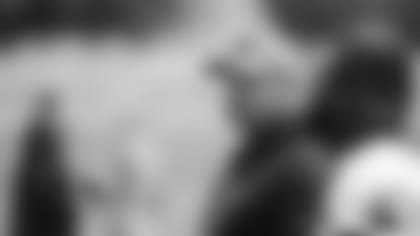 ------------------------------------------------------
My question is, do any former/Hall of Fame Panthers ever come to the team facility? Like, does Cam Newton ever come to the facility? — Nolan, Spring Hill, KS
Not to be pedantic, but Cam's not a Hall of Famer (yet, though I can make a compelling case for him to be someday).
There are a number of franchise legends who make semi-regular appearances, partially because they still live in Charlotte (Newton does not). Steve Smith was out at rookie minicamp, and Luke Kuechly, Thomas Davis, and Jonathan Stewart are fairly regular visitors.
Reich recently said he likes having them around and wants to incorporate them into things in the future. It's a good thing. There is some history nearby, so tapping into it makes sense. As rookie receiver Jonathan Mingo pointed out last weekend, having a resource like 89 is valuable for any player.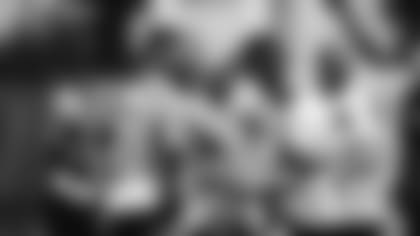 ------------------------------------------------------
Hello Mr. Darin; I was wondering what your expectations are for Bryce Young this season and if the Panthers organization can sign Jarvis Landry to the team? I think he could help some players out, like Laviska Shenault Jr., Jonathan Mingo, and Damiere Byrd. But I would love to see Landry come to our team for a year or two. — Damien, Balsam Lake, WI
I expect Young to walk in the door and make quick, good decisions and throw the ball accurately because that's what he's always done. They were careful to build an offensive line previously and added a number of safe targets this offseason to give him the kind of options that make a rookie's life easier. We'll see what that means when the games start, but between players and coaches, they've created the conditions for him to be successful.
As for Landry, the Panthers have probably needed one of those elder statesman-type receivers in that room for the last few years, but bringing in Adam Thielen checks that box off now. You can see the way he works with younger players in practice already, and his kind of background playing multiple positions will help all of the players you mentioned and more.
That room is an interesting one because bringing in Thielen and DJ Chark Jr., and drafting Mingo to go with Terrace Marshall Jr. creates the opportunity for a lot of different looks. New receivers coach Shawn Jefferson said he wants his guys to know how to play multiple spots so they can show opponents different things and not be predictable by formation or personnel.
Not sure that receiver's the top priority if they go out and sign a veteran at the moment, considering what they've already done.
------------------------------------------------------
Now that the Summer is rolling in, do you have any timetable of when the training camp, jersey, and Fan Fest schedule may be on the horizon? Speaking of training camp, care to divulge any hidden Spartanburg gems that even those of us seasoned fans may not know about? Sidebar: tell us more about your recent vacation and the interesting life of Darin Gantt! — Kyle, Hendersonville, NC
I hate to be a big ol' corporate shill, but some of those announcements will be coming soon, so stay tuned to Panthers.com for the latest. We'll let you know about all of the above.
Spartanburg has changed a lot since the Panthers started going there. Now, downtown has hotels (plural), bars, and restaurants that have completely changed the experience. It's truly the center of the universe. I've always had a soft spot for Wade's and Sugar and Spice, you can't go wrong at Cribbs, but newer spots like Willy Taco have entered the rotation, and there's new stuff opening every time I go there. I may need to make a reconnaissance trip soon just to get ready for camp.
I don't know how interesting my life is, but I was fortunate enough to take a delayed honeymoon/vacation of a lifetime through Europe recently while Augusta was here slaving over a rookie minicamp. England has history, sarcasm, and gin. I felt at home. Amsterdam has a great relaxed vibe, and also a language apparently invented by Dr. Seuss. Paris is not overrated.
Things I experienced, in no particular order of awe and wonder, included the Winged Victory of Samothrace at The Louvre, the Eiffel Tower lighting up at sunset, Harry Kane scoring a goal (that's me in the crowd behind him), the Rosetta Stone (the back of it is nothing but dirty jokes, Ptolemy V was a real hoot), the English crown jewels (other than the ones they were using for the coronation the weekend we were there), a behind-the-scenes tour which included chilling in the royal box and hearing a sound check in Royal Albert Hall (Eric Clapton now has a 215-1 edge on me in appearances there) a long but orderly line of people taking cell phone pictures of themselves and the Mona Lisa, high-functioning public transportation systems that can be navigated even if you don't speak the language, a bunch of Van Gogh (I used to worry that this Mailbag was too self-referential [#selfawareness], but there's an entire floor of that cat's museum filled with paintings of himself), and Matthew Modine playing Atticus Finch alongside a bunch of English actors struggling with Southern American accents at the Sir John Gielgud Theatre. And the food, my god. There are incredible Indian restaurants in London, we found an amazing Turkish place in Amsterdam after many street stroopwafel and bitterballen (see what I mean about the language?), and you can literally trip and fall into a meal that will change you on any Paris street corner. So much fromage. (Also, the last place I ate in the United States before leaving was Brooks' Sandwich House, but a close second on the May hamburger power rankings was this dive called the Le Voltaire in Saint-Ouen, because the French are not afraid of medium rare).
The company was pretty good too. I take none of it for granted. I'm lucky beyond all belief when I'm at home and blessed to have been able to go. Because travel is both a gift and an education.
When I grew up, the world beyond Suburban Hickory might as well have been an abstract concept — a globe, a set of encyclopedias, a subscription to National Geographic magazine, and the Olympics every four years was pretty much all I knew of the rest of the world. Getting out and seeing this stuff with your own two eyes, walking up the steps to the top of the Arc de Triomphe and Sacre Couer, seeing memorials carved in the year 667 at St. Paul's Cathedral, singing "He's one of our own" with Tottenham fans, and admiring the incredible posture of the Dutch (though their buildings tend to lean since they're built on top of a drained swamp), all of it was just more than I ever imagined was possible. But even though we checked off a lot of boxes of the places and things you want to see, I also learned that the more you see, the more you want to see. It's a big world with a lot of cool stuff, and now I want to go check out the rest of it.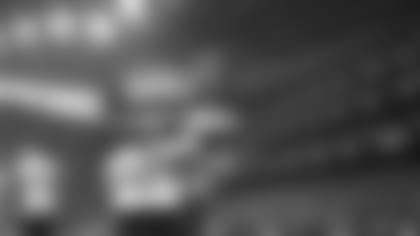 ------------------------------------------------------
Hi Darin! Hope you've enjoyed your vacation - maybe you should consider visiting Brazil next time! My question is if the projections for the Panthers' win total is underestimated. My reasoning is: the team went 6-6 after the coaching change (which they were shorthanded in coaches after) and without its star player on offense (also a WR that was counted on at least the games to start). Then the same team improves its coaching, drafts the first QB (one that's considered to pick things up quickly), keeps the same OL, and brings a lot of FA on offense and some on D (like Bell). I know that a rookie QB and new coaching staff might take time to gel, but it doesn't sound overly optimistic to think they can improve on the seven wins from last year. — Fernando, São Paulo, Brazil
Brazil is definitely on my list. I will need years to loosen up my samba muscles, though, so it's best to plan ahead.
Expectations are funny things, and averages take a long time to change. Since the Panthers have been down for a bit, it would be unusual for the world at large to suddenly consider them a contender.
They're definitely better, talent-wise. And they still live in the NFC South, where everyone's a playoff hopeful because somebody has to be. So there's a fair argument they could exceed expectations.
But this team, as we've covered above, still has some legitimate questions. So it's normal for those who don't pay close attention to this team to wonder how good they'll actually be.
It's reasonable to expect improvement. How fast and what it means in terms of wins and losses, we'll see.
------------------------------------------------------
Browns vs. Williamses, 875 pounds combined vs. 815 pounds combined. A guard, defensive tackle, and running back vs. a receiver and two defensive tackles. Pies, ribs, or hot dogs, who wins and why? Also, are there any other rosters in the NFL that have three players with the same last name? If so, can you see the marketing value? — Westray, Kershaw, SC
This man asks the hard-hitting questions. Sadly, it came in before the release of wideout Preston Williams Thursday, leaving just DeShawn Williams and Raequan Williams to go against Derrick Brown, Deonte Brown, and Spencer Brown. It might still be a fair competition. Granted, I'm not sure that director of performance nutrition Kate Callaway would recommend pies, ribs, or hot dogs for any of them.
I'm all for collecting players with the same last names. Especially if they're Kelces or Bosas or Watts.
------------------------------------------------------
Let's go lightning round, brought to you by the patron saint of the lightning round Jeff from Fuquay-Varina, to close it out this week.
I'm genuinely confuzzled, and substantially irritated to see many of the "experts" so quickly dismiss Bryce Young and the Panthers organization now that the draft is over - after being the same so-called "experts" throwing roses at our feet just prior. What the heck is really going on?! Why all the disparaging babble? — Lynn, Lake Wylie, SC
That's a great word, confuzzled; I'm stealing that.
The 24-7 news cycle can only focus on one shiny thing at a time, and the NFL Draft was so long ago (OK, three weeks). It's probably normal that the love the Panthers were getting for a hard-to-hate draft pick will likely fade when the collective media takes a broader view. This team is clearly moving in the right direction from a football perspective, but they're still in a mid-sized market and not high on the sizzle scale, so there's that. My advice would generally be to choose your "experts" more carefully.
Hey Darin, I know about a month ago, the Panthers came out and said that uniforms would be changing some and going to the process blue. I was wondering will there be any more changes to pants or helmets? I heard a rumor about white helmets but didn't know if that was true. Is there a chance we wear the black helmets more than once this year? P.S., can you hook me up with one of those Bryce Young shirts! Thanks! — Steven, Albemarle, NC
I think you could see the black helmets a little more often in the future, but any other colors are just fan fiction. The slight difference in the color of the jersey is the only change. And I would need to hook myself up with one first. They're quite popular.
Are we doing Back To Football in Wofford this year? — Chris, Inman, SC
We are, indeed. Details to follow. Watch this space.
Darin! It is officially "dead season" in the NFL, where other than following what rookies have signed their contracts and when the voluntary/mandatory camps take place, not much happens! How was your vacation? What's the latest on Augusta's car? How come Bryce Young looks bigger than everyone was complaining about before the draft? What should I eat for dinner tonight? Can we get to August already? My dog thinks I'm crazy for rewatching last season's games (again)! — Nate, Grand Prairie, TX
To answer them in order: Augusta and I are among the most fortunate 1 percent of every human being who has ever lived. He grew, clearly. Fish sandwich. And your dog is correct.