For the Panthers' second-year offensive lineman, a boost in confidence and mastery of the fundamentals have helped him jump into this season as he competes for a starting role on Carolina's offensive line.
"I think my mental game has improved the most," Christensen said. "My sets are a lot calmer; I'm not playing outside myself. I'm feeling more confident with everything."
Rhule went as far to call Christensen's camp "tremendous."
Perhaps the best news for Christensen is his versatility along the left side of the offensive line; Rhule said the staff could see him slotting in at left tackle, left guard, or even at center (though that's more of a future plan than anything that appears imminent).
Christensen's focus on the left side of the line comes after he started at both left and right tackle in various points as a rookie last year. He started in six games and appeared in 16 last season after he was selected in the third round of the 2021 NFL Draft.
"Brady's ready to play left guard, left tackle," Rhule said. "We talked about playing him at center at one point too. But we felt like at his development, two positions seemed like it was the right amount."
Christensen said "a lot" was communicated with him when the Panthers added this year's first-round draft pick Ikem Ekwonu, a tackle from NC State, with the sixth overall pick.
The final say on whether Christensen will go inside or remain at left tackle isn't known, Rhule said. He said Panthers offensive line coach James Campen has kept combinations with the Panthers' new-found offensive line depth "mixed up," which has left the spot to be assigned, now that Ekwonu is in the mix.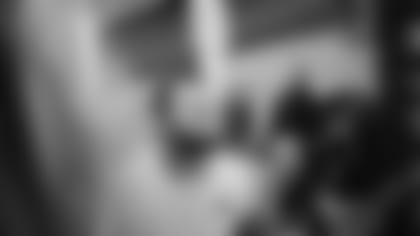 But while Rhule said he doesn't know who the Panthers' starting left tackle will be yet (and much will be learned at training camp in Spartanburg), he said he is certain about Christensen's ability.
"I just know that Brady is one of our better players on the team," Rhule said. "Not just on the offensive line, but on the team. It's about finding the right spot for him, but letting those other guys compete as well."
Christensen said he's been committed to improvement regardless of whether or not he's at tackle or guard. He spent OTAs and minicamp studying concepts as much as particulars, focusing on the entire offensive scheme rather than just what the linemen are expected to do.
He said studying the offense as a whole has made him a better player – perhaps another one of those small things that could go a long way. But he's also been prompted to learn multiple positions, so the deeper knowledge was also somewhat born out of necessity.
And when asked how open-ended the offseason had been for him, Christensen's response focused on how studying the game has helped him improve.
"I've played a lot and enjoyed it," Christensen said. "I don't know where it's going to end up next season, but (I'm) just trying to get better and get to know the offense inside and out."