CHARLOTTE – Voluntary minicamp gives a first impression of all the new elements for this year's Panthers, their new coaches, their new free agents, and their veterans.
One of the key introductions – defensive coordinator Ejiro Evero's 3-4 scheme – continued in its earliest stages during Wednesday's rainy practice.
Head coach Frank Reich spoke of how Carolina's free-agent acquisitions have helped set up the defensive front in their move from a 4-3, the base defense they ran here last season, to Evero's 3-4 base.
"Because of the transition we're making to this 3-4 and a different style upfront, to get a couple guys who fit, are familiar with it, was a really big thing," Reich said.
Defensive lineman DeShawn Williams is one of the most familiar with Evero's defense, having played for him last year in Denver. At 30 years old, Williams admitted it's been "weird" to become one of the oldest guys in the room (along with Henry Anderson), but he also knows that his familiarity with Evero and his scheme is beneficial to his teammates learning the ropes.
"(If) guys have questions, I kind of feel like an extra coach on the field," Williams said. "Guys asking me, 'What do I need to do on this defense?'"
At the same time, Williams is a staunch advocate for Evero's style personally. For one, he said he liked it because he "balled out" with the Broncos under him last year, becoming a consistent starter for the first time in his career with 15 starts and appearances in all 17 games.
Williams finished 2022 in Denver with 4.5 sacks, four tackles for loss, and eight quarterback hits – all career highs – with 37 total tackles.
As someone who knows the defense they're installing here, Williams called it "scary." And he sees it as a net benefit for everyone involved at the front of the defense, listing all of his teammates as benefactors in Evero's scheme.
"I know for me to have success in it, I know Derrick Brown is going to have success," Williams said. "Shy Tuttle's going to have success. Henry's going to have success. Marquan McCall is going to have success. Brian Burns is going to have success, and Marquis Haynes Sr., Yetur Gross-Matos. Like everybody, man. This system, if you buy in, and do what we've got to do, play for one another, it's going to be a great season."
— While Reich was asked plenty more questions about tomorrow night's draft, in which the Panthers hold the first pick, he seemed genuinely at peace about where he was. He said Tuesday that he and general manager Scott Fitterer had decided which quarterback to take on Monday, so tonight's a chance to take a deep breath.
"This is truly like before a game night, where the work is done," Reich said. "So tonight's going to be relaxed. . . . I think it'll be a great night's sleep. Excited about the day, excited for the next couple of days to add to our team."
Reich said he and Fitterer have talked with owner David Tepper, who is "100 percent on board."
"He's been an instrumental part of the process," Reich said. "Even though he kind of empowered us to make the decision, what we all know, he's very involved, in the best of ways.
"This was a group effort, starting with the scouts, coaches, everybody together. So really good people, really good process. So we finally get to see the results. And then that's just the beginning. That's just the beginning."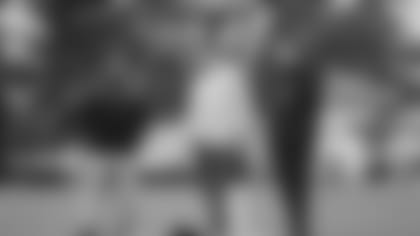 — Reich also mentioned visiting with former linebacker Luke Kuechly on the sidelines after practice, a visit cut short by all the players who gravitated to the former NFL defensive player of the year.
"It's a big deal," Reich said. "I was over there talking to him just for a minute after practice. And Luke, I've met him once or twice, very briefly. And as I'm sitting there talking to him, I'm kind of wanting to talk to him for a few minutes. All of a sudden, all the defensive players are coming over to talk to me. I just stepped out of the way. He has that kind of respect around here. We're excited that he would come around."
Asked if he would ever ask Kuechly to be part of his staff, Reich grinned.
"I kind of broached that with him a few months ago, actually," Reich said. "Don't think he was ready for that conversation yet, but I just tried to maybe plant that seed a little bit. I don't know if he'll ever do it. But certainly, we would welcome it if he would."
– Matt Corral is back participating in quarterback drills alongside Andy Dalton and Jacob Eason. Corral's getting his first taste of on-field action after he went down in last year's preseason game against New England, sustaining a season-ending Lisfranc injury.
Reich said the staff expected him to be ready to go at his current timeline.
"He's done a great job getting himself ready," Reich said. "So it's been good to see him there."
– Starting left guard Brady Christensen has also gotten back on his feet for voluntary minicamp, showing a quick recovery from an ankle injury at New Orleans on Jan. 8.
Reich said Christensen is "a little bit ahead" of the schedule they'd placed on him, though he's obviously not at 100 percent this early in his recovery.
"(Christensen) did some modified individual today," Reich said. "So (we're) excited about the progress he's made."
The Panthers slotted in free agent offensive lineman Justin McCray at Christensen's spot during drills Tuesday, and second-year Cade Mays continued to fill in Austin Corbett role at right guard Wednesday while Corbett continues to recover from an ACL tear sustained in the 2022 finale.
View photos of Panthers players during the second day of veteran voluntary minicamp.