CHARLOTTE – Duce Staley brings a jolt of energy, even while he walks through the offseason hallways in Bank of America Stadium.
They expect him to do the same thing on the sidelines.
The Panthers' new assistant head coach and running backs coach volunteered to be the first in a group of four fresh coaches to pose for his official Carolina headshot, leading the way and beaming at the chance to talk about how excited he was to coach here, telling stories with animated gestures and a wide grin.
"You're going to see a lot of energy, a lot of juice from this coaching staff," Staley said. "When you walk through the door as a former player, that's what they know you as. It's our job, before we leave through that door, to get them to know us as coaches. So that's the mission, and we're going to get it done."
He admitted he didn't know if he'd ever get a chance to join what he called "the hometown team," so he jumped at the opportunity to join Frank Reich's staff as soon as it presented itself.
For the first time in his career, Staley is back near his hometown of Columbia, S.C., just over 90 miles south of Charlotte. The former NFL running back watches his children play sports in the same area where he competed, and he attends games at his alma mater, the University of South Carolina.
Staley's return to the Carolinas also reunites him with his beloved mother, who he has continued to prioritize as she grows older. He makes a 90-minute commute up I-77 every morning, driving back home each day after work in Charlotte.
"One of the biggest mistakes in life is thinking you've got time," he said. "We all have been a victim of it. There have been many times throughout my life (when) I've said, 'I'll call you back,' or 'I'll see you later.' Time waits on no one. I don't want to miss that time with her. I don't want to miss that time with my family. So being able to come closer to home meant a lot to me."
After a decade playing running back in the NFL with the Eagles and Steelers and 12 years coaching in Philadelphia and Detroit, Staley reunited with Reich at Carolina. The two were part of the Eagles' staff together for two years, and they won a Super Bowl together in the 2017 season. Reich was the offensive coordinator in Philadelphia, while Staley oversaw running backs.
Reich said he'd wanted Staley on his staff as soon as he began thinking about his coaching future throughout November and December last year. Reich admired Staley's energy and ability to connect with players.
"Duce, he brings the hammer, and you need some guys like that," Reich said. "You don't want everybody to be like that, but Duce has a lot of wisdom. He's very street smart, smart period, but savvy. A former player understands how the players think. I worked with him for two years in Philadelphia; we got very close. … I saw firsthand how smart of a coach he was, how he got the most out of the players, and see how he really helped the whole team, not just the offense."
A proud former Gamecock, Staley kept up with his former college through his son, Damani, who played linebacker at South Carolina from 2017-21.
He has also kept a closeness to the school through his ties to USC women's basketball coach Dawn Staley, who has led the Gamecocks program to two national championships and has a legacy across the Carolinas in basketball.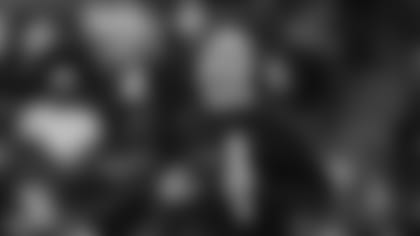 "I have a big connection with Dawn," he said. "Get a chance to talk to her maybe once or twice a week. Huge fan of what she's doing. Huge fan of her, just to be able to see where she has taken that program, from the bottom up, being able to see her put her stamp on the program for that university, that community, that state; it's awesome."
Duce said the two claim each other as "distant, distant" family members and that Dawn, born and raised in Philadelphia, has family from Aiken, a South Carolina town one hour from Columbia.
He joked that there "aren't too many Staleys floating around" their area of South Carolina. He pointed out how they also bonded through Dawn's fondness of the Eagles, the team with which Staley has spent most of his playing and coaching years.
"We connected way back," Duce Staley said. "She gives me some great words throughout the week. I give her some great words throughout the week, just motivating each other to be better."
But that closest family connection is the one that creates the deepest pull to come back home.
Staley's toughness was first instilled by his mother, who he said has always pushed him to give "1,000 percent" effort from childhood onward. She believed in Staley from his earliest days on the field and wouldn't let her son get away with little effort.
Once as he played little league football, Staley had the breath knocked out of him on the field. He took his helmet off and teared up, but his mother saw and called him over with all five fingers – a sign that meant business. She lifted Staley over a fence, with his little brother nearby in a stroller, and gave him the kind of talking-to he still remembers vividly at 47 years old.
"She said, 'Son, if you keep crying, what's your brother going to do? That's his job to cry. I'm going to put you down, and you go back out there; I better not see a tear,'" Staley recalled. "So she put me back down, I took off, and the rest is history. … She was tough, and she believed in me."
Even through his professional playing career, Staley said his mother would call him after games to share her thoughts on how he wore his jersey. His brother would chime in, too, to give tips on how he played.
Staley's bond with his mother remained strong as he took coaching jobs in Philadelphia from 2011-20 and Detroit for the last two seasons. But when Staley told his mom he was coming home for a job close to her, she was elated.
"She gave me a big hug," Staley said. "Told me she loved me, and (to) just continue to do what I've been doing. That I've been doing a great job."
On the field, Staley is thankful for the chance to work alongside Reich and the staff he's assembled, ready to get to work at Carolina. Staley smiled as he recalled a phone conversation he had with Reich while his former coworker was interviewing for the Panthers' head coach job.
As Staley wished him luck through the process last month, Reich made a suggestion that excited him – speaking into existence the job that brought Staley back to his family, and his roots.
"I remember him saying, 'You know what, man? It would be an awesome, awesome opportunity for you to come home and coach.' I said, 'Yeah, it sure would be,' and that was the end of that," Staley said. "We talked about it, and it all came true. We're here now."