CHARLOTTE – When coaches talk about self-inflicted wounds, it's typically a metaphor. Unnecessary penalties, turnovers, plays that kill drives, you know the drill.
In the case of Brian Burns, though, the rookie edge rusher is quite literally dealing with a self-inflicted wound.
During the Panthers Week 4 matchup against the Texans, Burns deflected a punt, but didn't get enough on the ball to fully block it. In his frustration, Burns punched the turf and ended up injuring his wrist.
"It's annoying, but it's a game of emotions," Burns said. "I'm not going to sit here and say I regret it. It is what it is."
In the weeks since the injury, Burns has played through the pain, but over the bye, he chose to undergo a minor procedure on his wrist. As a result, he was forced to cover his right hand in a cast wrapped with multiple layers of padding last Sunday against the 49ers. The club prevented Burns from using his fingers at all, turning his right hand into more of a bludgeon.
"If you can't really grab, you can't really keep contain," Burns said. "If I'm trying to get a reach block or something and I can't grab his outside shoulder pad, there's not really much I can do. If I can't grab it, there's nothing at all I can do really."
It was clear to head coach Ron Rivera, too, just how much the clubbed-up hand was limiting Burns, which is why he played just 22 snaps against the 49ers.
"Watching the tape, there were some things that were tough for him," Rivera said. "Being able to grab and pull. As a rusher, as an outside linebacker, you have to use your hands. Your hands are as vital as any other position. As an outside guy who plays on the edge, you've got to be able to jam that guy and stand."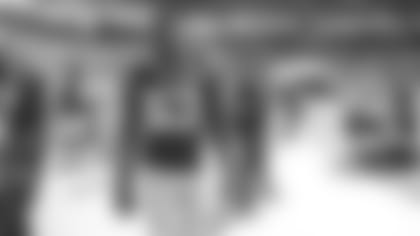 This week, Burns will be getting used to a new hand protector. After his limited playing time against the 49ers, he said he's ready to try something new.
"The club is out of the equation," Burns said.
Instead, he'll just have two fingers wrapped up with his wrist, allowing him to use the rest like normal.
Earlier this week, Burns spent some one-on-one time before practice with assistant linebackers coach Everette Brown learning how to adapt to his hand's new protection.
"It's a little bit of talking about some of the technique stuff that he's got to continue to refine," Rivera said. "But also just trying to get him confident with the hand (in the cast) to protect itself."
Rivera said he doesn't blame Burns for the injury, even though it was something that could have been easily prevented.
"An injury's an injury. His was out of frustration more than anything else," Rivera said. "I'm not going to fault the kid for being emotional out there, wanting to do things and make things happen for his team to win."
But the rookie has definitely learned his lesson.
"I just know next time I should think before punching the floor," Burns said.