INDIANAPOLIS – There's not a team in the NFL that wouldn't benefit from more help on the offensive line.
It's hard to find guys with the size, athletic ability and technical skill that's required to be an impact player at that position.
This year's group features several prospects that scouts are excited about. Here's a look at what some of them had to say during media availability at the NFL Combine on Wednesday.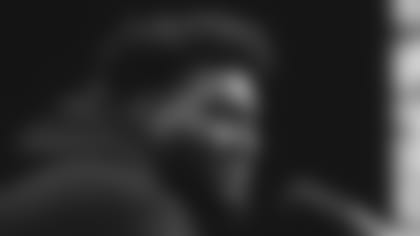 OT Mekhi Becton – The Intimidator
At 6-foot-7 and 364 pounds, the Louisville product is a monster.
"I love being the biggest guy," Becton said. "I love intimidating others."
It's necessary trait on the offensive line, and teams most certainly are looking for it. Having a lot of confidence also helps.
"It's fun seeing a man on the ground every play and going to jump on him. That's what I love about the game," Becton said. "I'll open the holes, just run behind me. You want to score touchdowns? Run behind me."
But Becton also expressed some humility at the podium. He said his 2018 tape was "bad" and it looked like he wasn't passionate about football. He plans to address that with teams directly this week.
But the 2019 tape? Becton believes that footage shows why he should be the top tackle in the draft.
"I feel like I am the most dominant tackle in this draft," he said. "You wouldn't go wrong picking me. The tape shows it. The tape shows that I finish almost every play. Simple as that."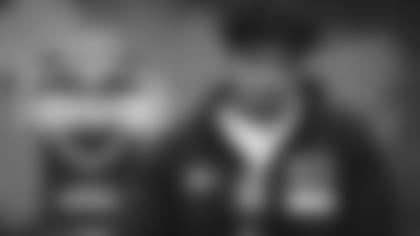 OT Tristan Wirfs – The small-town wrestler
Wirfs is Iowa through and through. He's the latest in a long line of premier linemen and he's got a decorated wrestling background.
"Wrestling a pretty big thing in Iowa and there are two things that really translate over to football -- body control and hand movement," he explained. "Being able to do that I think shows teams how competitive I am. It takes a lot to be a wrestler. And it's just you versus another guy. I hate losing, so I'm not going to let another man beat me. I'm going to do everything I can to stop it, and I do the same thing on the offensive line."
Wirfs isn't very outspoken, but he's certainly got that competitive fire burning.
"Second is the first loser. I want to be the first offensive tackle taken," said Wirfs, who could also have a future at guard. "I'm just ready to go out and show what I can do. My mom worked at Target for 28 years – since she was 16. That's where my work ethic comes from."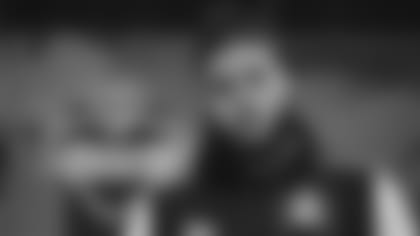 OT Jedrick Wills, Jr. – The next Bama blue chip
Alabama puts players in the NFL at every position, but they've had particular success on the O-line. Wills, a rock-solid right tackle for the Crimson Tide, is next.
Quarterback Tua Tagovailoa called Wills the "alpha" of the line, and teammates also praised Wills' ability to keep things light in the locker room.
"I try to get a couple laughs out of the guys, just ragging on guys," Wills said. "I mess with Tua a little bit."
But Wills is all business when it comes to his NFL future. Like Becton and Wirfs, he's very much in that top of the first-round conversation, and yes, he wants to be the first tackle off the board.
To that end, he wants to show teams that he can also play on the left side, which would increase his value. Wills wasn't asked to do that very often at Alabama, but he's been training at both spots in the leadup to the draft.
"I know it's something teams have questions about and I'm just trying to have that versatility," Wills said.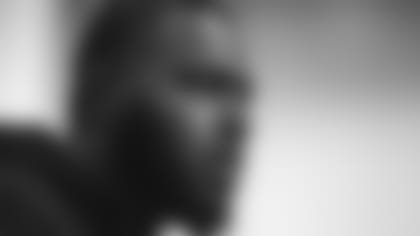 OT Andrew Thomas – The Georgia drummer
Back in high school, Thomas played drums in the school band. He was also a standout offensive lineman. It was a little tricky to do both at the same time.
"At my high school pep rally I would be playing in the band and then I would put my jersey on and go over to the football team and do the football thing," he said with a smile.
Now he's among the best tackles in the draft. We may not know how well he performed on the drums, but we do know how effective he was at UGA. He takes great pride in his technique, which he knows needs constant refinement.
"There is a never time where I say, 'I'm perfect and there is nothing to work on.' The pass rushers in the NFL are ridiculous, so I'm always working to get better," Thomas said. "One small hiccup in your set or in your hands against these very talented rushers can be the difference. It's about repetition and staying consistent."
G Jonah Jackson – The right amount of nasty
Jackson admits he's not the biggest or strongest guy, so what is his strength?
"Being nasty, being a prick," he said. "My overall nastiness."
Well, you have to appreciate the honesty.
After four years at Rutgers where it was a struggle to scratch out a win, Jackson went to Ohio State as a graduate transfer for the 2019 season and became a conference champion.
There were a lot of struggles at Rutgers, but he realized there that he had a chance at an NFL career. Joining the Buckeyes and earning a starting job brought the dream even closer to reality.
"Going to Ohio State was one of the best decisions I've made in my 23 years of being alive," he said. "I wouldn't change a thing."