It's time for him to have some more company in the Hall of Honor.
After Mills played a prominent role in the first three seasons of Panthers football, he joined the coaching staff in 1998 and was inducted into the team's Hall of Honor that year. His legend only grew over time because of unfortunate circumstances; the way he courageously battled cancer was a point of inspiration for the 2003 Panthers team that reached the Super Bowl.
Mills died in 2005, a year after the team's PSL owners joined him and original general manager/team president Mike McCormack in the Hall of Honor.
Now, 15 years after PSL owners were honored, new owner David Tepper is set to expand the hall come Monday.
Steve Smith Sr.: It also seems like a waste of keystrokes to take the time to make a case for Smitty. Selected in the third round of the 2001 NFL Draft, Smith started his career with a kickoff return for a touchdown on his first touch and never looked back. He ranks eighth in NFL history in receiving yards and first in the hearts of many Panthers fans.
Jake Delhomme: The man on the other end of the majority of Smith's yards came to Carolina six seasons into a career spent as a backup and started the 2003 season in the same boat. At halftime of the opener, though, he relieved Rodney Peete, spearheaded a furious rally and remained in the starting role for the next seven seasons. His first season ended with Carolina's first Super Bowl appearance.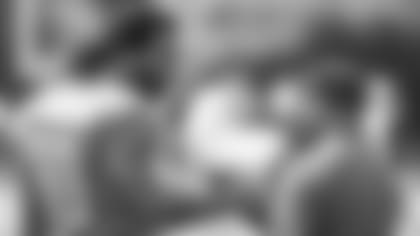 Julius Peppers: Another player whose play truly speaks for him – a soft-spoken beast of a defensive end who ranks fourth in NFL history in sacks. Peppers, however, is just three months removed from the end of his remarkable 17-year career. It feels like it could be too soon to enshrine him.
Same goes for just-retired center Ryan Kalil, a five-time Pro Bowler.
Kevin Greene: Peppers came one sack short of passing Greene for third on the NFL's all-time list. Greene was inducted into the Pro Football Hall of Fame in 2016, and he needed just three years in Carolina to rack up 41.5 sacks of his 160 career sacks. It's just a question of how the Hall of Honor will handle players like Greene and running back Stephen Davis, who piled up 1,444 rushing yards for the Panthers in 2003 but also had three other 1,000-yard seasons elsewhere.
Jordan Gross: While some impactful players also made major impacts on other rosters, Gross is the definition of a mainstay. Selected eighth overall in the 2003 draft, Gross spent all 11 of his NFL seasons with the Panthers and held down the demanding left tackle job for most of that time, starting a franchise-record 167 regular season games while missing just nine. Gross – a three-time Pro Bowler – and his close friend Kalil have to be considered the best offensive linemen in franchise history.
Wesley Walls: Speaking of best players by position, Greg Olsen is understandably viewed by many as the standard bearer at tight end. But don't forget Walls, who was a Pro Bowl pick five times during his seven years with the Panthers from 1996-2002. Olsen has the back-to-back-to-back 1,000-yard seasons thing; Walls has the distinction of being the first tight end in NFL history to score a dozen touchdowns in a season (in 1999).
Click on the debut episode of "Cart Talk" below to see the two cross paths near the end:
Muhsin Muhammad: When Steve Smith was drafted in 2001, Moose had established himself as the top wide receiver on the roster, and he remains an underrated one to this day. When Smith was lost for the season in the 2004 opener, Muhammad lit up the league with 1,405 yards and 16 touchdowns. That was the career year among three 1,000-yard seasons for Muhammad, who ranks 31st in NFL history in receiving yards.
Chris Gamble: We've touched on pretty much every position but defensive back. Before injuries became a factor late in Gamble's nine-season run with the Panthers, he was a model of consistency at cornerback, a soft-spoken playmaker who quietly amassed the most interceptions in franchise history (27).
Michael Bates: Special teams are sometimes forgotten, but Bates was unforgettable as a return man. He earned a Pro Bowl nod after each of his five seasons in Carolina (1996-2000) while returning five kickoffs for scores along the way.
John Kasay: And you want scoring? Can't mention special teams without mentioning John Kasay, the franchise's all-time points leader after serving as Carolina's kicker from Day One through the 2010 season. Kasay ranks ninth in NFL history in points with 1,970, including 1,282 for the Panthers.