The 2003 Carolina Panthers weren't given much of a chance of making it to the Super Bowl.
But inspired by a man who had overcome even more significant odds, the Panthers made history.
Sam Mills, a linebacker turned assistant coach, poured out his heart to the team prior to start of its playoff run. Two words embodied him and live on.
Mills, whose interception return for a touchdown in 1995 keyed the first victory in franchise history, was preparing for his fifth season as linebackers coach in 2003 when, just before the preseason finale, he was diagnosed with intestinal cancer and given three months to live.
More than three months after the grim prognosis, Mills delivered the speech to the team. A month later, Mills was on the sideline when the Panthers played in their first Super Bowl, a narrow loss to the New England Patriots. Mills coached the next season as well and lived 17 months longer than predicted before succumbing to the disease in April of 2005 at the age of 45.
But his words that day, shared with the team leading up to their playoff opener against the Dallas Cowboys, continue to breathe life in countless ways.
"When I found out I had cancer, there were two things could do: quit or keep pounding," Mills said. "I'm a fighter. I kept pounding. You're fighters, too. Keep pounding!"
Shortly after Mills and Mark Fields, a linebacker on the 2003 team, were both diagnosed with cancer, they raised money for research by encouraging fans to "Drop the Hammer on Cancer," a fundraising effort that included the sale of bracelets inscribed with the "Keep Pounding" mantra. Soon after the Panthers in conjunction with the Carolinas HealthCare Foundation started the Keep Pounding Fund, an initiative that to date has raised approximately $2.3 million for cancer research and patient support programs at Levine Cancer Institute and Levine Children's Hospital.
The movement has sparked a long list of fundraising efforts, including the annual Keep Pounding 5k and the Keep Pounding Online Auction. North Carolina residents have the option of purchasing a Panthers license plate featuring the "Keep Pounding" mantra, and the words appear on the inside collar of the Panthers' game day jerseys.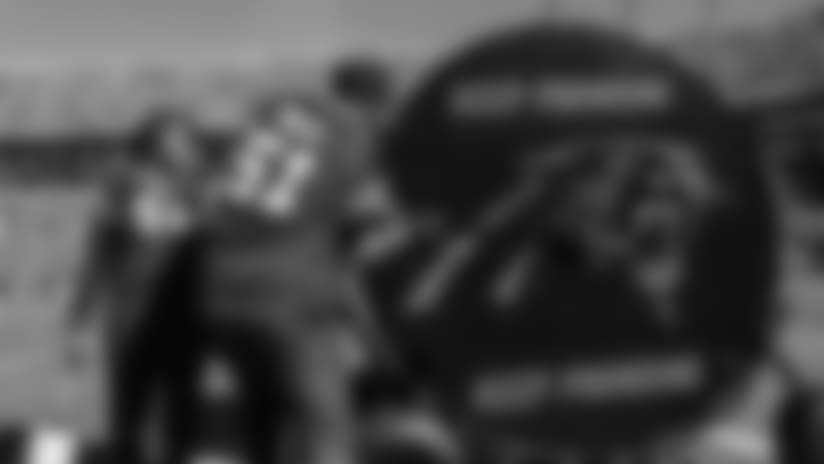 The most iconic tradition of them all began in 2012 when Brad Hoover, a fullback on the first Super Bowl team, banged on the "Keep Pounding" drum moments before the home opener kicked off. It's been a part of game days at Bank of America Stadium ever since and was even part of a historic road trip, when then-reigning NBA Most Valuable Player Stephen Curry pounded it before the Panthers took the field for Super Bowl 50.
"When we first started it (in 2012), people didn't really know how to take it," said Sam Mills III, son of the late Mills and a longtime member of the Panthers' coaching staff. "But now, that drum has come to signify the starting bell of a heavyweight fight. Every Sunday, we're in a heavyweight fight, and when someone hits that drum, it's time to go. We're locked in."