SPARTANBURG, S.C. — In a week, Panthers legend Sam Mills will be inducted into the Pro Football Hall of Fame in Canton, Ohio.
And in October, the team will celebrate his legacy back home in a special way.
The Panthers will dedicate the Oct. 2 game against the Cardinals at Bank of America Stadium as their "Keep Pounding Game" to honor the former linebacker and coach for his impact on the Carolinas. The game is officially sponsored by Coca-Cola.
Mills' family & former teammates will be in attendance that day along with representatives from the Hall, and his Hall of Fame bust will be presented at halftime.
Interactive fan elements include a Keep Pounding Fan Wall for fans to sign before the game.
Mills led the Panthers to the 1996 NFC Championship Game in just the franchise's second season, and then became even more of an inspiration when he joined the coaching staff.
While fighting his own battle with cancer, he gave his "Keep Pounding" speech prior to a playoff game against the Cowboys, which was part of their run to Super Bowl XXXVIII.
Panthers assistant general manager Dan Morgan played for Mills, and they became close friends, but Morgan said the strength Mills gave to the team during his fight was real.
"Obviously it's something you always remember, it's imprinted on your mind," Morgan said. "Sam didn't want anyone to ever feel sorry for him. We knew what he was going through, but he never skipped a beat. I also remember how matter-of-fact it was, the way he said it. He was genuine, it was from the heart.
"You could tell how much it meant to him to be there in that moment. It was a little emotional, but not like you'd expect. I don't think he ever wanted to be a big deal, but he definitely wanted to make sure he impacted people the right way."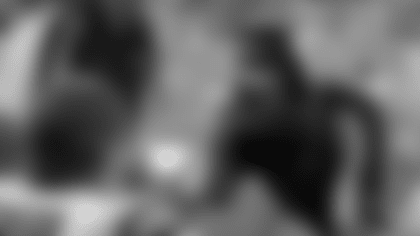 That's become a mantra for so many — on and off the field — and a message that has become part of the franchise's culture.
Hall of Honor wide receiver Steve Smith Sr. has always said Mills was the greatest player in the team's history, and gets emotional when he thinks about the coach who puts his arm around a too-short rookie and told him to believe in himself.
"He set the standard for the organization to this day, but also for the people who were there," Smith said. "Keep Pounding for me as a father is the look you give your son without saying a word. You're living and carrying on a tradition, and all that entails. It's about believing in me, but also telling me to tighten it up.
"It stood for more than words you say to get someone to play a good football game. You knew he was facing death, but he was worried about other people. I don't know that I could have done it. It was never about himself, it was always about what it meant for other people.
"I have quiet times, where I sit and think, or have a drink for him, and shed a tear. Because I know the impact he had on others, and that he told us the only want to get through any adversity is with each other."
View photos of Sam Mills during his time as a player and coach with Carolina.