CHARLOTTE — In the first few days of March 1995, the Carolina Panthers were still sort of an abstract concept.
The expansion team had uniforms, but not much to put in them yet — mostly strays that other teams hadn't wanted, projects and bodies to come to press conferences to whet the appetite of a region hungry for professional football. They applied some fiber to the roster in the expansion draft, and added their first two unrestricted free agents in February — signing a kicker and a run-stopping defensive end.
On March 9, 1995, the Panthers found their soul.
That same day, Sam Mills got yet another opportunity — in what had already been a long line of them — to prove to people he could still play.
For the Panthers, he was a foundational piece of the culture they wanted to build, and not merely a great player.
For Mills, it became a defining chapter in his football life, taking what was already a great career and turning it into something more.
"I honestly believe, if Sam hadn't come to Charlotte, we wouldn't be talking about him going to the Hall of Fame today," said longtime agent and friend Brett Senior.
Senior negotiated that deal with Panthers general manager Bill Polian: A two-year, $2.8 million contract that turned out to be some of the best money the franchise ever spent. Because they didn't just buy a great player, they got the example for the rest of the roster, the kind of player they wanted, the personality they wanted to project.
They found their substance, not realizing fully at the time they were creating their spirit as well.
As the first general manager of the Panthers (after a successful stint building the Buffalo Bills teams, which went to four straight Super Bowls), Polian had an interesting challenge.
Not only was he building a team from scratch, but he was also building it a certain way. With a brand new stadium changing the Charlotte skyline, selling PSLs was a key component of the financing plan, and Polian was working with instructions to not just build a winner, but to build it fast.
And when he went into meetings with his new head coach Dom Capers and defensive coordinator Vic Fangio in 1995, they made it clear what they wanted.
"As soon as we got to Carolina, we started putting together a preferred list of free agents, and he was on it," Polian said of Mills. "We knew we had to compete early, and Dom and Vic stood on the table for him. In fact, they stood on their heads on the table for him; that's how emphatic they were. The minute his name came up, it's like, 'Yeah, let's do it.' I knew what a great player he was in New Orleans. They knew what a great leader he was, and how much we needed that. His body of work preceded him. Everyone knew what he was capable of.
"He was a system fit. We were going to run the same defense they did in Philadelphia and New Orleans, so the only thing that changed was the uniform. He knew every call, every adjustment, everything the entire defense needed to know was right there. He immediately became our leader because he had this innate ability to fit in and make everyone around him comfortable."
Still, Polian's roots were in personnel, and personnel men can have blind spots about 5-foot-9 linebackers, even Hall of Fame personnel men. So he admitted the first time he saw Mills in the USFL, he wasn't sure that he'd eventually become the kind of player who became a priority to sign, not just for a team but for a franchise's entire history.
"Big guys, whether it's where they're drafted or the physical part, have to prove they can't play," Polian said. "Smaller guys, or undrafted guys, have to prove they can. Sam did that in spades.
"He just had incredible balance, and ballast. He was small, but he could take on any blocker. The only thing we were worried about was signing him at age 36, could he withstand injuries as he got older? We talked about limiting his reps, but he didn't need all the reps, because he had so much experience with what we were doing."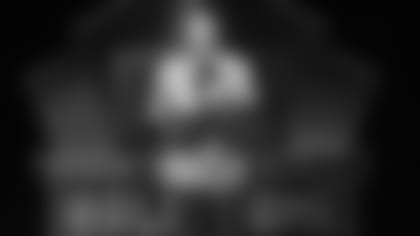 He had experience, and also an added chip on his shoulder.
Going into the 1995 offseason, Mills was more than a little insulted that the Saints hadn't made more of an effort to keep him out of free agency.
In the NFL, the conventional wisdom is to say goodbye a year early rather than a year late, and there was some hesitance on their part to commit to a guy who was about to turn 36 with a lot of hard miles on his tires. He missed seven games in 1993 after surgery to repair a knee injury, but had played every game the following year. He also made four Pro Bowls as the leader of the Dome Patrol defense, which put the Saints on the football map. It didn't help that one of his patrons there, longtime Saints GM Jim Finks, had died the year before, so there was one fewer voice in his corner.
"When we started talking to the Saints, their initial reaction was, 'Why don't you go see what the market is for you?'" Senior said. "Sam was like, 'Wow, they're not even going to offer me a contract?'
"But when I started talking to Bill (Polian), he showed that there was a lot of passion for Sam to be there in Charlotte. And that was important to him."
There was still the matter of negotiating a deal, and that was never simple with Polian. Senior laughed and recalled a previous set of contract talks about another player (former Bills linebacker Shane Conlan) that got a little combative.
"I thought Bill was going to physically throw me out the door negotiating that one," Senior recalled with a laugh.
The Panthers were busy doing other business trying to stock an entire roster, though free agency didn't move at the same speed-of-internet pace it does today. After the expansion draft in December 1994 (when they picked up contributors Willie Green and Mathew Campbell), the Panthers picked through the scraps of the expansion draft in February, collecting odd parts and castoffs, and a few guys who never made it here (including quarterback Doug Pederson, who went on to win a Super Bowl with the Eagles as coach, and a guy named Bill Goldberg who dropped the first name and became a pro wrestling champion). When unrestricted free agency opened on Feb. 20, their first signings were kicker John Kasay and defensive end Mike Fox. A week later, outside linebacker Lamar Lathon came on board, the kind of impact pass-rusher Polian prioritized.
It was another week before Mills would sign, though, as Senior noted, it was more about the emotional decision of leaving New Orleans and joining a start-up as much as haggling over every last dollar that kept it from happening sooner.
When you think about it in modern terms, the numbers were comparatively modest. A grand total of $500,000 in signing bonus, and annual base salaries of $1 million in 1995 and $1.3 million in 1996). There were incentives in the deal which paid him based on team performance and individual stats, including $50,000 to make the Pro Bowl, which he did in 1996, and $1,000 for every interception. He only cashed a couple of those checks for picks, but they were memorable ones, including taking a Bubby Brister shovel pass to the end zone to lead the Panthers to the first win in franchise history over the Jets on Oct. 15, 1995, and intercepting Troy Aikman in the 1996 playoffs to end the Cowboys' Super Bowl dynasty run.
But just as numbers never defined Mills' contributions on the field, it was impossible to calculate his value to the 1995 team.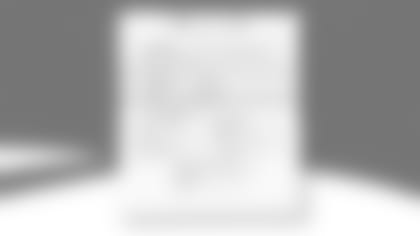 Few knew what Sam Mills would mean to the Panthers better than Capers.
In 1984 and 1985, Capers was the defensive backs coach for the Philadelphia Stars of the USFL, where Mills made his first pro team. Capers followed head coach Jim Mora and took the same job with the Saints in 1986, where Mills would blossom into an NFL star after being the dominant defensive player in the other league. (All the Saints would do was make their first four playoff appearances in franchise history, after their first 19 years without a winning record.)
"I thought Sam was the best defensive player in the USFL, but he was also a guy who was teaching high school before he got the chance, and I think that influenced his approach to the game," Capers said. "Sam was teaching game plans all day, so as a coach, having that kind of guy was what you wanted.
"He had everything you wanted in an inside linebacker," Capers added with a chuckle. "Except height."
Capers still remembers his first camp with the Saints, when a lot of guys in the NFL learned their first lesson about Mills.
"We go into practice, and the offensive linemen were kind of elbowing each other and laughing," Capers said. "Here you've got Vaughan Johnson, this 6-foot-4 Greek god of a linebacker, and then here comes 5-foot-9 Sam. They were all like, 'This is just Mora's boy.'"
That lasted until the first 9-on-7 drill after Mills arrived, when he took on block after block, stopped every run, and made people realize what they were dealing with.
"We were trying to set the tone and the tempo for the team that camp, going two-a-days, and really getting after it," Capers recalled. "You remember hearing the collisions, and Sam just buckling offensive linemen.
"The respect he garnered that day lasted the entire time he was in New Orleans."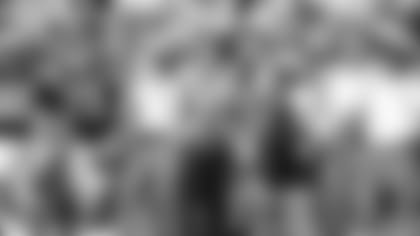 That's why Capers was willing to go to such gymnastic lengths to, in Polian's words, "stand on his head on the table" to get him to Charlotte.
The same day Mills came aboard, Carolina also added safety Brett Maxie, and those two would be part of a defense that made the Panthers immediately competitive. Capers said it created a "real crediblility" and "trust factor in the locker room," that allowed the Panthers to exceed every expectation.
No one saw it coming. Other than the people who knew Sam Mills.
"The most significant thing for me, in the history of the Panthers, was for an expansion team to have a guy like Sam Mills," Capers said. "At first, people didn't know if this was the guy you want as the face of the franchise.
"But everyone I talked to, I told them, 'He'll earn it.'"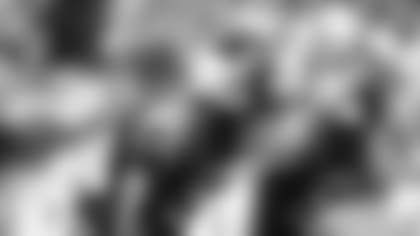 A few months after Mills came to Charlotte, the Panthers were filling up the roster before training camp, when they brought in another veteran linebacker in Carlton Bailey. Bailey had been released by the Giants, and when he got to Carolina and met Mills, there was an immediate connection.
"People thought that old dog can't hunt," Bailey said with a laugh. "But that old dog knows exactly where to line up, and where the rabbit's going."
Together, those two old dogs in the middle helped create a top-10 defense from a collection of spare parts. Bailey said that for every highlight that exists of Mills on Sundays, the real impact was measured the other six days of the week.
"Sam would be there first thing on Monday, first thing every Tuesday, he was always there," Bailey said. "The standard he set really mattered for a new team because the way he worked showed everyone in the building how it was supposed to be done.
"But it wasn't just that; he was great at football. He could get everyone lined up, he'd call out the audibles, and then he'd hit you in the mouth."
As the team was being built, having that kind of leadership and talent was key.
Colts head coach Frank Reich was part of that inaugural team, coming in from Buffalo with Polian to be the known commodity at quarterback (they stood shoulder-to-shoulder at the 1995 Hall of Fame Game, the first game in franchise history). But even with a number of veterans, Reich said Mills immediately stood out.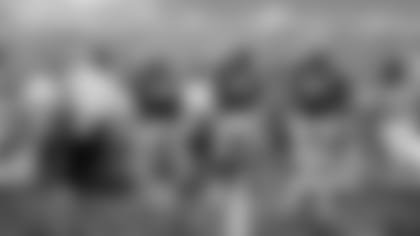 "One, you could feel certain guys taking control, and Sam was the one I remember more than anybody," Reich said. "But I think we also felt a little bit of underdog role; we were an expansion team, no one's going to give us a chance to make any noise whatsoever.
"I just think that really created an opportunity for us to have a family kind of experience as a team. That was unique. You're playing the first season in franchise history, and having a leader like that was a big part of it."
Mills didn't just add gravity to the Panthers on the field; he also added a little life to the proceedings. He and Bailey hit it off immediately, spending plenty of time in their new city together. Bailey laughed and remembered a George Clinton concert at the old Hornets training facility in Fort Mill, S.C., when he was afraid Mills might be risking his eligibility.
"He was a quiet guy, but he loved music, and he was old school," Bailey said. "I remember dancing at that concert, and it was so hot in there his glasses steamed up, and I said, 'Sam you know we have to get tested tomorrow,' and we were all rolling.
"But with Sam, you knew when it was time to work. You'd be on a road trip, and even though he might be sitting in a first-class seat, he'd take that next step off the plane and say, 'We're not there yet.'"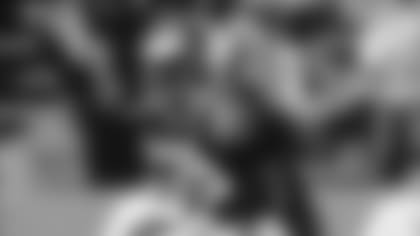 Few knew what he meant the way Maxie did. Having played together for eight years in New Orleans, they walked in the door close, and grew closer every day.
And since they both walked in on the wrong side of 30, there was also some skepticism about whether it would work.
"You've got to remember, that team started out with the first pick in the draft (they'd eventually trade down and take Kerry Collins fifth overall), and people thought you were supposed to build with youth," Maxie said. "But he changed the narrative for the whole franchise because he showed that you could build around those veterans and be successful immediately."
Maxie knew that, having seen it first hand. So the things he saw Mills doing were as familiar as they were valuable.
"What Sam brought to the Carolina Panthers was his winning ways, and that was because of what he did every day," Maxie said. "He was a thermostat instead of a thermometer. You could see the room change when he walked in it. He was just the consummate pro and teammate because he was always doing the right thing, even when nobody saw it.
"It was how he challenged men to get better. It was his love of the community and giving back. A lot of great players met Sam for the first time that year and felt like they knew him for life, because the impact he made on them was genuine."
Maxie got to know him better than most. After meeting in 1986 in New Orleans, they became inseparable. That extended beyond their playing days in two cities. When they reached the end of their playing careers, Maxie knew immediately he wanted to go into coaching (he's now an assistant at Colorado). Mills hesitated at first, thinking perhaps he'd be better served going into business.
"He said he was thinking about going into insurance, and I said, 'You look like an insurance agent, with your little glasses,'" Maxie said.
Maxie told that story at Mills' memorial service in Charlotte in 2005 as well, drawing a laugh from a room filled with tears.
He's also expecting a few tears of his own in a few weeks in Canton, when his friend and inspiration will be immortalized in bronze, and he's there to see yet another step in Mills' incredible story.
"I don't know what it's going to be like when it actually happens," Maxie said. "I know it will be a relief that he's finally in the Hall of Fame, and I'm sure a lot of other emotions are going to come up.
"But at the moment, it's hard to imagine what it's going to be like. I think about Sam Mills every day, and as he looks down on me, I hope he's proud of that journey we started together a long time ago."
Maxie's not the only one who'll be thinking that, as the same is true for the entire Panthers organization — since Mills was at the foundation from the start.
View photos of Sam Mills during his time as a player and coach with Carolina.