You don't get that reaction often from the Panthers Hall of Honor wide receiver, but get him talking about what Hall of Fame linebacker Sam Mills meant to him, and the emotions are on his sleeve (and also his handkerchief).
So as Smith took the lectern Saturday night at the Panthers Legends "Stories of Sam" event honoring Mills during Keep Pounding weekend, it took him a few moments to compose himself before he could tell his.
Smith told the crowd of around 200 former players and their families about the way Mills embraced him during a rookie year when he wasn't sure he belonged. He told the story about then-Panthers coach George Seifert telling him after a two-fumble afternoon in his third professional game that if he kept giving the ball away, his job would be on the line soon. That day, Mills was the "calm, reassuring voice" that encouraged him at his lowest moments.
"Keep Pounding is not a mantra; it's not words," Smith said as he closed his segment. "Keep Pounding is exactly who he was."
Smith also talked about the lifelong connection he had with the late linebacker, who died the same day Smith's son Boston was born (there was about a 30-minute difference between the moment Smith's wife Angie delivered their son, and Smith getting the call with the terrible news from team chaplain Mike Bunkley.)
"Because of the unqualified compliment Sam gave me at a young age, because of the way he took me in, I always go back and reflect," Smith said after the event, as he shook hands and reminisced with so many former teammates and others who came to celebrate Mills' legacy. "And the more I reflect on Sam and the impact he had on so many others, the more layers of that onion you get to peel back, and see how deep it goes."
At that point, Smith grinned.
"And if you've ever cooked, you know what happens when you start cutting onions."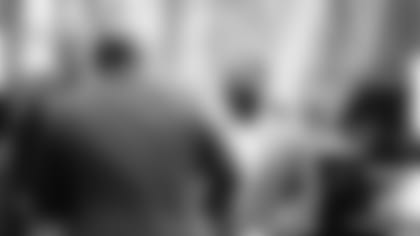 Smith wasn't the only one with tears in his eyes Saturday night, but there was also a healthy mixture of laughter. There was linebacker Carlton Bailey telling the story of Sam so energetically dancing at a George Clinton concert that he worried he might have gotten too close to some of the adjacent smoke in the room. There was defensive lineman Gerald Williams joking that he offered to help take up an extra half of a gap on defense for his "vertically challenged teammate." There was former wide receiver Dwight Stone recalling a bone-jarring hit Mills put on him in the 1987 preseason, before they were eventually teammates here, when Stone popped up energetically from the grass to prove his own toughness, only to have the hard-hitting linebacker say: "Here's your helmet. Your huddle's over there." There was former security guard turned team ambassador John Coleman laughing as he recalled the 1995 expansion year scene, when his desk at the Winthrop Coliseum and Mills' locker at the temporary headquarters were too close to the bathrooms for either of their comfort, and the many conversations they had over the years.
The room was full of those kinds of stories, and people who were touched by Mills' graciousness and leadership over the years — like linebacker Will Witherspoon wearing Mills' signature number 51 when he left the Panthers as a free agent and signed with the Rams. Like Smith, Dan Morgan gets emotional when he talks about the way Mills took him in when he came to Charlotte, knowing no one, away from his own family for the first time. He has plenty of football memorabilia (like a signed Mills jersey in his home gym which he looks to for inspiration), but he also has pictures of Mills at his wedding, a relationship that transcended player and coach.
And going beyond the immediate connections was another theme of the night.
On one side of the room, you'd see Luke Kuechly and Morgan taking pictures with Mills' Hall of Fame bust, and Mills' son Marcus. On the other side, you'd see less-famous former Panthers, all of them with a story to tell, a connection they made. For every Steve Smith in the room, there was a Tommy Barnhardt or an Emerson Martin from the early years, to a Rhys Lloyd or a Curtis Deloatch or a Rod Smart from later teams. The current team was busy preparing for Sunday's game against the Cardinals, but general manager Scott Fitterer and Morgan were there representing, and carrying the stories back.
Linebacker Omar Gaither only played here one season (2011), long after Mills passed, but he was born in Charlotte and was a middle-schooler when Mills and the Panthers arrived in 1995 and changed his city.
"I grew up on Sam Mills," said Gaither, who went onto play eight years in the league after his days at Myers Park High and the University of Tennessee.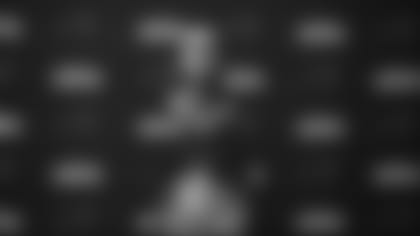 So for all those connections, some stronger than others, the family of the recently enshrined Hall of Famer had a simple request.
Don't just say Keep Pounding — keep gathering, keep sharing those stories, keep building something greater, the way he did when he led a group of old castoffs to the NFC Championship Game in just their second year of existence.
When Mills' son Sam III spoke to the group, he'd look to the mid-90s players and say, "I remember you cats coming to our house and watching Monday Night Football" and recall how full their living room got. He remembered his dad telling him, "we drafted this little white linebacker from Miami, and he listens to Public Enemy before games," and remembered Morgan becoming like an extra brother in the house.
Sam III looked out over the room, pointed to Kuechly, and told everyone how he reminded him of his father, for the work he put in on Mondays and Tuesdays to make Sundays special. He saw Smith, and mentioned the correlation in size, and said, "the passion you played with was greater than your size; you enjoyed practicing as much as you did playing."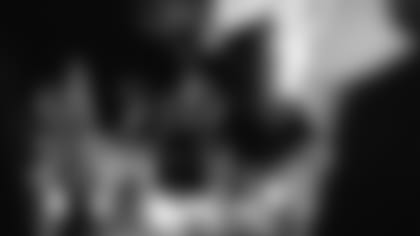 "That '95 team, you were living Keep Pounding and you didn't even realize it," he said.
Of the later teams, he said: "You have to explain to the younger guys what Keep Pounding means; you've got to teach them."
As the event reached its official conclusion, many players lingered. There was Bailey, a linebacker on the first team who played next to Mills, hugging Smith and shaking his hand, and saying: "the love, the passion you have, you represent the old school guys." There was Kuechly on the other side of the room, taking in stories about a man he was never able to meet, but one whose film he absorbed as he became another link in the team's proud linebacker lineage.
"This is what it's all about," Sam Mills III said as he surveyed the room. "People talk about wanting to build a foundation of a great organization; this is it, right here. The Panthers are so young, they have a chance to start anything they want. And it starts with guys like that."
Smith knew his father well. Kuechly didn't know him at all. But they recognized the impact Mills had on so many.
And as they dispersed into the night, there was a tacit promise to keep the stories alive.
To, for lack of a better word, Keep Pounding.
Members of Sam Mills' family and Panthers former players, coaches, staff and VIPs were on hand on Saturday night to honor and celebrate his Hall of Fame induction prior to Sunday's Keep Pounding Game.