HOUSTON – When Deshaun Watson's last-gasp attempt fell to the turf Sunday afternoon, Shaq Thompson ran toward the Panthers' sideline with arms raised. The usually reserved linebacker then ripped off his helmet and began shouting at the stunned crowd.
Thompson's words were unclear, but his message wasn't.
"They're going to have to start giving us more respect," he said, referring to the lack of attention Carolina's revamped defense has received. "They're going keep calling us the underdogs, so we're just going to keep it going out there and fighting."
Thompson, who racked up a team-high 12 tackles, helped set the tone for a defensive masterpiece on the Texans' opening drive when he brought down Watson near midfield for the first of six sacks by the Panthers. Watson remained under duress the entire day, playing one of his worst games since Houston made him the 12th overall pick of the 2017 draft.
The quarterback completed 21 of his 33 attempts for only 160 yards. Do some simple math and that's 4.84 yards per attempt, Watson's lowest total since his NFL debut. His longest completions of the day each went for 14 yards, 10 yards shorter than his previous career low for a single game.
"I thought our guys responded very well and tried to keep everything in front of us," head coach Ron Rivera said. "That way, we could come downhill and make tackles.
"I thought the rush was excellent. I thought the guys were pressuring a very mobile quarterback who gave us fits at times."
Yeah, about that pressure. For the second straight week, the Panthers made life miserable for a dual-threat quarterback.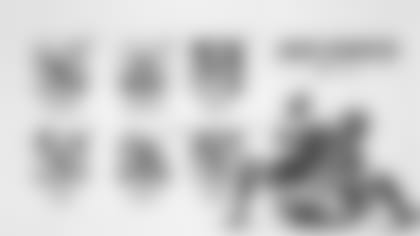 Again, some math: Add Sunday's 6.0 sacks to the eight times Carolina brought down Arizona's Kyler Murray and you get 14.0 – one shy of a franchise record set in the final two games of the 2013 season. And through four games this season, the Panthers' 18.0 sacks ties them with New England for the NFL lead.
"It's going to be more dangerous when we get KK back," said edge rusher Brian Burns, reminding that defensive tackle Kawann Short has missed the past two weeks with a shoulder injury. "We just got Bruce (Irvin) back. The ball is rolling right now.
"Y'all ain't seen nothing yet, let me just put it that way. The want and desire in our eyes — once we get on it, just know it's on."
But a pressure party is often assisted by coverage in the backend, and the secondary sure is locked in at the moment.
The Texans totaled just 128 net passing yards, less than half of the 277.7 they were averaging coming into the game. The performance lowered the Panthers' passing yards allowed per game to a league-best 156.8, their fewest through the first four games in franchise history. And they did it Sunday without starting cornerback Donte Jackson.
Cornerback-turned-safety-turned-nickel-turned-outside corner Ross Cockrell filled in admirably for Jackson and picked off an ill-advised Texans' trick play inside the red zone. Across from Cockrell, James Bradberry locked down Pro Bowl wideout DeAndre Hopkins, who had just three receptions for 20 yards before the Panthers sagged back on Houston's final drive.
As good as the secondary was, luck also helped. Watson misfired twice on deep balls to open receivers, including one to Hopkins, who had slipped past Bradberry early in the third quarter.
"I'm living right. We got away with that one," Bradberry admitted.
Another sign of a dangerous defense: making plays when needed. That's what the Panthers did on the Texans' final two drives. First, blitzing safety Eric Reid helped defensive tackle Vernon Butler pop the ball away from Watson. Then, Reid skied high to knock away Watson's last-second Hail Mary, prompting the rare show of emotion from Thompson.
"People think we're not a good defense," he said defiantly. "We're a hell of a defense."
View photos from Carolina's game at Houston in Week 4.