CHARLOTTE – Ikem Ekwonu's invitation to last year's NFL draft arrived with an opportunity and a platform. So he took that responsibility seriously.
Before the offensive tackle was to be taken sixth overall to his hometown Carolina Panthers, Ekwonu managed the pomp and circumstance that came with the red carpet interviews, photoshoots, and mass media attention surrounding the draft.
What better way to make your introduction to the league memorable and sincere than to highlight a piece of your heritage?
Ekwonu stepped in front of cameras ahead of last year's Las Vegas draft donning an all-white suit that featured a green-and-white striped lapel with matching bands of striped fabric around his arms – designs representing his Nigerian roots.
"Obviously, (there were) going to be a lot of cameras on me – pretty big stage, big platform I had," Ekwonu said recently, reflecting on his draft night experience just days before the Panthers' next first-round pick (at No. 1 overall) is set to have his moment. "So I wanted to be able to use that platform to show off a part of my life that I'm really proud of."
To bring his big idea to life, Ekwonu collaborated with Adonis Jennings, a clothing entrepreneur and former wide receiver at Temple. The two met through Ekwonu's N.C. State teammate Devin Leary, the quarterback he blocked for and a hometown friend of Jennings.
The duo weighed a couple ideas from Ekwonu, all centered around his Nigerian heritage, before landing on the winning design. Ekwonu went in knowing he wanted to give the nod to African culture and made early suggestions involving Ankara – a popular fabric used when designing traditional African prints – on the lining of his draft night suit.
Then Ekwonu saw Jennings' vision for an all-white design featuring Baroque fabric (an elaborate yet subtle embossed floral print). The suit used space along the lapel to showcase the Nigerian flag, a personal touch to go along with the nice fabric.
The future first-round draft pick was sold.
"We didn't want it to be too much," Jennings, who also designed draft day looks for first-round picks Aidan Hutchinson and Kwity Paye, said. "So we talked about it, and we looked at the flag, and everything was, 'Let's figure out how we can incorporate that into the piece.' …
"The piece was magical. He was excited; he was one of the best dressed last year, so he was happy with that."
Ekwonu recalled how the planning stage ended around early April before he saw the piece for the first time the morning of the draft. It was a custom-tailored suit, so the pants and blazer had to be altered to fit him perfectly before he stepped onto the red carpet.
The suit was a hit, and it succeeded in its original goal to bring Ekwonu's heritage to center stage.
"My biggest thing is being able to cater to my clients and make sure they're happy with their designs," Jennings said. "There's a deeper meaning behind the piece, so seeing that I was able to help out other kids in Africa, being able to see that piece, even them just seeing it, could give them the slightest motivation to go out and be great. When I designed the piece for Ickey, that was one of the main things I wanted to incorporate, and I took from it.
"It definitely was a great feeling to see that, and hopefully, someone in Africa, or kids here, are able to see that, and they're able to be motivated and know they can achieve anything they want to achieve. I'm definitely happy about that."
Ekwonu had the chance to build upon his African connections this month on a trip with the league's "NFL Africa" program. He traveled with several current NFL players to Kenya for a skills showcase event, where 29 prospects from African nations participated in a combine-style camp. The group also toured a wildlife safari in Nairobi and took in Eastern African culture during the week-long trip.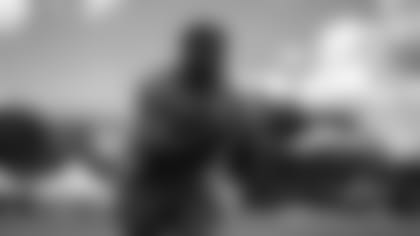 "It's going to keep growing more and more," Ekwonu said of the "NFL Africa" activations. "That's why I think it's cool too. I got to kind of get in on the floor level; I get to kind of build it up as it's growing."
Ekwonu, one of more than 125 players of African descent in the league, also experienced a full-circle moment dating back to his draft day during his trip to Kenya.
Part of the early activities included a meeting where the current NFL players who made the trip introduced themselves to a crowd of young athletes. Before Ekwonu could start talking, he had already heard applause, which he called "real love."
Later, when the group made it onto the field, another participant found Ekwonu to thank him personally for coming out to Kenya for the camp.
He told him he'd prayed and hoped the Panthers' left tackle would make it out, and for Ekwonu, that went a long way.
"Before I even met the players, kind of already having the impact; it meant a lot," Ekwonu said. "(It's) something that I feel like kind of extends from the draft day suit, too, be it me using my platform for the right reasons. It's just something I'm definitely proud of."
Ekwonu joined other NFL players as part of NFL Africa's outreach efforts in Kenya, helping to grow the game of football.