CHARLOTTE — Few people get more than one chance to pick first overall in the NFL Draft.
If you get it right, you're usually not in a position to do it again. If you get it wrong, you're usually not employed much longer. But if you're good enough at it, people will line up to give you a chance to do it again and again.
Few people recognize the consequences of the decision the Panthers are facing this week better than Hall of Fame general manager Bill Polian, who has been involved in the No. 1 overall pick three times in his storied career.
Two were unquestioned home runs and fellow Hall of Famers — the all-time sack leader Bruce Smith and legendary quarterback Peyton Manning. When he became the Panthers' original GM in 1995, he traded out of the top spot and took the quarterback who would lead the team to the NFC Championship Game in just its second season.
So when Polian, who still lives in the Lake Norman area, is asked if there's a certain pressure being on the clock for months at a time, he just smiles.
"I really don't think so," Polian said. "Because what people outside miss is that once you're in the process, that's all you are thinking about. So it's a question of who's the best player? Not how's it going to be perceived; none of that enters in.
"None of that enters in your head because you're so deeply in the process."
Polian is the definition of old-school scouting. There are few things he enjoys more than watching film, interviewing sources in the industry, talking ball. And with his lifetime in the game, he has stories to tell.
The first time he was involved in a top pick was in 1985. He was the director of pro personnel for the Buffalo Bills, a year away from being promoted to general manager.
And in a draft without a sure thing at quarterback, the scouting became real. While there were no marquee quarterbacks that year, it was still a good draft class, which featured three future Hall of Famers in the first round (Smith, Chris Doleman, and Jerry Rice).
For Polian and the Bills, the choice was ultimately down to two players.
He said that while Smith seemed like the clear choice, there were also some clear concerns. While the talent he displayed at Virginia Tech was obvious, Smith was also over 300 pounds, and his soon-to-be coach Marv Levy (who would take over as head coach during the 1986 season) described him at the time as "self-indulgent."
Polian recalled vice president of player personnel Norm Pollom saying, "if you could get him going down the right road, he was a generational player."
If they weren't going with Smith, the Bills next option was Texas A&M defensive tackle Ray Childress, who had a fine career (five Pro Bowls with the Oilers) but not a transcendent one.
But the pick was less than certain, considering Smith's early lack of conditioning.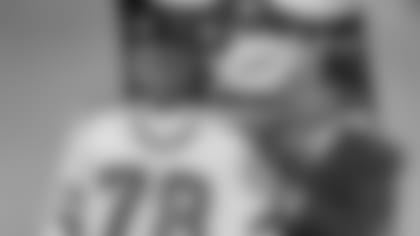 "No, it wasn't because Bruce had a real weight problem coming out," Polian said. "And that was an issue. We were worried about that. So the question was, are you getting a unique talent? Who's who has the ability to be a game-wrecker as a pass rusher? Is he going to play every down? Is he going to be in condition? You know, all those issues existed. So that was a much tougher call."
There were doubts at first, especially after Smith put up a paltry 6.5 sacks as a rookie. But after Levy got him on the right road and serious about conditioning, Smith became one of the best players in league history, and his 200.0 career sacks top that list.
(Parenthetical Panthers note: The three players behind Smith on the all-time sack list all have Carolina ties, as Reggie White [198.0] played his final season here, third-place Kevin Greene [160.0] had his most productive years here on Polian's early teams, and fourth-place Julius Peppers [159.5] will be eligible for the Hall of Fame next year.) Doleman's fifth on the list with 150.5, but Polian and company clearly made the right call in 1985.
(Bonus parenthetical Panthers note: In the third round of the 1985 draft, the Bills also took some quarterback from Maryland named Frank Reich. Pretty good backup quarterback, turned out to be a decent coach, too.)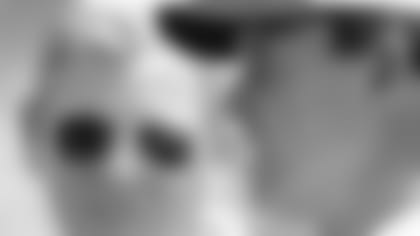 He said they went into that draft with quarterbacks Steve McNair and Collins virtually tied on their board, so they felt a degree of comfort with either.
The Oilers took McNair third overall, making their choice for them (though original coach Dom Capers confessed that if they hadn't traded down with the Bengals, the plan was to take Collins first overall.)
The next time Polian had a decision to make on quarterbacks, the call was much easier for him.
As the Colts general manager in 1998, he was presented with a choice between Tennessee quarterback Peyton Manning and Washington State's Ryan Leaf. Both had impressive college careers, and Leaf was the more impressive from a physical tools standpoint. But Polian said he found a level of comfort with Manning early during the pre-draft season when meetings with both players convinced him that Manning was the more mature and polished player.
"Just everything that he was," Polian said of Manning. "Studious, hard worker, driven, smart. You know, good arm. Not overwhelming, but a good arm. Game manager, understood the game, you know? Just everything you want. He checked every box. Yeah, he checked every box, and Ryan was nowhere near ready to play in the National Football League at that point in time."
This was before the "embrace debate" culture that defines sports commentary now had really taken root, but even though hindsight made it clear, there were plenty of people who thought Leaf would become the better player (Hall of Fame GM Bobby Beathard chose Leaf in San Diego, so there were clearly smart people who saw it that way).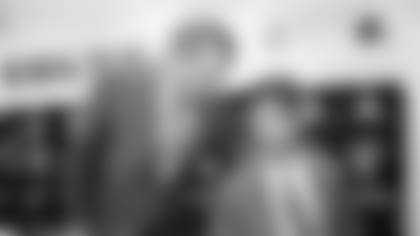 Polian left the Panthers after the 1997 season, and when he got to Indianapolis, he found the Colts scouts torn about the choice.
"When I got there from here, the scouts were split right down the middle, 50-50," Polian said. "So I said, Okay, let's go back. And we'll look at every pass he's thrown in his career. Same with Ryan. So Peyton was ahead at that point, but not terribly.
But then, after the workouts and our meetings, they separated themselves by a wide margin."
To reach that kind of comfort took months of study, and all the legwork you have to do.
Knowing what he knows now, the decision seemed easy for Polian. But that's only because he was convinced by the months of work he did to get there.
"Again, the process always works," Polian said. "You're involved in the process; you get all the information. You don't listen to any outside stuff. And so I would say in 1998, by mid-March, after the workouts, they separated themselves by a pretty wide margin at that point.
"So it wasn't as hard at that point as people thought it might be."
When you put in the work, those hard decisions sometimes become simple ones.
View photos from Carolina's inaugural season in 1995, when the Panthers played home games at Clemson.