CHARLOTTE – In the three seasons quarterback Jacob Eason has floated around NFL rosters, he has only seen playing time in one regular season game.
That was last year with the Colts, and Eason came in for an injured Carson Wentz late against the Rams. Coincidentally, the Panthers' practice squad quarterback could be activated in a backup role behind PJ Walker against the same team this week.
It's a circumstance that would have seemed improbable just last week when Baker Mayfield was healthy, and Walker (whose roster spot was in jeopardy just two months ago) took every scout team rep in practice.
Eason has only been in Carolina since Aug. 31, signing to Carolina's practice squad after Seattle waived him. He hadn't taken a snap in team drills in Panthers practice until Wednesday, as they were running out of options. Mayfield walked around practice in a boot from an ankle injury against the 49ers. Sam Darnold remains on injured reserve with a preseason ankle sprain and was hanging around practice with an earpiece in, trying to help as he could. And rookie Matt Corral watched from the sideline on his scooter while he recovers from a season-ending Lisfranc injury.
So Eason, the 6-foot-6 quarterback who spent the last six weeks learning the playbook, going through individual drills, and settling in Charlotte, started working with the scout team this week. And he knows his role could change again at any moment.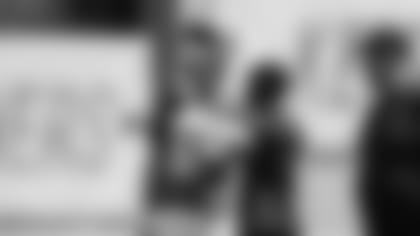 "I'm assuming, on my end, it would be a day-to-day thing in my role," Eason said. "Obviously, in my situation, (I) don't like guys getting injured. But when there's an opportunity to help, just going out there and getting reps felt awesome."
Mayfield didn't practice on Wednesday or Thursday, leaving Eason's chance to be elevated from the practice squad directly behind Walker in Los Angeles. Interim head coach Steve Wilks said it would be hard to play Mayfield on Sunday if he didn't practice this week.
Wilks said he can't ever judge his comfort level with the chaotic nature of the NFL, but he has enough experience in the league to know that contingency plans will sometimes need to go into action.
"Things happen; guys go down," Wilks said. "I've been in situations where an offensive lineman went down, and you had to put a tight end in at tackle. We can't call a timeout and just get back on the plane. So if things happen, Eason will have to go in there and execute.
"He's been in the meetings. He understands exactly what we're trying to get done at that position. And again, we can't sit here and try to put a lot on his plate. We've got to simplify things if he goes in the game."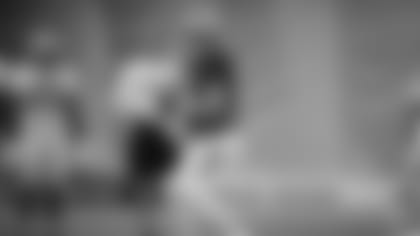 Offensive coordinator Ben McAdoo acknowledged that Eason had been in a "tough spot," with Mayfield getting all of the reps and Walker taking every scout team rep before this week. That meant Eason's done a lot of watching, and doing individula drills, but not actually taking reps in practice until the last few days.
"The third guy has to kind of learn through osmosis a little bit," McAdoo said. "But he does a lot of individual work. He does a lot of fundamental work. … It's certainly a challenge. It's something that he'd been through before, and we expect that if his number gets called on Sunday, he'll be ready to go."
At the same time, McAdoo said he expects Eason to be prepared for the backup role if the situation calls for him.
"You put a good plan together," McAdoo said. "Number one, the backup has to be able to handle the bulk of what the starter can do when you get ready to go play a game. Some of the things we may pare down a little bit if that were the case (and) he were to be up on Sunday. But he's got to go out and play."
And while a situation without any healthy quarterbacks available is far from ideal, McAdoo said the Panthers have emergency plans they've prepared since training camp.
"We have a couple of different things cooking there if need be," McAdoo said. "Some of them started in training camp, some of them we started working through as the season went on, early in the season. But you always have some things you can go to and people you can draw from, so you don't necessarily put it all on one guy."
Eason said taking his first practice snaps as a Panther this week felt "a bit like day one training camp," but he grew comfortable after the first one. The circumstance that placed him running the scout team this week was a sudden development, but Eason's mindset is to be ready if it comes up.
"It's wild, but it's football," he said. "It's a contact sport, and things are going to happen. Obviously (I'm) hoping the best for Baker and his recovery, Sam as well. But it's the next-man-up mentality. … It's not going to be perfect, but you just go out there and cut it loose, then get that feeling back."
In his one regular season appearance against the Rams last year, Eason came in the game late, completing 2-of-5 passes for 25 yards and an interception. He felt prepared at that moment and said he'll be ready if one comes up against Los Angeles again.
It's the nature of the job for a backup quarterback.
"There have been moments, especially in a backup career path," Eason said. "You never know what's going to happen, just have to always be prepared and go make the most of the opportunity."
Check out the best photos from Thursday's practice as the Panthers prepare to take on the Rams this weekend.