CHARLOTTE — Panthers right guard Austin Corbett has a pretty good idea of what to expect Sunday from Aaron Donald — almost anything.
The Rams All-Pro defensive tackle — who Panthers interim coach Steve Wilks casually referred to as "a future Hall-of-Famer," and that might be underselling it — has been making plays for years. But the impression he made on his former teammates is clear.
Corbett sort-of laughed when he recalled the intensity of their practice battles (Corbett spent parts of the last three seasons with the Rams), saying for Donald, "it's game-time all the time."
"It's just part of how fantastic he is," Corbett said. "The incredible workhorse that he is, combined with that talent, he's able to get that done.
"Just things you haven't seen, making them seen."
Of course, some of the things his former teammates saw Donald do, they still don't quite believe.
Panthers linebacker Cory Littleton spent his first four seasons with the Rams (2016-19), and his eyes went wide when asked about the famously fiery Donald (who made headlines this summer for ripping the helmet off a Bengals player during a joint practice).
"The guy is freakishly strong," Littleton said. "He likes to work out, and he's shown his strength multiple times in games where he gets blocked by three people and still gets a sack.
"But the craziest thing I've seen, in training camp, he gets into a fight with someone, right? He rips the facemask off of their helmet while they're still wearing the helmet."
The look on Littleton's face when he tells this story makes it clear it's not an urban legend, that it's just one of the things Donald does. He remembers thinking: "He 'bout to hurt somebody. Somebody better come protect him. This man's angry right now."
Panthers punter Johnny Hekker (who spent his first 10 years with the Rams) was there that day and nodded at the memory — clearly glad Donald doesn't spend much time on the punt return team.
"Yeah, he ripped a dude's facemask off his helmet," Hekker confirmed. "The helmet was still on; the facemask was in Aaron Donald's hands by the end of the scrum.
"Just something physically impossible. I've never seen it before. He's got strong hands. Strong hands and a mean streak."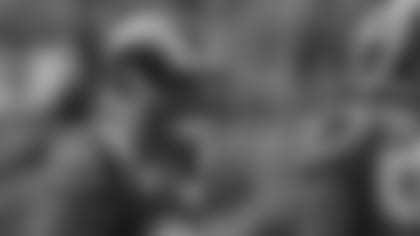 Corbett hadn't gotten to the Rams yet when that incident occurred, but said from his own experiences, he has some understanding of how it's possible to leave the helmet (and, as importantly, the head) intact while holding someone else's facemask at the end of a fight.
"Sometimes physics just kind of leave Earth for a second," Corbett said with a shrug. "Things happen."
That's a pretty good way of describing Donald himself.
The 6-foot-1, 280-pound defensive tackle isn't what you'd consider big enough to fit the traditional prerequisites for his position. Yet he does it so incredibly well. He's a three-time defensive player of the year, the 2014 defensive rookie of the year, and has stacked seven straight first-team All-Pro honors on his shelf. He led the league in sacks in 2018 with 20.5, and in his ninth season, he already has 102.0 career sacks.
"He's good at football, yeah," Hekker said simply.
"I mean, you've heard it said a lot; when you look at him, you're not blown away," Hekker continued. "But when you watch him, the tenacity, watch his get-off, explosiveness, quick hands, quick feet, his production is incredible.
"When you watch him, your jaw hits the floor at least once a game with a play he makes or a decision he makes and how he gets away with the stuff he does. But yeah, he works really hard, too. So he's getting what he's putting into the game. He's the first guy in the weight room, last one out, always getting extra reps, working with young guys, selfless, and gifted as all heck."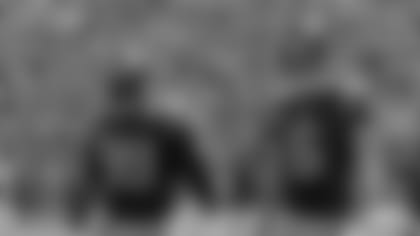 So what's wrong with him?
"He's kind of ugly," Hekker said with a laugh, clearly kidding. "Also, I don't know if he owns shirts."
Littleton confirmed Donald's affinity for lifting weights without a shirt on, saying: "Yeah, he's one of those guys."
While his former teammates joke about Donald's temper or few bad habits, they also figured out in a hurry that he's a special player.
"You can't help but feel that presence when you're out there next to him," Littleton said.
Now, all the Panthers have to do is block him, and a few of them know how difficult it is.
Panthers offensive lineman Bradley Bozeman played against Donald during his second year with the Ravens and remembers preparing for that game and knowing the kind of test it would be.
"Being a young guy, you're like. 'S---, that's Aaron Donald,'" Bozeman said. "You watch him on TV and see him destroying guys on film. But you just have to go in there with confidence. He's human too. Even though he's such a special player, you have to have confidence in who you are and what you do and know your craft and what needs to happen. He's definitely a huge challenge, so you have to go in prepared to fight for 60 minutes."
And it also helps if your facemask is screwed in extra tight.
View photos of action between the Panthers and Rams through the Years. Carolina owns a 13-9 advantage in the all-time series record.