CHARLOTTE – Steve Wilks comes in to most situations with a direct approach. Even when he was defensive pass game coordinator and secondary coach, Wilks commanded the room and drew players' attention.
Cornerback Jaycee Horn watched Wilks take that same style into his first work day as the Panthers' interim head coach on Wednesday. And it appears to have resonated.
"He just leads with a lot of conviction," Horn said. "We're just going to stand behind that and be ready to go."
Wilks' urgency spread to the players, as they locked in before facing the Rams on Sunday in Los Angeles. The Panthers are 1-4, so they know this is the time.
A focus on improvement translated into a high-tempo, high-energy, good-vibes type of afternoon in the Atrium Health Dome, where the team practiced due to rain.
Pads popped, the pace sped up, and some guys who are used to Wilks' style were on hand.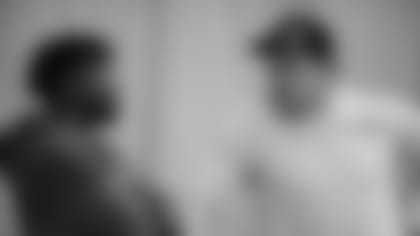 Luke Kuechly and Jonathan Stewart made appearances for Wilks' first practice. Kuechly and Stewart have visited in the past, and Kuechly came to practice a few times earlier this year, but their presence on Carolina's first practice day under new leadership was worth noting.
The Panthers sped around the ball in full pads on Wednesday – one of the changes Wilks elected to make as coach. Before this week, Carolina wore full pads on Thursday, but Wilks said he wanted to emphasize controlling the line of scrimmage early in the weekly routine.
Wilks came out of his first practice pleased.
"I thought the tempo and urgency was outstanding," Wilks said. "It was good to see guys fly around and make some contact."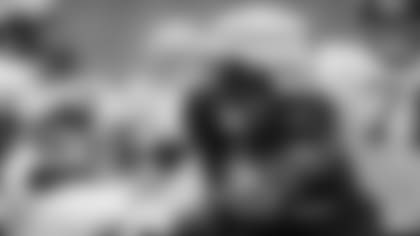 Running back Christian McCaffrey took his regular Wednesday rest day from the on-field action, but he stayed engaged with the offense. He reviewed practice tape on the sideline with D'Onta Foreman, Chuba Hubbard, and Terrace Marshall Jr., showing them pointers to use in their next reps.
Even though he wasn't on the field, McCaffrey said he felt that energy in practice.
"It was intense today," McCaffrey said. "I think guys (were) very energized. There wasn't any shortage of energy. So that's how it should be. We're going to correct the mistakes and try to have a great day tomorrow."
There's a strong respect for Wilks around the locker room, which has helped the coaching transition.
"I've always had much respect for coach Wilks, who he is, and how he coaches," defensive tackle Daviyon Nixon said. "Right now, he's got a lot of eyes on him. I feel like everyone's paying attention."
Foreman said he liked how Wilks coached the team for the first 48 hours of his tenure.
"Nobody's hanging their head down," Foreman said. "Even though it's a tough situation to have a coaching change in the middle of the season like that, he's coming in and trying to do everything he can to prepare us the right way, keep us focused, keep our mind on the right track.
"I think guys are really buying into that, understanding that it's just time to get better, and time to do the right thing. I just like the way he's approaching the situation. He's not letting anybody hang their heads. He's pushing guys to handle their business, be more accountable, and do the right thing."
There are 12 games left for the Panthers. Wilks' "they're not canceling our season" message from his opening press conference caught on in the locker room. Players harkened back to it when asked what brought about the intensity in Wilks' first practice.
Take it from JJ Jansen, who has been at Carolina since 2009 and saw the transition between Ron Rivera and interim Perry Fewell with four games left in 2019.
Jansen said there's the apparent difference in timing (Wilks is stepping in sooner in the season), but there's also the reality of how much time the Panthers still have and how much they want to turn it around for their season, their teammates, themselves, and Wilks.
"I do feel like it's a little bit of a reset," Jansen said. "I think the team's taking the approach (of) we're 0-0, and the goal is to win one game this week. Coach Wilks is putting his stamp on the program. …
"I think there's a lot of energy around, 'Let's win the first game, and let's learn how coach Wilks wants things done.' And (defensive play caller Al Holcomb), how does he want things done? We've all got to figure that out on the fly. Sometimes that newness is fun for players. That's what I largely sensed today."
View photos from Wednesday's practice as the Panthers prepare to take on the Rams this weekend.