CHARLOTTE — OK, so all that happened.
In the last 48 hours, the Panthers let a coach go and hired an interim coach, which is kind of a big deal.
Also, they're kind of running out of quarterbacks, which is going to be an even bigger deal starting when they walk on the practice field later today.
For all the talk about Matt Rhule and Steve Wilks and whatever is going to happen next, the immediate reality is the Panthers are heading into a game week with one healthy quarterback. Against Aaron Donald and the Rams. That's also kind of a big deal.
For the moment, PJ Walker's the likeliest to play Sunday against the Rams, since he's the one on two good legs. Baker Mayfield's dealing with an ankle injury, and Sam Darnold's still not cleared to return to practice after his, so Walker's probably the guy (though we don't have a lot of details on Mayfield's condition yet, so stay tuned to Panthers.com for the latest).
But, as you might imagine, there's a good bit going on (that's also why I've had a quart of coffee [black] already today and counting because we've not been doing a lot of sleeping around here).
So let's wade into the mail and try to make sense of it all:
----------------------------------------------------------
What do you think is the event that led to Matt Rhule's firing? Is there even a specific event, or is it more of a culmination of the season so far? — Henry, Toledo, OH
I don't think it's any one thing. I don't think it's any one season. At a certain point, it's just the body of work.
People always want it to be about the one big thing, but at the end of the day, 11-27 becomes its own thing and carries weight. I don't think having a sea of red jerseys in the crowd Sunday helped, especially since they're high-contrast, like blue lights in your rearview on a dark night.
But as owner David Tepper said the other day, they "didn't get over the hump," and that's the job.
A few more points on this one, and then we'll move on.
A lot of the specific things Rhule said needed to be worked on here were absolutely accurate. Many of the moves the team made over the last two and a half seasons have his thumbprints on them, and he clearly left this roster better than he found it.
But two things can be true at the same time, and you can't ignore trend lines. They weren't winning games.
At the same time, piling on and dancing on graves is distasteful, and I won't be a party to it. Fans chanted about Rhule's job status for much of the last calendar year, and he's a big boy, and he's gone now. But there are many people he brought here who are still working and putting their time, sweat, and effort into the product. Those people do not enjoy the same financial security he does. Their lives got turned upside down also on Monday morning. And as I've walked through the building and watched them work the last two days (most of them with smiles on their faces despite a friend and/or a mentor leaving), they're doing their jobs because they're professionals, and that's the thing you do if you have character. Anybody can work hard when it's fun.
The NFL is a business and should be considered as such. But football organizations are made of human beings, and they should be considered as such as well, so having a little compassion for the ones whose lives changed this week seems like a reasonable ask.
----------------------------------------------------------
Now that they've changed coaches, are they about to start the fire sale, so they can start stockpiling picks for the future? — Bob, Charlotte
One of the things I tell young journalism students who ask me about the business is to read every day and read critically. Check bylines, and keep score. So rando websites or @Scooptown843272569 on Twitter are not the same as an actual report from someone who should be taken seriously. And if you see things pop up on your phone that don't seem credible, file them away, but don't accept everything you read as gospel.
The Panthers might have changed coaches this week, but — BREAKING NEWS — they're going to eventually hire another one. And he (or she, hell, who knows, it's 2022) is going to want to have good players.
So if you see someone declaring that the Panthers are trying to offload high-value assets like Brian Burns or DJ Moore for a sack of beans right now, remember their names. Keep score. And apply that memory to all their future reports.
There are way too many people in this business who will scream EXCLUSIVE for things that aren't, or not take accountability for all their eye-candy rumors that turn out to be the opposite of true.
Remember their names. And apply that knowledge to your future casual football reading. Things can always change, but as someone who's been doing this for nearly 30 years and feels OK about his batting average, I would advise you to consider some of the stuff going around the internet with a grain of salt, and not necessarily believe that all the aggregated reports you see were ever based on anything real.
They're not having a fire sale.
Personnel guys in the NFL talk to each other way more than they talk to reporters, so if anyone ever tells you "Team A talked to Team B this week," there's a chance they're right by accident. People in the league call each other all the time, and they always listen when the other guy calls. But the Panthers have some good young players at the moment. There's no indication they don't want to keep them.
----------------------------------------------------------
During a recent trip to the Pro Football Hall of Fame, I looked at the board with all the teams' season records (all seasons). Only the Panthers have never had two winning seasons in a row. Likewise, I was looking at the teams that had dynasties, Steelers, Cowboys, Patriots, etc., all had a combination of defense with at least a star receiver, running back, and quarterback. Looking at the big picture, how do the Panthers get past wanting a "winning record" to having a dynasty? I know all teams have not had dynasties, but shouldn't that be the goal of building a team? — Bill, Mooresville, NC
I mean, sure. And I want a pony.
Man, this is going to be one of those Darin-gets-preachy kinds of mailbags (as opposed to the other kind), but we're coming right out of the chute with a few of my pet peeves.
Right up there with "be nicer" and "remember the people who lie to you" is "back-to-back winning seasons as the only measure of success is a really weird way to measure success."
During the 2003-05 seasons, the Panthers went 29-19, went to two NFC Championship Games and a Super Bowl, and won five playoff games (four on the road, and road playoff wins are rare enough that Jake Delhomme is only one behind some cat named Roger Staubach in that category).
But because Steve Smith Sr. broke his ankle in the 2004 opener, and it took them a minute to figure out how to offense again, and the Panthers went 7-9 that year, it doesn't mean they weren't consistently successful.
From the 2013-15 seasons, the Panthers went 34-13-1 and won three straight division titles. But because they won the NFC South in 2014 by clutching-and-grabbing and winning four straight to finish an ugly 7-8-1 doesn't mean that wasn't an incredible three-year run.
For comparison, it took their neighbors in Atlanta 42 years of never having back-to-back winning seasons before they did it in the franchise's 43rd and 44th years (2008 and 2009). When you look at it that way, it's kind an arbitrary way to determine success.
The Panthers are in their 28th season. They've had some good runs. Have they been consistent? No.
The NFL is built to push everyone to the middle. Being able to push from the middle to the top takes a lot of planning, human talent, brains, as well as some dumb luck sometimes (thankfully Drew Bledsoe recovered and remains healthy and happy, after what had to happen to him for Tom Brady and the Patriots to become a thing). It's really hard to get all that stuff going in the same direction in the same place at the same time. That's why the ones who can do it are special, and few.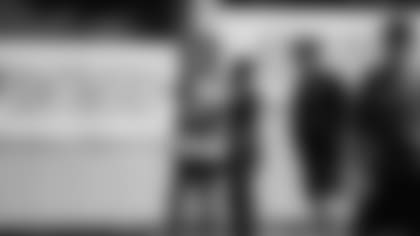 ----------------------------------------------------------
Hello, Darin! With PJ Walker the only healthy quarterback on the 53-man roster, will the Panthers elevate Jacob Eason for the game Sunday? If not, what happens if PJ gets hurt? Do we have an "emergency quarterback"? — Susan, Inman, SC
See, it's always a better day when you get mail from Every Day Susan, a bright shining person and the most steadfast of fans.
(That she knows who Jacob Eason is also testifies to the second fact.)
Bringing the big tall practice squad quarterback up Sunday seems like a reasonable possibility. With the new rules that allow you to elevate them to the active roster three times, it's practically a free space (you can still only activate 48, so if you call two guys up, you just have to make seven guys inactive instead of five).
Eason hasn't gotten a lot of time in practice running the Panthers offense since they use most of those reps on Mayfield and Walker. But that'll change this week. It has to.
As for emergency quarterbacks, they have a few guys they could try.
We could begin to get a little more insight later today on Mayfield and Darnold's statuses, though Sam will likely need to practice a bit before he's an option, and he hasn't done that yet.
----------------------------------------------------------
With the coaching change now over, what do you see will be the next move made from a team standpoint? Are they going to roll with PJ Walker or will they give Sam Darnold a second look once he comes back from injury? Thanks! — Will, Peachland, NC
Again, injuries make a lot of this stuff moot, but I do think there's an opportunity for some movement there.
Before Mayfield was hurt, he was playing a rather low grade of football, probably worse than last year when he was playing hurt in Cleveland. (No one can dispute Mayfield's toughness. His accuracy is another matter.)
And with Wilks admittedly trying to maximize every opportunity this year, I think it's absolutely possible that he'd consider looking at Sam. But until Darnold is well again and gets back on the practice field, we're just speculating about when he might get into a game.
----------------------------------------------------------
Am I nuts, or is there still a chance for Sam + Ben McAdoo + better O-line = success? — Michael, Durham, NC
You're nuts if you expect me to do math this early in the morning; I know that.
Darnold wasn't having an awful camp or anything before he was injured in the preseason. But the key factor in Michael's equation is the offensive line.
It still sounds weird to say it out loud, but the Panthers' line has been quite good this season. They've also been together, with the starting five playing every snap through five games (knock on wood, and don't blame me if it doesn't hold up).
Their play will be integer, I mean integral, in the success of whoever is under center. Now, no more math.
----------------------------------------------------------
As you probably heard, a consumer is suing Texas Pete for false advertising for actually being from North Carolina instead of Texas. As someone that proudly reps being from and of your particular place, what thing or thought would you sue for claiming to be from a particular place, but really not being of it at all? — Cliff, Meat Camp, NC
Cliff clearly occupies a spot among the cool kids on the Venn diagram between me and North Carolina journalist/raconteur Jeremy Markovich, who has done a lot of neat stuff, including the North Carolina Rabbit Hole newsletter. (Jeremy's one of those people I secretly hate because he's so talented, except he's also nice, which kind of makes me hate him more.) In honor of this, I'm making Cliff and Jeremy this week's Friends Of The Mailbag and will get the appropriate honorariums their way soon which will be a surprise to Jeremy since he has no idea who I am.
I mean, I always knew that growing up here, from roadside diners and elementary school civics projects where you decorate poster-board maps with the famous products of particular states. (Also, when I was in fourth grade, they took us on a field trip to Whitaker Park in Winston-Salem to watch cigarettes get made because North Carolina was different in the 1970s, kids.)
Anyway, there are all kinds of examples of such mischief in the world of marketing. Eskimo Pies were invented in Iowa, which has always been known for its vast and proud Inuit population. But we don't call them that anymore anyway because it's possible to change a name when you realize it's bothersome.
Speaking of, after all these years, I'm still stunned we haven't come up with a better nickname for the professional basketball team from Salt Lake City. I know they moved from New Orleans once upon a time (at least when that fair city stole our Hornets, they had the decency to eventually become the Pelicans). But no one who ever watched John Stockton's short shorts, Jeff Hornacek, Mark Eaton (RIP), or Gordon Hayward's good feet and ankles was ever moved to play their Miles Davis records (mostly because if you watched those guys, you don't own any).
The Utah Jazz is a stupid name for a basketball team in Utah.
But you know who is absolutely and authentically from-and-of?
Charlotte's got a lot, but we don't have many who tell the story of our city the way the Panthers interim head coach does. So when he invoked Sam Mills and the spirit of Keep Pounding in his introductory press conference, you could hear it reverberate. It's inside of him.
There are some things in life that you can fake your way through. And Wilks wanted to win games when he was the head coach in Arizona. But he really wants to win games and help fix things here. Because here is where Wilks was born and raised and made and shaped. And I bet when he drives through at Bojangles, he always asks for extra Texas Pete.
----------------------------------------------------------
So if the season ended today, Carolina would be holding the first overall pick, and I know you're thinking, "Eric, you're crazy; there's still 12 games left this season," but it's never too early to think about the future. So what I wonder is, again, all hypothetically, since there is a lot of football left when picking number one, do you opt for QB, knowing Matt Corral is the only one under contract heading into next year and knowing you need a new face of the franchise? Or do you trust Corral, and go for Will Anderson, who can really change the look of the defense and take it up to yet another level? — Eric, Brick NJ
Actually, I was thinking, "Why did the season end on the Wednesday of Week 6?" (Try the veal.)
You can always tell when things aren't going well for your team of preference when you're having these hypothetical discussions in early October. And we're going to have a lot of them.
Impact pass-rushers always have a high value. But if the Panthers are ever going to get off the rat wheel at quarterback, they're eventually going to have to draft one and let him be the one, and the best time to do that is when you're picking in the top five. We'll see in January if that's where they still are.
But there's something a little 2011 Seahawks about this Panthers team at the moment, and that's not really accidental since that's where general manager Scott Fitterer was raised as a personnel man. Having a lot of core pieces in place helps when you drop the right quarterback into the mix. And as weird as it still sounds to say, the Panthers have a sustainable offensive line at the moment, and if you put a 10-years-ago Russell Wilson behind it, this team could reasonably succeed. I'm not saying they should win a Super Bowl in two years like the Seahawks did after Wilson arrived; I'm just saying that plan has worked out before.
----------------------------------------------------------
Hi Darin! As a first-time visitor at the stadium and the city last Sunday, I'd like to congratulate you all (Panthers staff/members and Charlotte residents) on the beautiful and nice city as well the great stadium and game day activities and facilities. I think it's important to say that, especially because - as I've seen other fans telling - it might have been one of the low points of the stadium (a lot of 49ers fans) and on the field. I don't know for sure if I'll be able to come back anytime soon, but I certainly feel confident that whenever the team gets over that "hump," you already have a great thing there - remember and value that!
Anyways, the question is: do you also think that the team has a lot of individual parts/units/playing stretches of a good team, but there's always something not functioning together/at the same time/or for the most of the game (I could give more than 10 examples of this from Sunday), and then everything starts to crumble during the game? Can't tell for sure that the coaching change will solve this, but if so, I guess the future might be better sooner rather than later. Hope to see you all again and at a better time! — Fernando, São Paulo, Brazil
Fernando's our Brazilian correspondent to the mailbag, and it's cool that he had a good experience here despite the result of the game. The show must go on, and there's a small army of people who work here who never touch a football but are key to making the game day experience a good one for fans. So on behalf of them, thanks, Fernando.
There was a bit of an avalanche quality to Sunday's game, and it's always hard to tell which particular snowflake caused it. It's also impossible to know how much or whether the coaching change impacts it. I've seen it send things in the other direction, too.
One of the oldest (and truest) football cliches is that it's "the ultimate team game." It takes so many people doing coordinated things at specific moments to make plays work. So being able to stack those moments takes discipline. They were lacking that Sunday (and being without so many key players on defense like Frankie Luvu and Xavier Woods didn't help).
When it all clicks (like it did from 2003-05 and 2013-15), it can be beautiful to watch. Glad you had a good day despite the score. Hope you can come back again soon.
----------------------------------------------------------
Let's go lightning round to close it out this week:
Hi, Darin! A big ol' howdy-doo from the folks in Winston-Salem. Although we're all frustrated by the offensive struggles, I'd like to suggest a way to turn this negative into a positive for our struggling communities. Every time a Panthers member utters the phrase, "We'll have to look at the tape," the organization donates money or team gear to a worthy cause. — Patrick, Winston-Salem, NC
Big Winston-Salem week. And Patrick's got jokes. (Also, we'll have one of our people in sponsorship calling Big Duct Tape this morning to see if we can work that out.)
Darin, someone has to be cataloging Ben McAdoo's words of wisdom, right? There are some real gems in there. Also, when are you going to update your team picture? You can't stay 43 forever. — Brad, Winston-Salem, NC
McAdoo absolutely knows how to put words together in the correct order. "As long as we don't resort to cannibalism, I think we have a chance to get out of this pretty good," was a great way to start training camp, when he also dropped an "I left my crystal ball in my other pants" on us. Things have been a little tight lately, but Ben has a sense of humor and doesn't take himself too seriously, which helps you get through rough times.
Also, I was way older than 43 when that picture was taken. I was at least 45 or 46.
In honor of State and County Fair season across the country, what is the Top Three of Fair Cuisine? — Nate, Grand Prairie, TX
Mexican street corn is also amazing, especially if you put it on a stick. Funnel cakes are good, but funnel cake fries are an upgrade. Making your terrible food more portable is the key.
Basically, I enjoy Frankensteining together otherwise unrelated foods and frying them. That's part of the clean living that keeps me looking so young. Speaking of, it's time for more black coffee; today's going to be another long day.