CHARLOTTE — It's never boring around here. Even when you kind of expect it to be.
The first couple weeks of July are generally trustworthy for being the slowest weeks of the year in the NFL, the one time when the entire league can catch its breath, take vacations, and do all the stuff normal human beings do.
It's also a little-known fact that a substantial portion of the wedding anniversaries of league and team employees — in every football-adjacent department — happen during the six weeks between the end of minicamp and the start of training camp. It's an annual tradition, and it sounds pathetic when you say it that way, but fall weddings aren't really in the cards when 16 of your Sundays (now 17) are spoken for. And the spring's kind of tricky with the combine and free agency and the draft, and God, we're all losers aren't we?
That gets us to Wednesday, when Panthers general manager Scott Fitterer finally pulled the trigger on a Baker Mayfield deal three months or more in the making (it won't be final and official next week). At least he didn't do it on Saturday night (probably had plans to be at a wedding), but it finally landed.
People seem intrigued, even optimistic. Some degree of hope is normal in July since your favorite team hasn't lost yet, but this news turned it up a notch.
Since so many of you RSVP'd quickly to this one, might as well see who's on the guest list.
----------------------------------------------------------
Are we seriously considering acquiring Baker Mayfield? If yes, is the plan for him to back up Sam Darnold, or would we be trading Sam in order to get Mayfield? I love our newly improved offensive line; I think we can have good protection for whoever our QB is this season. — Chase, Greensboro, NC
My family thinks I'm a hoarder. I choose to think of it as sentimental, as nothing touches the heart quite like an old piece of mail. (This is also what I get for going too long between mailbags.)
But yes, Chase who sent this question in mid-June, it was serious. And as you have perhaps heard, there's not a clear answer (yet) to your second question. The competition is on, and it may not necessarily be as lopsided as a lot of people think.
Sure, Mayfield has objectively been the better quarterback of the two over their first four years in the league. But Darnold also has a significant incumbent advantage, and that's not nothing.
As Panthers Hall of Honor quarterback Jake Delhomme explained this week, the difference in language of play-calls (football guys use the word "verbiage" a lot and it makes me cringe) between the West Coast-inspired offense McAdoo is installing and the systems Mayfield has run in the past is significant. And for quarterbacks, that's often one of the biggest challenges.
Everybody knows how to throw a post and a shallow cross. Not everybody knows what they're called in each city. So Mayfield's got some catching up to do.
That said, he also played in Cleveland, so he has some experience with coaching changes and learning new things on the fly.
Darnold's not going anywhere, either. Because of his contract, even the people who like Sam (a non-zero amount around the league) would be hesitant to take him on without a financial adjustment. Besides, until or unless Mayfield wins the job, he's the guy they'd start. If they hadn't done the deal this week or in the next two, Darnold would have gone into camp as the starter.
To Chase's third point, that's probably the most salient one. This offensive line is worlds better than the one Darnold wandered in behind last year. When you spend significant free agent money and your first draft pick to fix it, that's what happens.
----------------------------------------------------------
Hope you're feeling better, Darin! All right, so I usually don't walk away from a Panthers trade and think, "Man, that's a great deal," but Fitterer has certainly changed that precedent. Now that the elephant in the room has been taken care of, what do they do with Sam? Do they keep three quarterbacks and dress two? Do they try to trade Sam? Surely, they won't cut him with that guaranteed salary. They obviously can't stash Corral on the practice squad. Please look into your crystal ball and assure us that no bad moves will be made. — Dan, Venetia, PA
Thanks, Dan, we are feeling better. As it turns out, COVID is real. We're lucky and grateful to have access to excellent health care, and that we were all vaccinated and boosted. It's like investing draft picks in offensive linemen; reasonable people are always glad they did it.
The extreme cheapness of this deal made it a bit of a no-brainer for the Panthers. A conditional fifth-rounder in 2024 is practically nothing, and with the pending new contract for Mayfield (which should be finalized early next week), the Panthers will have around $25 million and change worth of cap room in their entire quarterback depth chart. To have less than that amount means you already have a decent quarterback on a rookie deal, have restructured the contract of a good and more expensive one, or you are up against it.
You're right that Corral would never get through waivers to go to the practice squad, but he was going to be on the 53 anyway — he's the only QB on the roster under contract past this year.
What they do beyond that will depend largely on camp. They've generally kept two on the roster for flexibility at other spots, but keeping three might be a reality they have to accept. There's also the small matter of figuring out who's going to start, and the clock's ticking.
There's a chance this thing doesn't work for football reasons, but from a financial/opportunity cost standpoint, it was a solid deal. Mayfield will be highly motivated to prove himself to an open market next year (though the Panthers could always franchise tag him if things go really well).
My crystal ball's in the shop, so I can't promise anything about the future. But the present is certainly more stable than it was a week ago.
----------------------------------------------------------
What are the conditions that make the draft pick conditional? What's the highest draft pick the Browns could get from us? — Susan, Spring Hill, FL
Nothing's official until the paperwork's finalized (which, again, will be next week), but the condition is based on playing time.
Effectively, if Mayfield becomes the starter and plays most of the season (around 70 percent of the snaps for the season, or 12 games or so), the Panthers could have to send a 2024 fourth-rounder back to Cleveland instead of a fifth. But if Mayfield plays well enough to trigger that (and he plays the way he did in 2020), there's a good chance they'd be happy to pay the difference.
It won't be higher than a fourth, though, and hanging onto draft capital was something they prioritized when it was time to make the deal to get Corral, and also this one.
----------------------------------------------------------
Now that the Panthers have acquired Baker I am cautiously optimistic. I know he comes in with lots of questions and has played hurt. Please compare his QB style and skill set to Delhomme. I think there are several similarities, but Baker comes in with a lot more experience as well as more hype. — Jim, Sugar Land, TX
Well, Jake's taller. That's one. He also wasn't a Heisman winner or a No. 1 overall pick.
The common thread is the willingness to take chances. Jake's 2003 season gets some rose-colored glasses treatment because they got to the Super Bowl, but that cat threw a lot of picks that year (16 of them, against 19 touchdowns). Mayfield's also almost eager to take some chances to make big plays.
Was looking back at the tape of his ridiculous 51-yard touchdown pass to Jarvis Landry against the Panthers in 2018, and it was an amazing throw for a few reasons. He was rolling to the left and throwing back against his body (that gives coaches angina), and threw it to a well-covered receiver. He just happened to drop it in the one small window where it worked. Not everyone is willing to take those chances. They don't always work out, and guys can lose jobs if they don't.
But the fearlessness matches up. Fearlessness is an admirable quality, right up until it isn't.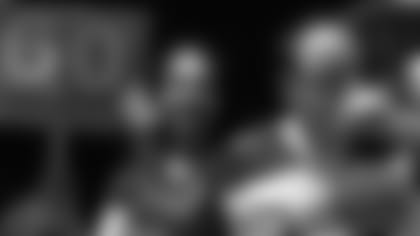 ----------------------------------------------------------
Is a hot dog a sandwich? — Travis, Bessemer City, NC
I'll be honest, when I put out the call for questions Wednesday morning before things got good and interesting, this came in quickly, and I figured this might be what this entire bag would be like. You can only fully and thoughtfully explore these kinds of weighty questions in July. So thank goodness for quarterback trades.
To answer your question plainly, Travis, no. Hot dogs are not a sandwich. Hot dogs are THE sandwich.
In my mind, a sandwich is an item of food surrounded by a bread, bread-like product, or other edible casing. And as I've gotten older, I've gotten more liberal in my thinking. Actually, I'm probably a sandwich anarchist.
A taco is a sandwich (filling on the inside, bread on the outside). A corn dog is a sandwich on a handy eating-stick (and the crust that collects on the stick at the last bite is my favorite part). A burrito is absolutely a sandwich. An ice cream sandwich is, as the name suggests, clearly a sandwich. An ice cream cone, thus, is an open-faced sandwich. A Pop-Tart is nothing more than a deconstructed and also stale jelly sandwich. The old KFC Double Down, where the fried chicken slabs served as the vehicle for moving bacon and cheese into your face — indeed a sandwich. A Scotch egg is a breakfast sandwich, and if you could make a boneless Turducken, that would be a hearty dinner sandwich.
But the hot dog is their king, and Joey Chestnut is their greatest champion. As much as I admire him playing hurt, wrestling off a protestor in a Darth Vader mask, and still eating 63 in 10 minutes this week, I can't imagine eating hot dogs the way he does (plain, or that fast). There are a few things I am a traditionalist about, and hot dogs come the way I grew up eating them in Suburban Hickory at Shell's Bar-B-Q on Springs Road (RIP), at Mattie's out on Highway 16, and at the Claremont Cafe. Hot dogs come with chili, slaw, yellow mustard, and white onions. There are no beans in the chili, but there's a finger-thick layer of grease on the top of the pot if they make it right, and the slaw is fine-cut and tangy and sweet. There are certain things I'll debate about, but those are God's own condiments, and I won't hear otherwise. I've struggled to find their equivalent here in the big city. Green's Lunch is good, but the closest is probably at Brooks' Sandwich House on Brevard, though that one's more chili than slaw, and like people, those two work best together.
And for getting me thinking about good hot dogs and bringing the hot question not when it was easy, but when it was hard (like Rice playing Texas in football or going to the moon), Travis is absolutely this week's Ask The Old Guy Friend Of The Mailbag. He will receive the appropriate honorarium soon. Or maybe I'll meet him at Tony's Ice Cream in Gastonia, and we can talk about good hot dogs in person because they have them there.
----------------------------------------------------------
Was the defence as good as some of the stats suggest? As woeful as the offence was last year that was giving the opposing teams much shorter fields, so it stands to reason that the yards allowed would be influenced by that because the other teams simply did not have to go as far. There were times where it felt like the defence really could NOT get off the field and it made me wonder if the defence was actually that good. There does still seem to be a Luke Kuechly—sized hole in the middle of the field. — Sasha, Montreal, Canada
First off, love the British spellings. It makes me feel worldly and sophisticated, especially coming after a treatise on hot dogs.
Also, Sasha's got a point. The Panthers ranked second in the league in total defense measured by yards allowed. But to describe it as the second-best defense isn't entirely accurate. It was good; it just wasn't quite that good.
And between the turnovers on offense and the special teams not being particularly special last season (burning through three punters comes with a cost, and it's the reason they spent money on Johnny Hekker this offseason), drive starts were a problem.
The Panthers began their drives last year at their own 28.3-yard line, which is not great but hardly disastrous (21st in the league). Opponents started at their own 33.5, which was last in the league. That's bad. Basically, a free five yards on every possession, and after a while, that adds up.
As for Kuechly, there's not a defense (or defence) in the world that could really withstand losing him. Panthers fans have been able to count on one thing consistently over the years, a parade of excellent middle linebackers. From soon-to-be Hall of Fame Sam Mills to Micheal Barrow to Dan Morgan to Jon Beason to Kuechly, it's been one great one after another.
Damien Wilson's not exactly in that lineage, but he's stout against the run, a bigger 'backer in the middle than they've had in the past, and should help stabilize the run defense.
As with everything in the NFL, the answer is kind of cyclical. A better run defense would help, but an improved offense that keeps them off the field for as many snaps would also be a benefit.
----------------------------------------------------------
Hey Old Guy, I know you probably get tired of hearing from me, BUT... I just can't help myself. Anyway, I've noticed lately that your propensity for the written word is in decline. At the same time, I notice that you have accepted the task of guiding an understudy. So, let me be the first to welcome Augusta Stone to the halls of Panthers land's written word. Ms. Stone writes a good article. A little extra je ne sais quoi. Please understand, I'm not complaining. So, while I respect you, Darin, thanks for adding some youth and vivacity to the honored corps. — Howard, Star, NC
Dang Howard, when you say it like that it makes me sound like Obi Wan Kenobi or something. I hope it doesn't end with her killing me in a light saber duel. Of course, even if she does, I trust she will eventually bring balance to the Force, and that I will continue to dispense wisdom in ghost form.
Yes, we have a new addition to the staff, in case you haven't noticed. Augusta is going to be a great Charlottean because she's bright and curious and has a genuine energy about her, and she's already a talented writer. She got here just in time to see some cool stuff like a week of minicamp and production day and the Panthers Games, and I can tell you she can't wait to get to training camp and get started. We already dragged her onto the Happy Half Hour podcast as well, and it won't be the last time.
So follow her on the social medias, say hello, read every word she writes, and be nice.
----------------------------------------------------------
Let's go lightning round to close it out this week:
Hi Darin, and greetings from Tennessee. We always go to training camp for Sunday morning practice, but there aren't any this year. Instead, we think we'll drive down for the Back Together bash on Saturday night. What can we expect? — Tommy, Kingsport, TN
There's a real and tangible energy among players to get under the lights and practice, so everybody is all juiced up. Plus, this year, autographs are available for fans again, after a couple of years of having to stay at a distance because of COVID. The close connections fans can make are one of the coolest parts of training camp, and something that we've missed the last few years.
It was recently announced that Bojangles is finally coming to grace these forlorn, desert-wandering lost souls with amazing and delicious chicken and biscuits. The question I have, though is which Carolina staple should I begin rousing up for import next? Sun Drop? Harris Teeter? Actual good barbecue? Something I've forgotten in my near-20-year absence from the Sky Blue Tarheel State? — Nathan, Grand Prairie, TX
Congratulations on the Bojangles; you finally have good chicken (and remember during Lent to order your fish sandwich on a biscuit instead of a bun). But why do you have to start a holy war about barbecue with your neighbors? I bet you do miss a good Sun Drop (an amenable mixer for your college-grade bourbons). Other than the aforementioned slaw dogs, it's one of the things I'd truly miss if I moved out of state. And if I ever lived in a place without livermush, I'd get it shipped in. It goobs people out, because of the name mostly, but there's nothing better for breakfast.
Darin, my undisclosed location is Stuttgart, Germany. Hendersonville, NC native, US Army retired residing in Stuttgart. It was announced that the Panthers were connected to Germany. Do you know when a game might be scheduled? I traveled to London to watch the Panthers beat the Buccaneers in Tottenham Stadium, can't wait to watch them play in Germany, hopefully in Munich. Go Panthers, Keep on Pounding. — Kenneth, Stuttgart, Germany
A game in Germany is likely in the future, though the specific year and city are to be determined. But there are some ties developing that we can tell you more about in the future.
Can you advance the notion that during pressers the beat writers/reporters use a single centralized podium-style mic when asking questions of coaches and players? As is, the viewer often times has to figure out the question by way of the coach or player's response to the question presented, sort of stinks! (Also, how is Tom Sorensen doing these days?) — Craig, Elkhorn, NE
Do you know how hard it is for reporters to do anything in an organized manner? You should see my taxes. As for Sorensen, he's great. Moved back to the suburbs, though, and we miss him in the city. Got a text from him this week; he would have loved writing about Mayfield. Quarterbacks with big personalities are inherently interesting. One of the best road trips ever was when he and I went to see Cam Newton's pro day at Auburn, with a pit stop in Atlanta at Abdullah The Butcher's House of Ribs and Chinese Food. We had the ribs and the Chinese food. Abdullah himself was there and stuck plastic forks in our heads for pictures. It was amazing. Love Tom dearly, and miss him in press boxes and Marriott bars immensely.
What's your go-to summer beer? I will silently judge you based on your answers. — Cory, Big Stone Gap, VA
Who doesn't love a good shandy after mowing the grass? Actually, who are we kidding? I'm a High Life man. And that's in the summer, winter, spring, and fall. Judge me as you choose. The heart wants what the heart wants. I'll branch out sometimes, our Teeter sells sixers of tall-boy Narragansetts that say "Hi-Neighbor!" on the side of the can, and I like that because it feels friendly, and they're cheap enough. But summertime is Miller Time. In fact, it might be that time now.
See y'all at the inevitable wedding reception that's happening somewhere in the league this weekend. Mazel tov to the happy couples everywhere.