CHARLOTTE – Interim defensive coordinator Al Holcomb has had an opportunity to call the defense under Steve Wilks before.
When he took over as interim head coach, Wilks promoted Holcomb, who started this season as an assistant head coach on defense. It reunited the duo as head coach and defensive play-caller; in 2018, Wilks and Holcomb were a head coach-defensive coordinator duo for one season with the Cardinals.
Thursday, in his first press conference since his promotion, Holcomb reflected on his relationship with Wilks and their similar styles. The two have frequently worked together since they met here in 2013 when Holcomb started as linebackers coach and Wilks was a second-year defensive backs coach under Ron Rivera. Before heading to Arizona, they contributed to the Panthers' defensive game plans together from 2013-17. After the 2018 Cardinals stint, they went to Cleveland, where Wilks worked as defensive coordinator and Holcomb as linebackers coach in 2019.
Holcomb said "they hit off right away" upon meeting, sharing similar philosophies in everything from how they coach players to attention to detail, preparation, and staff decisions.
"It's been a good journey," Holcomb said. "I think it's been the last eight, nine, 10 years or something like that. We've become pretty close."
Holcomb said there wouldn't be much of a difference from the system former defensive coordinator Phil Snow had implemented before he and the Panthers parted ways. He said he's focused on keeping players comfortable for the remainder of the year. Philosophically, Holcomb said he prioritizes developing relationships with players to create an honest dialogue when discussing on-field issues and adjustments.
"They understand that when times get tough, or when you're really getting on them about stuff, they don't take it as personal," Holcomb said. "They know that it's coming from the right spot. Players tend to respond to that and know that you have their best interests at heart. And really, we're all in this together."
Holding true to his philosophy, Holcomb said he recently had a conversation with cornerback CJ Henderson about some of his struggles through the early quarter of the season.
Henderson has drawn multiple pass interference penalties at inopportune times throughout the year. But Holcomb expressed confidence in Henderson, saying he's "locked in" and practiced well Wednesday.
"It's just technique at the top end of the route, not worrying and just trusting your technique and executing," Holcomb said. "I know sometimes when the ball's in the air, DBs have a tendency to get unsettled a little bit, or the receiver plays back into them.
"But again, CJ's a really good player. And he continues to evolve as a young player because he's only been in the league a couple of years now. As a young player, he will continue to improve his technique."
– Offensive coordinator Ben McAdoo also met with reporters Thursday and fielded questions about the Panthers' quarterback situation.
With Baker Mayfield remaining out of practice with an ankle injury for the second day in a row, Carolina is left with a strong possibility that PJ Walker will get the start in Los Angeles. Sam Darnold remains on injured reserve with a preseason high ankle sprain, and rookie Matt Corral won't be available this year due to a season-ending Lisfranc injury.
Walker battled up from being fourth on the Panthers' quarterback depth chart to being the most likely option against the Rams on Sunday. And that has impressed McAdoo.
"PJ, he's a ball player," McAdoo said. "He was here all offseason for us, got a ton of reps in the offseason. In training camp, he was dealt a tough hand, right? We traded for a quarterback, and we drafted a quarterback, so the reps were hard to come by in training camp.
"Man, he's a gritty guy. And he made the decision to fight through a tough situation. I think you're seeing that pay off now. Just the type of guy he is, the way he showed up, and the decision he made to fight and be gritty – instead of feeling like he got a raw deal – put him in the situation he's in here today to go out and cash in on this opportunity. I'm very confident in PJ. I know what type of guy I've got in PJ."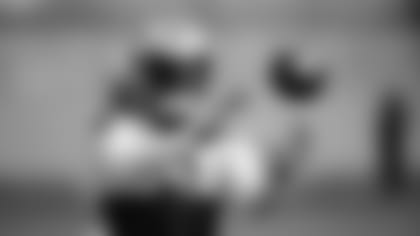 – Wide receiver DJ Moore said he never lost belief in Walker, even when multiple other quarterbacks came onto the roster to compete with him.
"At the end of the day, he's always going to fight for a spot," Moore said. "He's always going to be on somebody's roster. I'm glad he's on ours because he's a great quarterback in my eyes."
Moore said he frequently told Walker he would remain in Carolina throughout the preseason, keeping the faith in the teammate he called "lovable" and said he spent time with outside of football.
"I told him he was going to be here regardless," Moore said. "It wound up happening, so I guess I spoke it into existence. But I'm glad that he's here. We had many talks like that, but he handled it pretty well. He didn't believe me at first, but then the stars aligned.
"Things have happened, so he was like, 'Dang, you were right.' I want to take credit for saying that he would stay here. I'll take some of it."
Moore and Walker have flashed their solid connection before. Walker started in a 2020 win over the Lions, 20-0, and threw seven passes to Moore for 127 yards, an average of 18.1 yards per catch.
Even though it was two seasons ago, Moore said he is confident the connection is still there.
"It just never falls off, you know?" Moore said.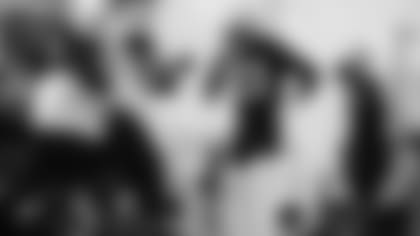 – Defensive end Brian Burns shared his thoughts on roughing the passer calls, following a week where the penalty has generated conversation due to recent controversial calls against the Falcons' Grady Jarrett and Chiefs' Chris Jones.
Burns said his approach to tackling a quarterback has changed because "guys are getting penalized for crazy plays." Burns said he has attempted to adjust his body direction when he pressures a quarterback to show that he isn't throwing the opposing player down.
"You don't want to land on a guy, get him hurt, or anything like that, so you've got to alter the way you hit him," Burns said.
Burns had a controversial roughing penalty in Week 1, when he ran into Cleveland quarterback Jacoby Brissett to catalyze the Browns' eventual game-winning drive.
When asked if he agreed with Jones' statement that the league should look into reviewing penalties for roughing the passer, Burns said he agreed.
"I think that would be smart," Burns said. "It's a tough job to be a ref and to make that call when everything moves so fast, so I think they should review it."
Check out the best photos from Thursday's practice as the Panthers prepare to take on the Rams this weekend.