CHARLOTTE – Six times a year, Panthers cornerback James Bradberry squares off against some of the NFL's best wide receivers. That's the life of a defensive back playing in the NFC South.
In Tampa Bay, it's Mike Evans. When the Saints are in town, it's Michael Thomas. But this week, Bradberry has his eyes on Falcons' star wideout Julio Jones.
It's otherwise known as "Julio Week" for Bradberry.
Since entering the league in 2016, Bradberry has lined up across from Jones six times – and the two have each had their moments.
On Bradberry's first trip to Atlanta, the rookie cornerback only played sparingly after leaving the game early with an injury. His presence was clearly missed, though, as Jones had his way with the Panthers secondary and racked up 300 yards and a touchdown. Despite Jones' domination, Bradberry was still able to walk away from the game with a few positives from the snaps he did get.
"One play I jammed him at the line. We were in (Cover) 2-Man and I got a good jam on him," Bradberry said. "That was one key moment that I knew I could play in this league."
Jones hasn't exploded against the Panthers like that since the teams' first meeting in 2016. Still, Jones always turns in solid performances against Carolina, but Bradberry has been able to limit his ability to get in the end zone, only giving up one touchdown in the previous five matchups.
Here's how Jones has fared against the Panthers since Bradberry's arrival.
Week 4: 12 catches, 300 yards, 1 touchdown
Week 16: 4 catches, 60 yards
Week 9: 6 catches, 118 yards
Week 17: 5 catches, 80 yards
Week 2: 5 catches, 64 yards
Week 16: 4 catches, 28 yards, 1 touchdown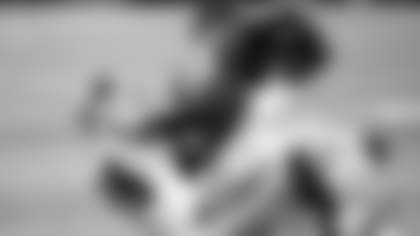 Bradberry's best outing came the last time the Panthers and Falcons met in Week 16 last season. Along the way to limiting Jones to just 28 yards, Bradberry recorded a career-high four passes defensed. But the breakups aren't what Bradberry remembers from the game.
"He scored a touchdown on me last year on an over route in the red zone," Bradberry said. "Wish I could have that one back."
That's how Bradberry is forced to think, because he knows he can never let his guard down against a receiver like Jones.
"He does everything well," Bradberry said. "He can run fast, he's explosive, runs good routes, big, physical guy. He's definitely a challenge."
But the folks down in Atlanta see Bradberry as a challenge, too. Falcons head coach Dan Quinn praised Bradberry for his ability to matchup with Jones so well.
"I think both guys who have this kind of size, and speed, and explosiveness, they're so strong," Quinn said. "Such a good matchup because big guys who can move like those two can, that's a lot different.
"It's always a tough matchup getting his draw, but James is definitely somebody when they know each other, that they're going to go fight for sure."
Bradberry knows the fight is coming, and it's one the Panthers will need their No. 1 corner to help win. Bradberry sat out last week's game against Green Bay with a lingering groin injury, and the result was Packers' top wide receiver Davante Adams hauling in seven receptions for 118 yards.
Entering the Packers game, Bradberry was listed as questionable, but after a full week of rest, it looks like he's on track to play against the Falcons. Despite being officially listed as "limited" in practice on Wednesday, Bradberry said he went through the entire practice and felt good after finishing.
The Panthers have seen the damage Jones is capable of doing when he's lined up across from anything less than a No. 1 cornerback, so getting Bradberry back and healthy will be key to Carolina's success.
"You've first got to try to limit Julio," Bradberry said. "We've got to be able to get hands on him and eliminate him any way we can."