CHARLOTTE – Jeremy Chinn's at a point in his career where he's graduated to a hefty set of responsibilities: Leadership as a fourth-year starter, expectations as the third-most productive tackler for a Panther in his first three seasons, a talent level that has a new coaching staff calling him a "superhero."
Chinn's taking an even-keeled approach to what could be viewed as a prove-it season, where he's anticipated to play a variety of roles in a new 3-4 defensive scheme. And he said a lot of it has to do with the spot he has found himself in at 25 years old.
"I just feel like everything in my life has really just been aligned," Chinn said after OTAs last week. "And I feel like that definitely has translated for things on the field. Just because I feel like, you know, things off the field are just so in order – I'm at a really good spot. I feel really good mentally. That translates."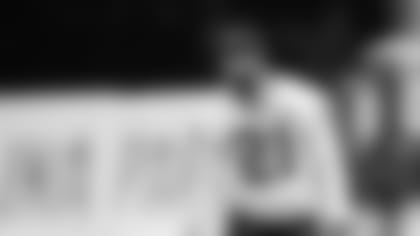 Before restarting his football grind of offseason workouts, OTAs, and meeting the new coaching staff, Chinn embarked on off-field ventures, staying busy and productive through a brief lull in on-field commitments. 
For one, he participated in NFL Career Tours last March, a professional development program launched this year to provide current and former players access to organizations for networking and future career opportunities. 
Chinn was one of four active Panthers in the program (Laviska Shenault Jr., Keith Taylor Jr., and Taylor Moton also took part in other excursions), heading up to Nike World Headquarters in Beaverton, Ore. for a glimpse of the sports business industry, learning about product development, marketing, and branding while also touring Nike's campus. 
Chinn was particularly excited to get an inside look at Nike, having grown up a "huge fan" of the brand, he said, and he took time to speak with current employees who were also former athletes on the transition to corporate work life.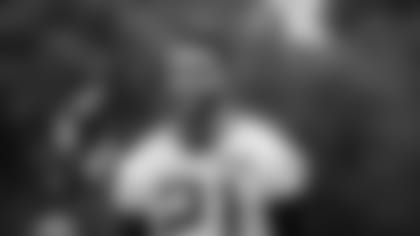 A top piece of advice Chinn learned? Everyone wants to play 15-plus years, but you never know what life or the league will bring, so plan for the future and set yourself up for success. Chinn is locked in for his immediate future in football, of course, but he said he enjoyed catching an early glimpse of what he could prepare for. 
"It was crazy, because while I was there, a lot of people were talking like, 'Oh yeah, like this is – as I come to the end of my career,' but I feel like I'm at the beginning of my career. So I just feel like I kind of have one step ahead in that area. It was really cool just to be able to be in those positions and be in those rooms." 
Chinn's heightened level of responsibility on the field in a new defense (adding to his role as a nickel and potentially adding more to his repertoire) parallels his sense of duty to use his platform as a professional athlete.
"(The career tour) was an opportunity just to really connect, get in front of their faces, put your name out there, and really just learn to use my platform and use the position that I'm in, being in the league, to really network." 
Along similar lines, Chinn made progress in his charitable efforts this offseason. The Jeremy Chinn Foundation hosted its first Hearts for the Homeless reception in May, a fundraiser to support people and families affected by homelessness in the greater Charlotte area.
Chinn planned the event a year ago after launching his foundation geared toward a cause he has been attached to since moving to Charlotte. He initially started donating to various charities supported by Carolina sports legends, auctioning off a legend's jersey he'd wear to each home Panthers game. 
"This past year, we wanted to figure out how we can work (the jerseys) in with something that also spoke to me personally, which was homelessness, something that I jumped on board (with) as soon as I got here to Charlotte," Chinn said. "(It was) something I noticed, also having family who's dealt with the same type of situations; that's just something that really hit home to me. So having a platform and the position I'm in, I feel like, why not? Why not use it?"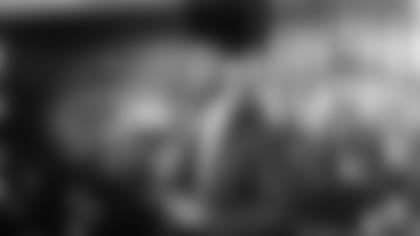 Chinn was greeted by new coaches, a new base defense, and some new roles upon returning to the practice field this spring.
Coaches have already discussed Chinn practicing at nickel, in addition to his position at safety. And head coach Frank Reich alluded to conversations with defensive coordinator Ejiro Evero about adding multiple options for him.
"I know it's offseason – this is just the start, but we're really happy," Reich said. "Everyone knows Jeremy's a really good player. But we're really excited about how he's going to fit into our scheme. … After talking to EJ, probably there's maybe even more roles from him than what we thought. So he'll play at nickel, but there might be some other things that he can do down the road that I think can help us."
Linebackers coach Peter Hansen wouldn't share if he expected to see Chinn at linebacker this season. But he didn't hesitate to share how impressed he has been by what he and the defensive staff has seen from Chinn throughout the offseason.
"Like a lot of our secondary guys, we see him as a superhero," Hansen said. "We just don't know which cape he'll wear, really, from day to day. …
"(Superhero is) a word I stole from our secondary coaches, related to Chinn. Height, weight, speed, and then when we see him actually do things on the field. It's like, 'Whoa, I didn't think he could do that.'"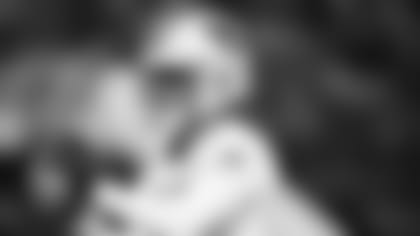 Chinn said he has seen similarities and differences while installing Evero's new defense and has noticed the expanded role for him.
But many of the new roles are at positions he has experience with, and he is taking a level of confidence into the learning process. 
"I'm doing a few different things," Chinn said. "(With) a lot of things, I've also been in that position as well before. So I'm super excited, really, how they continue to utilize me and continue to just kind of move me around."
Chinn said he's feeling comfortable heading into the end of OTAs with mandatory minicamp and training camp in Spartanburg just around the corner. He is trusting himself, he said, putting effort into his life both on and off the field. 
Taking time to align his interests, learn about an industry outside of football, develop his charitable efforts, and build a relationship with his girlfriend, Emily, Chinn has seen that effort translate to how his work on the field is going. 
Chinn said it's all helped by learning he has done throughout his first three years at Carolina and the impact of the people he has met.  
And he feels good about where he's headed. 
"I've learned a lot from these past few years being in the NFL, but also really just the people around me," Chinn said. "I've surrounded myself with great people. I met the love of my life. Things have been great. So really, just having that, the fulfillment from the people really around me, surrounding myself with the right type of people, has really helped me personally."