CHARLOTTE — For Derrick Brown, the notation next to his name on the roster might be different this year.
But even though he's listed as a defensive end as the Panthers convert to a 3-4 defense, he's not really sweating the difference.
"I'm still a D-tackle, man," Brown said with a laugh after a recent practice. "I mean, we've got fronts that might look different, but you know, I still think like a D-tackle.
"You just have to be able to do it all. That's all. I'm not even looking for the title, so I still think like a DT at the end of the day."
While Brown might downplay the difference, the subtle changes the Panthers are making could allow him to build on his best season.
Last year, playing as a true, one-gap interior rusher, he had his best season. His 67 tackles were tied a franchise record for most by a defensive lineman (alongside Mike Rucker in 2002), and he batted down seven passes, a career-high and the third-most by a Panthers lineman in a single season. There was also his first career interception, and being named the team's NFL Walter Payton Man of the Year nominee made it memorable in many aspects.
So from that perspective, keeping things consistent makes sense. But this defensive staff thinks there are ways for Brown to add to an already good resume.
New defensive line coach Todd Wash said they're going to align Brown wider at times in the base defense, splitting him out over a tackle. That will require an adjustment, and Brown will be asked to cover more gaps than he has previously.
But rather than slowing him down, they think that can add to what Brown is already capable of.
"I think right now, everybody out there understands, he's a great run defender," Wash said of Brown. "He's big, strong, stout, and he can play all the positions across the board. The biggest thing we're going to start working on is the pass-rush side of things. He's a big athlete. He's 330 pounds, but he has the ability and speed and explosiveness to get on the edges of guards. That's the biggest thing we're working on.
"But before that can even happen, we talk in our room about you have to earn the right to rush the quarterback. We have to do a good job of stopping the run, and then we get Derrick even better than he is right now vs. the pass."
Another part of the reason Brown has downplayed the transition is that when they go to their nickel defense and sub packages (where NFL defenses spend most of their time anyway), he'll be back in a familiar four-man front. But he said he'd done enough throughout his career here and at Auburn that the shift isn't as significant as it might seem.
And especially now, during the time of year when it's hard for linemen to accurately gauge how different something will or won't be.
Working during the non-contact days of OTAs when they're not in full pads gives them the time to learn the new terminology, but Brown said he was eager to get to Spartanburg in July, when the real work begins.
"Just adapting, learning, re-learning the plan," he said. "It's one thing to work offseason practice against bags and stuff, but to be able to get live bodies, man, that's what it's all about. You know, I think the big thing for us is getting this new defense in, getting that chemistry with our coaches. And you know, of course, I mean, that's the big thing. We've had good OTAs, so to be honest, I look forward to rolling into camp with that."
The position group also gets a shot of energy from Wash, an NFL veteran who brings an energy to practice to match many of the young players he's working with, and it was something Brown noticed right away.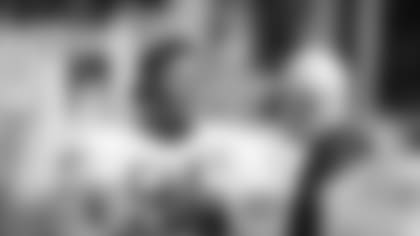 "He's a very loud cat," Brown said of his new position coach. "So every single day, he's pushing us, pushing us. And that's what we need.
"He wants us to definitely be in shape and be able to play as many plays as you can. So at the end of the day, that helps all of us."
And as encouraging as all the early signs are, Brown has stayed matter-of-fact about it all — whether it's coming off a career year or the change at hand. He's one of the steadier players on this defense in terms of both production and temperament, so that's not a surprise.
After spending his career listed one way, being known by a different two-letter designation isn't that big of a deal.
"Think about it like this, man; if I let that get in, if I worry about that, then no season will be productive, right?" he replied when asked about the change in systems. "I mean, I'm looking forward to getting down to Wofford, going to war with these guys, and trying to implement this new defense."