Later this month, NFL owners will convene to vote on a number of rule proposals submitted for the 2021 season. While one proposal, expanding the eligible jersey numbers that certain positions can wear, is getting plenty of attention from players, there are several other ideas that shed light on the areas which teams want to see change.
Proposed by Kansas City, this rule would allow players like running backs, wide receivers, defensive backs and linebackers to choose from numbers in the single digits and teens.
While this seems like a fun, open-minded development that will lead to more guys wearing numbers from their college days, it actually stemmed from some problems teams encountered last year.
When the NFL expanded practice squads to 16 last year, and teams started stacking players on reserve and opt-out lists, some number options for certain position groups became scarce.
As Peter King pointed out this week, Kansas City is one of four NFL teams with at least ten numbers retired, many of which are in that 20-49 category for running backs, linebackers and secondary players. They needed more flexibility not to duplicate numbers in-season.
In terms of how it will impact Carolina? Well, only two players have ever worn No. 2 for the Panthers and it didn't go so well for them. DJ Moore might be itching to re-write some of that history.
New capability of a "Sky Judge"
The Ravens proposed an eighth official, with full access to a television monitor and communication to the on-field officials, which some refer to as the "sky judge."
With the ability to see the whole field and view close-ups and replays, this eye in the sky could fix anything from pre-snap false starts to off-ball illegal hits to, . . . gasp . . . pass interference. Of course, we all saw how the pass interference experiment worked in 2019.
One companion of this proposal is a similar one by Baltimore and the competition committee to allow the Replay Official to provide certain objective pieces of info to the on-field officials.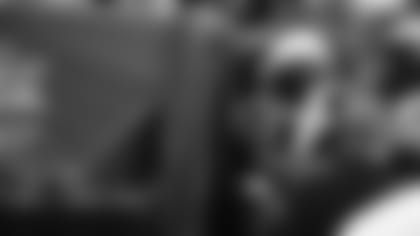 While you wouldn't have an official looking at monitors and calling holding or pass interference, they could provide more info on completed passes, possession, stepping out of bounds, etc., without needing a coaches challenge or being within the two-minute window.
This proposal still wouldn't fix a "Cotchery Caught It" scenario where an official review was taken, but it gives officials a little more help in areas that aren't subjective throughout the game.
Two proposals would impact the way that many close games currently play out.
The first, referenced above, pertains to the number of players allowed in the setup zone on kickoffs, essentially the area between 10-25 yards from where the ball is being kicked.
In 2018, the NFL instituted several new conditions for kickoffs to help safety, including that the kicking had to have five players on each side of the ball, keeping them from stacking one direction for onside kicks.
This new rule would cap the number of players in the receiving set up zone to nine, forcing at least two players to be more than 25 yards away from the ball. That could help raise onside success again without simultaneously increasing the potential for injury.
Another proposal would give teams an option to forgo onside kicks completely.
Philadelphia proposed an option for teams to have a 4th and 15 attempt from their own 25-yard line in lieu of trying an onside kick.
Between 2017-20, teams attempted 102 fourth-down tries of 15 yards or longer, converting 17 of them for a 16.7 percent conversion rate. That's in the ballpark for previous onside kick successes, and it puts high-stakes, meaningful plays in the hands of the starting offense and defense rather than kickers and special teamers trying to do something, . . . well, special.
Finally, there are a handful of proposals related to overtime (both of which came from Baltimore).
The Ravens introduced a new "spot and choose" concept for the winner of the coin flip, to then be played in a true sudden death format along with playing out a 7-minute, 30-second quarter to completion.
Under the "spot and choose" proposal, the winner of the coin toss would decide where the ball would be spotted, and then the other team chooses to be on offense or defense.
If you choose to spot it at the 50, then the other team would obviously pick offense since it becomes an easy field goal. Pick the five-yard line coming out, and then they pick defense with your back against the goal-line.
So, where's the sweet spot?
That break-even point turns out to be the own 13-yard line. Analytics.