CHARLOTTE — Brady Christensen's walking around with the bleary-eyed grin of a new father who hasn't had much sleep lately. But he does have the blessing of a new family and being drafted into the NFL.
What he'd really like, however, is a pair of socks that fit his son.
Christensen, the tackle from BYU chosen in the third round, welcomed his son Ledger into the world on March 16. And, of course, all babies are wonderful, but the 7-pound, 13-ounce Ledger did surprise Christensen and his wife a bit.
"He's like really normal-sized. His head was normal, which is crazy, because me and my wife both have big heads and we were shocked," Christensen said. "But the funny thing about him is the doctors were like, 'He has the biggest feet out of any newborn baby we've ever seen.' They measured it, and he was like 3 inches. They were like, 'We've never seen that in our life.' He just has massive feet, and they stick out. There's pictures, and people are like, 'Is that a real picture of his feet?'"
Christensen's a size 15 and has his own experience in this particular realm, as his family called him "Fred Flintstone feet" because he was a "ginormous" baby. What he can't come up with at the moment, however, is a sock that actually fits his son.
"We have a bunch of newborn socks, but none of them fit," he said. "The heel, it only goes to half of his foot. But then we tried to get him 6-to-9-month socks. They fit length-wise, but his feet are still so skinny that they're just so baggy they still look really goofy."
The Panthers' scouting department got an assist this weekend when head coach Matt Rhule's wife Julie sent him a text instructing him to draft running back Chuba Hubbard in the fourth round. She remembered the 171 yards and two touchdowns that Hubbard ran for against her husband's Baylor team in 2019.
General manager Scott Fitterer put the domestic tranquility in jeopardy when he traded back in the fourth round, but saved the situation by landing Hubbard later in the process.
"It's funny. I had one former executive, a guy on TV, text me. It's pretty simple. When you play against guys, and you hate playing against them, they're people someday you want to put on your team."
Sixth-round long snapper Thomas Fletcher thought the Panthers wanted to sign him as an undrafted free agent. And after working with them at the Senior Bowl, he wanted to be here. But he was actually on the phone with another team when the Panthers called to tell him they drafted him — creating a great bit of viral video.
"I'm kind of trying to weigh the things, and I want to be in Carolina so bad, and I'm trying to figure out how am I going to make that work," Fletcher said. "I got off that call and immediately got a call from a Charlotte number, and I was like, there's no way. I answered it, and it was coach Rhule. He was like, 'Are you coming?' And I was like, I am hoping – 'No, no, no brother, I just drafted you.'
"I will remember that moment for that rest of my life, I will assure you. It was a lot of yelling and a lot of screaming."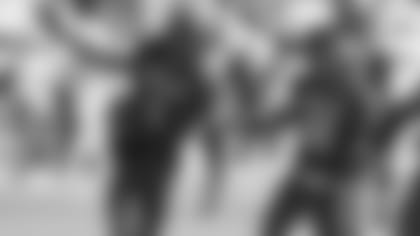 First-round cornerback Jaycee Horn likes to celebrate big stops on the field with a "seatbelt" dance.
And now he has two pro teammates who know the feeling.
Sixth-round wide receiver Shi Smith played with Horn at South Carolina, so he got the treatment in practice.
"Me and Jaycee, we went at it all the time at practice," Smith said. "If I wasn't in the slot and moving outside, he was probably the one that was guarding me. And even then, they moved him to the slot sometimes to guard me because I'd tear the slot up, but he got the 'seatbelt' on me a couple of times."
Second-round receiver Terrace Marshall Jr. played against Horn in high school and college and has gotten the same treatment.
"Jaycee is a real good defender. I got mad respect for him," Marshall said.
"It was pretty much just friendly trash talk," Marshall said. "But I was really talking more negative trash talk to the other teammates. Me and him, we were cool, and we were just out there competing.
"It was just the energy. We knew each other, so at the end of the day between the lines we compete, no friends. We are human too, so we just make sure we are seeing eye to eye."
While training this offseason in California, he roomed with East Carolina wide receiver Blake Proehl, the son of a certain guy who finished his career here.
"Yeah, Ricky Proehl," Taylor said. "That's my guy too. Rick. Slick Rick."
Third-round tight end Tommy Tremble didn't get Rhule's usual pre-draft question about which musical artist he'd choose if he were stuck on a desert island.
If Tremble had, he said he'd have likely chosen Jack Johnson, "because if I was on a desert island, I would not want to be freaking out or anything. I would want something pretty calm. So Jack Johnson would probably be the guy I would want to listen to."
The do-it-all Tremble will likely have several roles for the Panthers, as he can work as a blocking tight end, an H-back, or fullback, and they envision his intensity paying off on special teams as well.
"On the field, I'm calm and collected when I need to be, but before the whistle is blown, between then, I'm pretty intense. I'm a pretty intense guy," he said. "You'll see it when I knock a dude on the ground."