CHARLOTTE – The Panthers defense knew they couldn't repeat last week's effort — since they didn't want to allow that many points and yards, or have veteran linebacker Shaq Thompson swearing at them in the locker room again.
This week, the post-game mood was obviously different after they registered their first shutout in five years and broke a five-game losing streak with a dominant 20-0 win over the Lions.
The win moved the Panthers to 4-7, but it also allowed them to change the way people look at their defense after the Buccaneers strafed them for 554 yards and 46 points a week ago — the first time they had really had their doors blown off.
"That means everything," safety Juston Burris said of the shutout. "It was great, especially after last week, the second half of last week, we wanted to come out and show everybody we're a great defense, and we did that.
"A lot of guys were running to the ball, a lot of guys saw the chance to shut them out, and we started playing harder. You could see it by the D-line getting off and making great plays. It's easy as a secondary when you've got a defensive line that's hunting like that."
The Panthers got to Lions quarterback Matthew Stafford for season highs in both sacks (five) and QB hits (11). The Panthers had just 11 sacks in their first 10 games.
That wasn't the only trend they turned on its head.
They entered the week last in the league in defensive third-down percentage and held the Lions to 3-of-14 conversions. They had forced opponents to punt just twice in the last four games combined, but the Lions had to punt six times Sunday. The Panthers had allowed at least 20 points during each game of the five-game losing streak but allowed none Sunday for their first shutout since Dec. 14, 2015 against the Falcons.
Of course, any praise of this defense should be at least a little conditional.
Stafford was playing with an injured thumb and without three of his top offensive weapons — receivers Kenny Golladay and Danny Amendola and running back D'Andre Swift. In fairness, the Panthers started backup quarterback PJ Walker and remained without Christian McCaffrey. They were also playing without injured cornerback Donte Jackson, and the Panthers hadn't previously been described as deep in the secondary or particularly strong there when at full strength.
But putting the hammer down on anyone in the way they did Sunday was encouraging, and when you've lost five in a row, you don't have to apologize for much.
Safety Tre Boston called it a "brand win" and said it showed something about the character of the team.
"We're the toughest, hardest-working team, most competitive team in the league," Boston said. "For us, it starts with being tough. We've got to be tough, we've got to work hard, and be the most competitive team in the league. For us, that's about every week, going in there and fighting. That's something we've seen this whole year, except for maybe one game, that the Carolina Panthers will fight you all four quarters.
"Coach has come in here with that. This was a brand win. We knew what time it was going to be. We were back on P.J. at quarterback, dinged up here and there, but nobody cares. You've got to go out there willing to fight, and for us, that's what we did as a family, we fought for each other, and it showed today."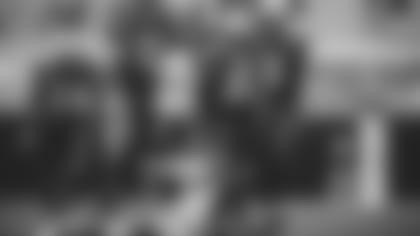 A number of defensive players acknowledged that the focus on detail was much sharper this week, but they also knew they had to play even better to give Walker as much margin of error as possible in his first NFL start.
With some slight schematic adjustments (including showing pressure and not bringing it, trying to give Stafford confusing looks), the Panthers had the Lions off-balance all day. While Swift wasn't in the lineup, the Lions still had some guy named Adrian Peterson in the backfield, but between a better defensive performance and an early lead that forced the Lions to play catch-up, the Panthers held them to just 40 rushing yards.
Part of that was the Lions. But a lot of that was from their reaction to that film of the embarrassment that was the second half of the Buccaneers game.
"It opened our eyes," defensive end Brian Burns said. "Last week, we went in at halftime 17-17, and came out and stunk up the field.
"It opened our eyes to the small things we had to pay attention to. And that translated to a great game this game."
Whether it translates into anything larger remains to be seen, beginning with next week's trip to Minnesota.
But for Sunday, putting their best performance of the year on tape is what they hope will be the first of many such games, and the kind of thing you can build a brand on.
View game action photos of the Week 11 contest between Carolina and Detroit at Bank of America Stadium.