CHARLOTTE – The Ravens defense provided a bit of bulletin board material for Sunday's game without saying a word.
The Panthers defense responded with the last word.
Much of the chatter coming from the media in advance of Sunday's showdown at Bank of America Stadium revolved around the Ravens defense – first in the NFL in total defense, first in scoring defense, first in sacks.
Carolina's offense clearly embraced the challenge and laid a 36-spot on the scoreboard, but Carolina's defense took it as a personal challenge as well.
"It fueled us a little bit – I ain't going to lie," safety Mike Adams said after the Panthers looked like the better defense in a 37-21 triumph. "The fact that they're number one, coming into our house. No disrespect to them because they're playing good ball – 27 sacks, 11 sacks in one game. We do a little research too, and it kind of fueled us.
"We wanted to go out here and play well. We wanted to be the number one defense today."
Perhaps the Panthers wanted it a little too much out of the gates as the Ravens marched 75 yards on the game's opening drive for a touchdown. Ravens quarterback Joe Flacco completed his first five passes and even scrambled for a 13-yard gain, and running back Alex Collins bounced off tackles and spun his way to a 14-yard touchdown to cap it.
But from that point until the Ravens' next drive that finally put more points on the board in the waning seconds of the third quarter, Flacco completed just 12 of 24 passes for 96 yards and two interceptions. The Panthers, during that extended stretch, scored 27 unanswered points.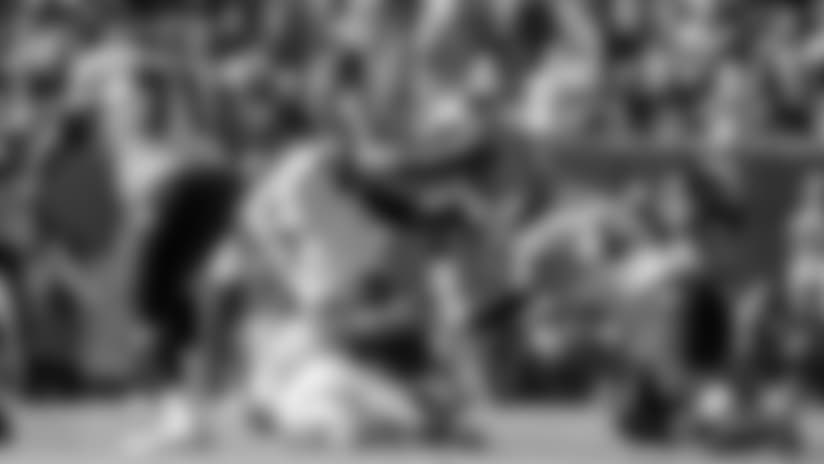 "We settled down and we started to execute," said linebacker Thomas Davis, who added that the defense felt "slighted a little bit" by the pregame love shown the Ravens defense. "We came over to the sideline (after the Ravens' opening touchdown) and we made it known that everything they got on that drive was given to them. It wasn't nothing they had to work for. We were out of position and didn't tackle well, and the end result was a touchdown for them.
"Once we settled in and did the things we're coached to do, that we're capable of doing, you saw the end result."
The beginning of the end for Baltimore came courtesy of Carolina's defense not just stopping the Ravens offense but actually setting up the Panthers offense. On the second play for Baltimore after Carolina had tied it at 7-7, Kyle Love shot through the middle of the line like he had been shot from a cannon and arrived at Collins as he took a handoff. The ball didn't survive the blow, and it bounded back toward the end zone where fellow defensive tackle Vernon Butler recovered it at the 12.
Three plays later, the Panthers took a lead they'd never relinquish – a lead that would continue to grow as Carolina had its way with Baltimore's vaunted defense and the Panthers' defense cleared a path for its offense to thrive.
"With a team like Baltimore that has a great defense, it's important to create turnovers," linebacker Luke Kuechly said. "Kyle made a great play early on, Cap (Captain Munnerlyn) had a pick and Mike (Adams) had a pick.
"Whenever you can create a short field for our offense against a good defense, it's important."
Adams' interception in the final minute of the first half set up Graham Gano for a 54-yard field goal and a 24-7 lead, then Munnerlyn's pick late in the third quarter set Gano up for a 44-yarder to make it 27-7 before the Ravens finally were able to do something offensively again.
By that time it was too little, too late. Flacco led a nice scoring drive to make it a two-score game but only for a short while before the Panthers' offense answered right back. The other points yielded by the Carolina defense came in the final minutes with Flacco watching as rookie Lamar Jackson played out the string.
Next up for the Panthers defense is containing a Buccaneers unit that entered the weekend leading the NFL in total offense.
Part of the challenge? After reading last week about how good an opposing defense was, Davis and Co. can't read too much into the nice things written about them Sunday.
"You can't be complacent. You can't start to feel like you've arrived," Davis said. "You go back and watch this film and fix some of the areas you didn't do so well in. Those are the things you focus on after a game like this."