CHARLOTTE — When you stop and think about what's happening with the Panthers at this moment, it doesn't make much logical sense.
But the one thing that's becoming evident is that they actually believe they're supposed to be here right now.
Even though a win Thursday night moved them to 3-7 on the season, they're still very much in the NFC South chase, and because of that, they get asked a different set of questions.
So after they beat the Falcons 25-15 Thursday night, interim coach Steve Wilks was asked about his team's playoff chances.
Calmly, Wilks held one finger up in the air.
"One and oh," Wilks said simply. "Win the day."
As slogans that head coaches come up with, it's not necessarily unique. But right now, this Panthers team appears to have bought in to that message.
So even though they just got blasted in Cincinnati last week (down 35-0 at halftime, and it wasn't necessarily that close), and even though they lost a heartbreaker in overtime the week before in Atlanta, the Panthers walked off the field Thursday night acting like winning and talking about postseason chances was normal.
"It's been a wild swing," long snapper JJ Jansen said with a grin.
Here's how wild. Jansen had a bad snap, which led to Eddy Piñeiro's missed extra point. Jansen's had very few of those in his 14 years and 219 games here, so few that you can count them on one hand and have fingers to spare. But Piñeiro didn't let it shake him. The same Piñeiro who missed the two key kicks in Atlanta less than two weeks ago. And the same Piñeiro who hit four field goals Thursday night in the rain and the wind off the wet Bank of America Stadium turf. Special teams coach Chris Tabor, knowing people wanted a new kicker recently, grinned and joked: "You think we should get a new long snapper?"
Of course not. Because Jansen's been so good for so long, and he also has been around long enough to have some perspective on what this means or what it doesn't.
"We've got a really mature team. It's a young team, but it's a mature team. And it's a really competitive team," Jansen said. "Obviously, the pride's a little bit hurt after the way we played in Cincinnati. But it's mature in the sense that every game is its own entity. And if we play well, we'll win.
"There's a lot of confidence. This team believes in itself and coach Wilks."
The players in that locker room are starting to pick up on Wilks' cadence, and starting to live out that message. And perhaps because of some of that, they're starting to prove him right.
So for veteran linebacker Shaq Thompson, there's a visible recoil when the Bengals or first Falcons game gets mentioned.
"It's not hard; we've got to put those in the past; they're dead," Thompson said. "Those things already happened. You can't live in the past. Got to get with the future. That's a whole life thing. Win the day. You got personal things? Don't let yesterday get in the way of tomorrow.
"You've got to live like that, and that's how Steve lives here. We can't let what happens last week affect this week. So win the day. Win meetings, win practice, win more meetings. That's how I take it, and how a lot of people in here take it."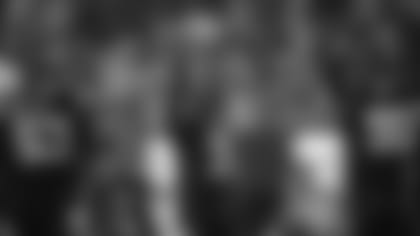 Right guard Austin Corbett, who was brought here in part because he was part of a Super Bowl win with the Rams last year, said this team has a mindset that is reflective of their interim coach, who has now won both of his home games since taking over after Week 5.
"When you really break down 'win the day,'" Corbett began, "that comes down to winning your treatment, winning your lift, winning your walk-through, winning your meetings, winning practice, winning recovery, winning your time at home, doing the things you need to. It's multiple steps. When you break it down, it's a challenge, but that's what we want.
"Since he's taken the job, that's been his motto, his go-to. He told us this week, divisional games are 15 rounds. They're heavyweight bouts. You might not win every round, but as long as you win the fight, you'll be all right."
The Panthers have been in fights like this before.
Wilks has referenced the 2014 NFC South title team before, the one that went 7-8-1 by winning its last four games. That one was sandwiched between a 12-4 season in 2013 and a 15-1 record the following year, so it's got a little more weight.
But for the people who saw it happen, those words Wilks keeps saying begin to carry more weight.
Sure, it's a slogan. And talk can be cheap. But when you see the words made manifest, they start to matter more.
"Every coach has things they say," Jansen said. "The thing we all notice about coach Wilks is, he's consistent, he's determined and focused, and he doesn't waver. Down 35-0 in the locker room in Cincinnati, you expect the coach to flip out on you. And he was calm, and he was deliberate, and he was focused on let's go win the third quarter, let's go win the fourth quarter, and I think that carries over. We played well in the second half in Cincinnati. Now, it didn't matter, but we played well, and it turned the tide, and let's keep building on that.
"The win the day attitude is so important. We got in here on Monday, we watched the tape, and we moved on. And we prepared for Atlanta, and you move on to the next thing. It's never about the game, or anything beyond this day. Having great practices, having great meetings, taking care of your body, be where your feet are. That's something Steve talks about a lot, and I think he picked that up from coach (Ron) Rivera in years past. It keeps you intentional about not worrying about what's ahead or behind, but being the best you can be in this moment."
And at this moment, the Panthers are back in the fight.
We'll find out over the next eight weeks and seven games if it matters.
Thursday, they won the day. So right now, they've got a shot. Also, right now, there's work to do. Friday, there will be more.
And Wilks keeps telling them the same thing. There's only one way to approach it.
Go inside a celebratory locker room and see the players greet each other on the field after the Thursday Night Football victory.