ATLANTA – One Panther termed it "malicious." Another called it "BS."
The cheap shot Falcons safety Damontae Kazee took on quarterback Cam Newton after he slid to the ground for a 10-yard gain on fourth-and-4 early in the second quarter incensed everyone wearing a Carolina uniform, and it prompted wide receiver Torrey Smith to retaliate.
"Get to whoever did it, which probably isn't the most mature answer," Smith of his response to the hit on his quarterback following Carolina's 31-24 defeat. "But in the heat of the moment I'm going to stand up for any of my guys."
Kazee was ejected by the officials following his egregious hit to Newton's head, a decision head coach Ron Rivera was unsurprisingly in complete agreement with.
When asked for comment on the incident, Newton said, "It's self-explanatory. What needed to happen, happened."
Smith was penalized for unnecessary roughness for his part of what came close to becoming a brawl.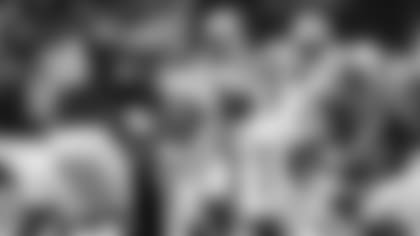 "Glad it's not the NBA because if you leave the bench a lot of guys would have been suspended," cornerback Captain Munnerlyn joked. "My reaction – I got up. That's BS. We're trying to take that out of this game. To do that was outrageous. They (officials) handled it the right way and I definitely feel like Torrey handled it the right way too."
Added wide receiver Jarius Wright: "It was a malicious hit intended to hurt him. I don't know what they talk about in their locker room, but that wasn't right. You know he's the quarterback, you know he's going to slide.
"I agree with the ejection and I agree with what Torrey did. If something happened to Torrey like that, I would do the same thing for him. We have to be smart about it but we do have to have each other's back at the same time."
Newton was evaluated and returned to action without missing a snap. He kept the drive alive with an improvised 12-yard pass to wide receiver Devin Funchess on third-and-5. Three plays later, he connected with Wright over the middle for a 5-yard score to give Carolina a short-lived 10-3 lead.
Newton finished the game 32-of-45 for 335 yards and three touchdowns with one interception for a 105.3 passer rating. He also rushed five times for 42 yards in the loss.
"It looked worse," Newton said. "Luckily nothing pretty much happened. But this game isn't fit for cheap shots like that."