CHARLOTTE — The Panthers' last few games have taken on a familiar feel.
They find themselves on the wrong end of a close score in the last few minutes of the fourth quarter. But the offense has a chance to tie, go ahead, or outright win the game with a late scoring drive.
Yet for one reason or another, Carolina comes up short.
That was once again the script in Sunday's 33-31 loss to the defending Super Bowl champion Chiefs. This loss seemed to leave another bitter feeling as the Panthers prepared to fly back to Charlotte.
"We had every opportunity to win the football game, and we did not," head coach Matt Rhule said. "Coaches, players, staff — not any one person, all of us — we did not make the plays to win the game."
The final score was a slim two-point margin, which helps illustrate Carolina's gutsy, aggressive performance. The Panthers went 3-for-3 on fourth down, scoring an early touchdown and converting a fake punt. Carolina also tried a surprise onside kick in the fourth quarter, though it didn't work.
"We wanted to get a win and tried to play that way," Rhule said.
But no play was as emblematic of the effort as quarterback Teddy Bridgewater's 15-yard fourth-down scramble early in the fourth quarter.
Down 26-17, the game was getting out of reach for the Panthers when Bridgewater took a shotgun snap on fourth-and-14 from the Kansas City 46. Defensive tackle Chris Jones nearly sacked him before stepping up in the pocket. But with no one open in his line of vision, Bridgewater took off. As cornerback Rashad Fenton prepared to hit him about three yards short of the line to gain, Bridgewater leaped headfirst and came down a yard past the sticks to move the chains.
"It was just one of those deals as I was running, I just looked to the sideline to see where the chains were," Bridgewater said. "I knew if I would have went down head first, they might have marked me down … a little short, so I just decided to take flight and sacrifice my body and try to get the first down."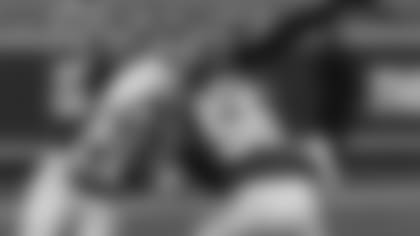 It was a critical play that kept the Panthers in it. A few snaps later, Bridgewater ran in a 4-yard touchdown on what looked like a designed QB draw.
But the 15-yard run did plenty to spark an offense that had stalled in the second half.
"For me, it's just wanting to continue to show the guys that this game, this team means so much to me, and I will do whatever I can to win," Bridgewater said.
Added wide receiver Robby Anderson:
"Seeing your quarterback giving his all is going to make everybody else step it up a notch. You've got to really respect that because a lot of quarterbacks probably wouldn't put themselves out there to be that vulnerable in that situation."
While Bridgewater's subsequent touchdown kept the score close, the Chiefs again answered. Still, every time the defending champs looked ready to pull away, the Panthers didn't let them.
When Kansas City scored on a 2-yard touchdown from quarterback Patrick Mahomes to wide receiver Tyreek Hill midway through the final quarter, the Panthers got back on the board with an 11-play, 74-yard drive that ended with running back Christian McCaffrey's 1-yard TD to cut the deficit to 33-31.
That made the Panthers only the second team to score at least 30 points against the Chiefs this year.
So there is no doubt Carolina was ready to play and compete in this game. But as several players mentioned, there are no moral victories in the NFL.
"With a game like this, you come up short, it's like you are able to measure yourself next to the defending champs," Bridgewater said. "But at the same time, you don't want to be satisfied with just coming up short. We play this game to win. We can easily say we fought, we played tough, that's what we did. But we didn't come up with the victory."
As linebacker Shaq Thompson pointed out, the Panthers have been right there in most of their losses. That's especially true in their current four-game losing streak. Right now, it's a matter of figuring out how to get over the hump.
"We've just got to keep going," Thompson said.
That starts with taking accountability, and the Panthers have done that. Kicker Joey Slye said he had to do a better job on his last-second, 67-yard field goal attempt even though it would have set an NFL record for the longest made field goal, and he was kicking in a swirling wind.
Undrafted rookie safety Sam Franklin, starting just his third game, took responsibility for Hill running wide open in the end zone on his 28-yard touchdown in the fourth quarter.
Those are positive signs as the Panthers move forward. But in learning how to win, they also have to stop committing self-inflicted wounds. Carolina was called for 12 penalties for 82 yards. Three of the fouls resulted in Kansas City first downs.
"I mean, that's what's killing us. Everybody knows (in) football, you can't win with penalties," Thompson said. "We gave them plays that they shouldn't have got."
Anderson had a similar prescription for the offense.
"I think it's evident that we're close, but close isn't good enough because we're not getting those victories," Anderson said. "I just think it trickles down to us not beating ourselves and allowing those mistakes, and eliminating that stuff so we can have a cleaner game and a better opportunity to win."
So as the Panthers get back to work in preparation for a rematch with Tampa Bay next week, this loss may contain lessons. But it's also a bitter pill to swallow after another performance that came up just short.
"A game like today, it pisses you off, especially when you play a team as good as the Chiefs are," Bridgewater said. "We don't want it to be the common theme of being right there.
"Obviously, you lose a game, sometimes you are able to learn from it and quickly put it behind. This is one of those games that pisses you off a little bit, at least it should piss you off. We will come in tomorrow, thick skin, watch the tape, be judgmental of each other, and be honest with each other."
Look at in-game photos from Carolina-Kansas City in Week 9.